A message was sent to a friend of runaway teenager Megan Stammers saying she had arrived in France after she is believed to have eloped with her maths teacher.
It marked the last contact since 15-year-old Megan and 30-year-old Jeremy Forrest caught a ferry to the Continent last week, sparking a cross-Channel search.
The message was sent to one of her good friends saying she was in France but did not come from her own phone, a senior police officer revealed.
The disclosure was made as the teenager's mother and stepfather, Danielle Wilson and Martin Stammers, made an emotional appeal at a news conference for her safe return while police urged Forrest to "do the right thing". Megan Stammers' parents were visibly upset as they appealed for their daughter to return
Chief Inspector Jason Tingley, of Sussex Police, said: "I can't give a specific time or date but we know there was a message passed to one of her good friends to say she had arrived safely in France.
"I can't say that message was from her but we believe it was. That gives us some comfort that she has arrived safely and she is in France. That's our last contact."
Last Thursday Megan asked her mother whether she could stay overnight at a friend's house. Her mother said she agreed, gave her dinner money for school the following day - and Megan left.
But the following morning, her mother received a text message from her school, Bishop Bell C of E in Eastbourne, East Sussex where Forrest teaches, saying she had failed to attend class.
Checks were made to see whether the friend she claimed to be sleeping over with was at school, and when it was confirmed that she was, alarm bells rang.
Speaking to her daughter, an obviously distressed Danielle Wilson said: "You know that your adorable princess wants her adorable mermaid back."
"Please darling, just do anything - text me, ring me, send me a message. I've sent you a message on Facebook, just do anything. The phone number hasn't changed at home, just ring, please sweetheart."
Megan's mother added her daughter could be "very childlike" at times and added the last thing Megan said to her was "I love you."
"She was really happy, jumping around. She grabbed my shoulders and she said to me, 'Mum can you look me in the eye?'. And I said to her, because she was fussing, 'please stop, get off me now'.
"And she said, 'no mum, look me in the eye', and I looked her in the eye and I had to kind of look up to her a bit and she said, 'I love you'."
Megan and Forrest travelled to Calais together on a ferry from Dover. The pair left on Thursday evening and were due to return to the UK on Sunday but did not use their tickets.
Addressing Megan, Chief Inspector Jason Tingley from Sussex Police said: "We believe that you left on your own accord with Jeremy but we need to hear that you are OK. Your family and friends are extremely worried, but you are not in any trouble."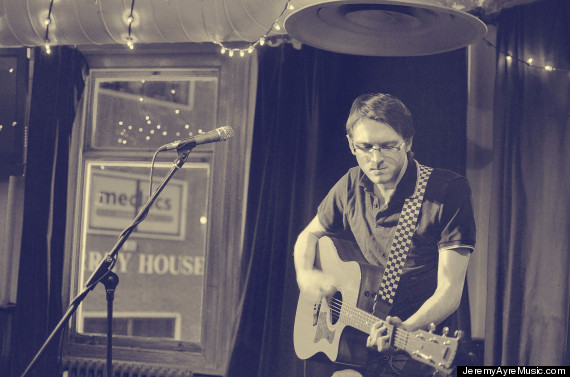 Jeremy Forrest, performing under the name "Jeremy Ayre"
"My message to Mr Forrest is that this may not have gone as you expected it to. Right now our priority is to know that Megan is safe and I would ask you to do the right thing and make contact with us.
"We will work with you to get you both safely back into the country."
The teenager and her teacher met at Bishop Bell School in Eastbourne, where Megan is a student. The pair ran away shortly after amateur musician Forrest, who is married to a photographer, posted an entry on his blog titled: "You hit me like heroin".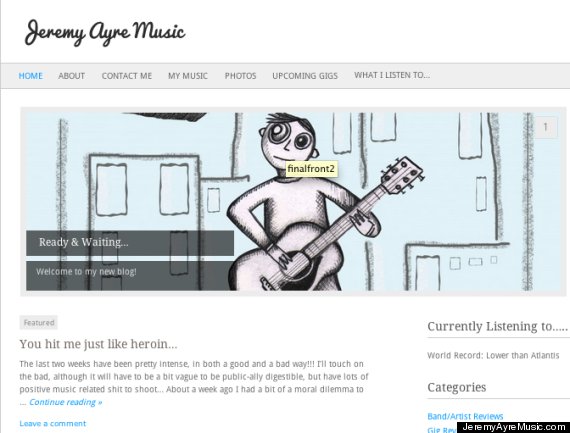 Forrest's last blog entry on his website
Forrest, who performs under the name Jeremy Ayre, wrote on his website:
"The last two weeks have been pretty intense, in both a good and a bad way!!!

"I'll touch on the bad, although it will have to be a bit vague to be public-ally digestible, but have lots of positive music related shit to shoot…

"About a week ago I had a bit of a moral dilemma to deal with, both internally and externally. And the overriding question it left me with was this:

"How do we, and how should we, define what is right or wrong, acceptable or unacceptable???

"I came to a few different conclusions, mainly that actually we get a lot of things wrong, but at the end of the day I was satisfied that if you can look yourself in the mirror and know that, under all the front, that you are a good person, that should have faith in your own judgement. That's some philosophical gold for you there!!!"
According to other media sites, Forrest's wife Emily spoke of what first attracted her to Forrest, writing on her blog: "Since I was young I've always loved going to see bands, and Jeremy is a singer/songwriter, which is one of the (many) things that attracted me." She has since deleted her Flickr, blog and Twitter accounts.
One of Forrest's songs, titled "Arrows And Hearts", contains the lyrics "I was afraid that someone would catch us" and "I swear I would end this".
Forrest's song, which he has posted on his website
During the appeal, Megan's mother Danielle Wilson and her father Martin Stammers both said Megan's disappearance was out of character.
"She is always in at 7pm, she is not one of these kids to roam the streets, she doesn't go out drinking or anything like that. She doesn't like the dark so she had never been out after dark," Ms Wilson said.
She added: "It is completely out of character, this is not her, she is not like this."
Mr Stammers told how Megan sent him a text message last Tuesday asking to meet him. He arranged to meet her on Saturday but she did not keep the date as her and Forrest are believed to have already left for France.
"We had a date on Saturday, we didn't make it. Babes, that offer's still there sweetheart," he said.
"(I) just want you to come home safe and well, babes please."
Describing her as "everything you would want in a daughter", he added: "We are a family unit working together, strength is coming from within all of us, as a family, our close friends (are) striving so hard.
"I would like to thank the people supporting us out there on the social networks, Twitter, Facebook. Please keep posting, keep tweeting, please keep retweeting."
Chief Inspector Tingley appealed for any members of the public who see the couple or Mr Forrest's black Ford Fiesta, registration GJ08 RJO, to contact French or British police.
Terry Boatwright, the school's executive head teacher, said: "The whole school community is deeply concerned for Megan and shocked by what has happened.
"The thoughts and prayers of us all are with Megan and her family at this time.
"We would urge her to get in touch with her family to let them know she is okay and we would echo the police's call for anyone with information to contact them."
Help with the search via the Twitter hashtag #findmeganstammers. Police have asked the pair, or anyone else with information, to call them on +44 1273 475 432 or text +44 7786 208 090.