The United Nations will once again debate the merits of a "blasphemy law", framed by the bloody violence in the Middle East and North Africa over the offensive YouTube video about the Prophet Mohammed.
Muslims leaders have pledged to raise the issue of the video at the UN, and push for an international law against religious defamation, something resisted by Western nations.
UN Secretary-General, Ban Ki-moon, raised concerns last week when he suggested limitations to freedom of speech when it was ''used to provoke or humiliate''.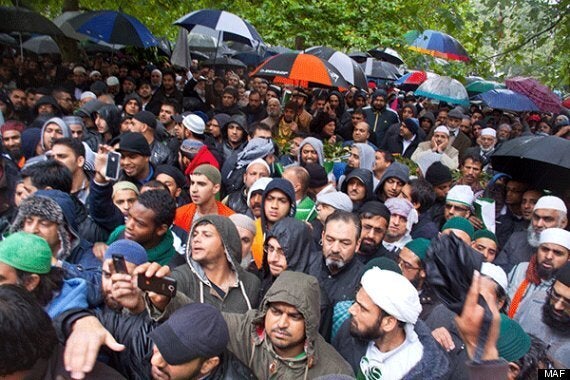 Muslims gather to protest in London outside the US embassy
The Organisation of Islamic Co-operation, a 57-member bloc of countries, has often proposed a UN resolution criminalising the defamation of religion. Turkish Prime Minister, Recep Tayyip Erdogan, has said he will raise the topic in New York next week.
Indonesia's president Susilo Bambang Yudhoyono is also pledged to push for such a global law.
Similar domestic blasphemy laws exist in large Muslim states such as Indonesia, Iran and Pakistan.
In the UK, Muslim leaders have called on the government to look at religious hatred laws, and suggested introducing a blasphemy law tailored to Britain.
On Sunday 7,000 Muslims demonstrated outside the US Embassy in London, organised by the Muslim Action Forum, which was set up specifically to respond to the film and subsequent events.
MAF spokesman Saraj Murtaza told the Huffington Post UK: "We condemn the violence which has come from this film, it is terrible. But we don't need to keep saying that. We want people to understand how deeply this has hurt and angered us.
"We are genuinely horrified that the government, the Prime Minister and Muslim MPs have not condemned this film or spoken out about it. Even Salman Rushdie has condemned it. It's absolutely disgraceful.
"The only route left is the legal route. Petitions and protests can only go so far. We want to ask politicians here in the UK and the UN to take action to protect against religious defamation - any religion, not just insults to Islam."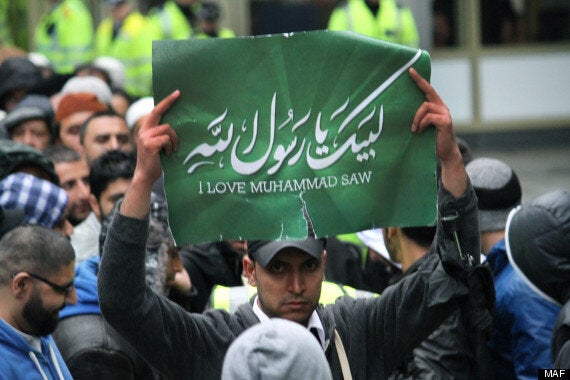 A man holds a poster at a Muslim Action Forum demonstration
He said the protest, in the pouring rain, had been entirely peaceful, with no arrests. "We came only to show our love for the Prophet, it was a celebratory atmosphere. We believe the Prophet can hear and see us and knows how much we have love for him."
Around 80 senior Muslim leaders in Bradford held an emergency meeting on Monday night, called by the Council For Mosques, to discuss the film, which is reported to have been made by Egyptian Coptic Christian Nakoula Basseley Nakoula.
Chief executive Mohammed Saleem Khan told The Huffington Post UK: "We do feel we need to hold a demonstration on Friday, to show how we are feeling about this, how we are hurt.
"We have set up to write to the Government, to the Prime Minister, the Home Secretary and the Minister of Communities and call for a law to protect religious rights.
"We will also be writing to Bishops to the Sikh, Hindu and Jewish faiths asking them to call for this protection from blasphemy. We work closely together on many issues and we need their support on this. We need protection for our faiths in law." Pakistani riot policemen hold back lawyers shouting anti-US slogans as they attempt to reach the US embassy in the diplomatic enclave during a protest against an anti-Islam movie in Islamabad
In Pakistan, one young Muslim man began a one-man mission to help repair damage by rioting, which became a viral Facebook and Twitter campaign to get Muslims help clean the streets of the mess made by rioting over the film.
A Facebook event created by Islamabad graduate Faran Rafi saw thousands of people sign up to help clean the streets, and local papers reported hundreds in each city turning out with brooms and cleaning materials, with police offering them protection.
Related