UPDATE: Police have said they are not treating Garrett Elsey's death as suspicious.
The post mortem of a Canadian student who was killed after returning from his first night out in the UK will look into rumours he was crushed to death in a bin lorry.
Test results are due to be released on Tuesday and may explain how Garrett Elsey, who had landed in Britain on Wednesday morning, was found dead in a waste recycling plant 24 hours later.
The 22-year-old's body was discovered lying amongst the rubbish at the New Earth Solutions site in Avonmouth, near Bristol, on Thursday morning.
Police sources have confirmed the international student, who was enrolled at Bristol University, was still alive when he was collected by a rubbish lorry, the Daily Telegraph reported.
It is understood the student's fatal injuries were caused by crushing, although Avon and Somerset Police say further investigations are needed before the cause of death can be confirmed.
A spokesperson from the police force said: "We have provisional findings, however further investigations need to take place in conjunction with the coroner. This may take time, which means we cannot confirm cause death at this stage.
"We can confirm the death is not being treated as suspicious and is being referred to the coroner. We continue to make inquiries on behalf of the coroner."
Mr Elsey, from Canada, landed in the UK last Wednesday and texted his parents to say he had arrived safely.
He had previously tweeted his excitement at coming to the UK, saying:
The student, who had enrolled in the university to study a masters in international security, was out with a Canadian friend who he used to play rugby with, but the pair went their separate ways at the end of the night.
After postgraduate's body was discovered, police carried out searches of nine locations across Bristol which were on the May Gurney lorry's collection route. They narrowed their hunt to Jacobs Wells Road, which is the only site still sealed off.
His uncle, Brent Elsey, told the Edmonton Journal newspaper in Canada: "There are a lot of outstanding questions."
Brent said his nephew, from Sherwood Park, Alberta, would be remembered as an accomplished young man.
"The accolades are pouring in. He's done a lot of things in his short 22 years," he told the newspaper. "He was a very hard worker. He always tried to do the best that he could. He was not afraid of any kind of challenge and was very successful at most of the things he put his hand to."
Peter Mills, operations director at New Earth Solutions, said: "We have withdrawn from the site to allow police to conduct their investigations."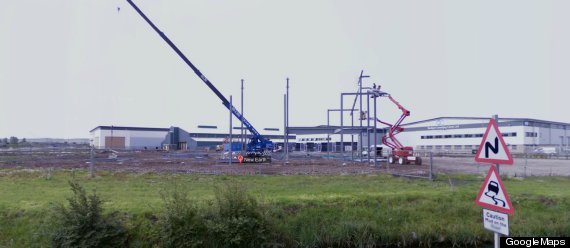 The New Earth Solutions site as it was in 2008 while it was under construction
Tributes for Mr Elsey have been pouring in via Facebook and a page set up in memory of him already has nearly 300 members.
Jess Cassidy wrote: "When I was told that Garrett Elsey had passed away, I was utterly shocked and didn't believe it. Being 22-years-old, he had his entire life ahead of him, and he was extremely bright and determined.
"Garrett was one of the nicest people I've met, and one of those people that just makes the experience of school and life so much better.
"Garrett, you touched so many souls without realizing how much of a gift you had given others. You will truly be missed. RIP."
A spokesperson for Bristol University said:
"The University of Bristol was saddened to hear of the tragic death of one of its students, Garrett Elsey.
"Garrett had recently arrived at Bristol to begin his studies for a Master of Science degree in International Security in the School of Sociology, Politics and International Studies.
"The University offers its condolences to his family and friends and its thoughts are with them at this very sad time."
An inquest is likely to be opened later this week and adjourned for several months for information and evidence to be gathered.
Police spokesman Martin Dunscombe said: "We are keeping an open mind as to how this man died."