The death of a former head boy who collapsed after taking ecstasy has prompted a coroner to warn other students of the "Russian roulette" risk of taking drugs.
Adam Dixon died of heart failure after taking the drug during a night in with university friends. Adam, from Halifax, had spent Christmas at home and returned to university on 7 January. Less than 24 hours later, the 18-year-old was dead.
He, along with two other housemates, decided to buy ecstasy to take back to their Beckett Park halls of residence at Leeds Metropolitan University. The group took the drug with water at around 10pm and, after dancing in their flat for a few hours, went to bed at 1am, the Daily Telegraph reported.
Around four hours later, the two housemates woke up and found something wrong with Adam. They called an ambulance and the hall's security guard - who attempted to resuscitate the teenager - but paramedics pronounced him dead at 5.42am.
At the inquest on Thursday, coroner David Hinchliff warned other students of the dangers of ecstasy and other party drugs.
"You could take Ecstasy 100 times and have no effect, yet one time you could be struck. It's like playing Russian roulette.
"I hope this is a warning to people that this is a very dangerous practice and can end the life of, in Adam's case, a lovely young man who showed a promising future."
Adam, who has been described as "clever and articulate", a talented rugby player and musician, was in his first year at Leeds Met, studying multimedia technology.
Adam's parents released a statement following the hearing, which read:
"At a time when students are going to university for the first time, or returning after a summer break, we would urge anyone who is even contemplating trying this or any drug to avoid it at all costs."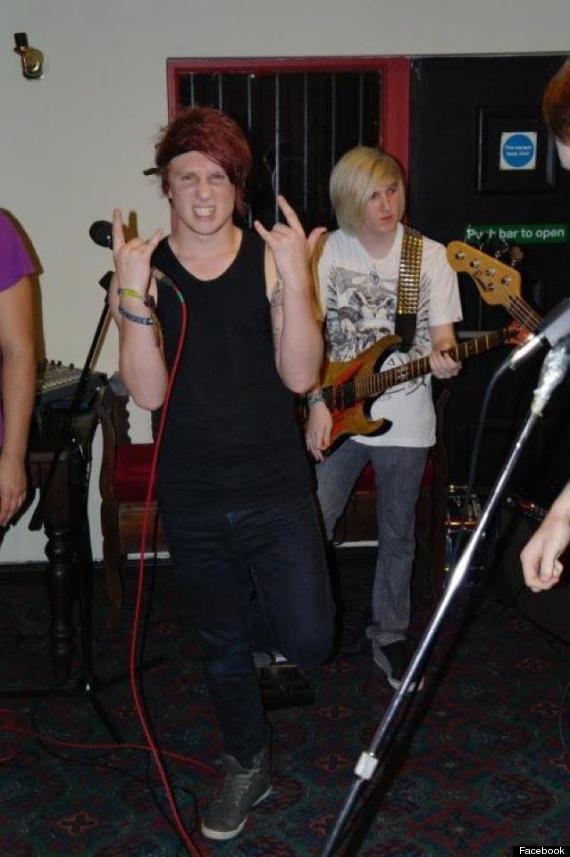 Adam Dixon was a talented rugby player and a member of a band
The university paid tribute to the student, calling him a "popular student who will be greatly missed".
"His death is a devastating loss to his family, friends and our University," a spokesman told the HuffPost UK. "We continue to offer support to students who have been affected by Adam's death."
Adam's former school, Hipperholme and Lightcliffe High in Halifax, where he was head boy, also released a statement, published by the Telegraph and Argus, paying respect to the former pupil.
"It is Adam's wider contribution to school that will never be forgotten – from representing the school at rugby to helping out with drama productions, from speaking to prospective students at the sixth form open evening to presenting the lower school presentation evening, Adam was an obvious and worthy candidate for his 'Head Boy' role, a role he performed with real maturity and purpose.
"He worked tirelessly to raise money for meningitis research in memory of his close friend, Thomas Ogden, who tragically died from the disease when they were in year eleven together.
"Adam brought so much to the school during his time with us. Adam will be sadly missed by all who had the pleasure of knowing him and working with him, but he will never, ever, be forgotten."
The coroner recorded a verdict of death as a consequence of non-dependent drug abuse.
Adam's death, along with that of 19-year-old Leeds College of Music student Oliver Walton, who died after taking an "ecstasy milkshake", prompted a warning from authorities.
In February, Dr Ian Cameron, joint director of public health in Leeds, issued a health message on the portals of Leeds universities, warning students to be "extra alert and aware of not only your own health and personal safety but also that of your friends".
A survey by MixMag in March revealed a fifth of young drug users take "mystery white powders", while a third admit buying drugs from someone they don't trust.
Martin Barnes, Chief Executive of DrugScope, a drug information and policy charity, said told HuffPost UK:
"It is vital that young people are aware of the risks attached to drug use of any kind. Each individual user will also respond differently depending on their own physical and mental health.
"Illicit substances can have unpredictable effects for a range of reasons, including variations in potency, being 'mis-labelled' as containing one substance when in fact they contain another, or reactions with alcohol or other drugs taken at the same time.
"The safest option is of course to avoid using drugs – but if young people do use substances like ecstasy, it's vital that friends look out for one another and seek medical help immediately if there are signs that something might be going wrong. Calling an ambulance may save a life – and will not automatically lead to any involvement from the police."
For free drugs advice, call FRANK free of charge on 0800 77 66 00 or text 82111