David Cameron has dismissed Liberal Democrat demands for a "mansion tax" and benefit cuts for wealthy pensioners as part of government plans to tackle the deficit.
But the Prime Minister signalled that the coalition would be targeting the rich with new measures to help balance the books.
Interviewed on the BBC's Andrew Marr Show as the Conservatives kicked off a potentially tricky conference in Birmingham, Cameron dodged questions about whether the economy was finally recovering from its double dip recession.
He also insisted it was "too early to say" whether the Government would miss its key target for public sector debt to be falling by 2015.
"I'm not an economic forecaster so I cannot tell you exactly what is happening in terms of the day-to-day growth, but I can tell you that our economy is rebalancing," he said.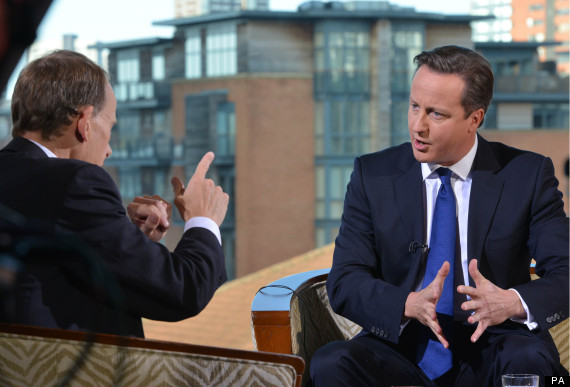 The answer's no: Cameron has ruled out a 'mansion tax'
Asked whether the debt target was set to be missed, he replied: "The figures for this year, it is too early to say where they are going to end up."
Cameron said his party would "level" with the public about the need for another £16 billion of spending cuts in 2015-16.
"We have to find these spending reductions and if we want to avoid cuts in things like hospitals and schools, services that we all rely on, we have to look at things like the welfare budget," he said.
The PM insisted he was looking at "working age welfare", and would stand by his pre-election promise to protect universal benefits for pensioners - such as free bus passes and winter fuel payments.
But he said the overall deficit reduction effort would be "fair".
"You have got to make sure that as you do this you are fair and seen to be fair. And under this Government we have always done this," he said.
"We will make sure that the rich pay their fair share... We are going to take further action to make sure the wealthiest people in our country pay their fair share towards deficit reduction."
Cameron ruled out Lib Dem proposals for a mansion tax, saying they were "not going to happen".
"I don't actually believe we should be a country where if you work hard, you save, you buy yourself a house, you try to pay down the mortgage, you save and invest into that house, I don't want to be a country that comes after you every year with a massive great tax. So that is not going to happen.
"What we have put extra tax (on) is when people buy very expensive property."
Chancellor George Osborne has also ruled out the Liberal Democrats' cherished "mansion tax" proposal for a levy on expensive properties.
"We are not going to have a mansion tax or a new tax that is a percentage value of people's properties," he told The Mail on Sunday.
"We don't think people who have worked hard, saved up to buy a home, should be clobbered with a mansion tax."
The prime minister defended the decision to reduce the top rate of tax from 50p to 45p - seized on by Labour as a "tax cut for millionaires".
"The richest 10% in our country are not only paying more in income tax, they are paying a greater percentage of the total income tax take than they ever did under Labour," he said.
"That top rate of tax had to go, because it was higher than France, higher than Germany, higher than Italy. You cannot run an enterprise economy, a free market economy, where you want investment, you want jobs, you want growth, if you have got a top rate of tax that is completely uncompetitive - and by the way raising virtually no money." Cameron insisted it was "too early to say" whether the Government would miss its key target for public sector debt to be falling by 2015
Pressed on the issue of universal benefits for pensioners, Mr Cameron indicated they would not be up for grabs in the spending review for 2015-16. "Let me be absolutely clear, the promise that I made at the last election to Britain's pensioners when I said we are not going to take away your winter fuel allowance, your free TV licences, your free bus passes - that promise stands."
Cameron said he was ready to wield Britain's veto to prevent "massive" increases in the EU's long-term budget from 2014.
But asked whether he would use the veto to block any rise, he declined to give precise details of his negotiating position.
SEE ALSO:
He repeated his position that voters should be given an opportunity - either in a referendum or a general election - to give their "fresh consent" to a new settlement for Britain's position in Europe.
But he said he did not favour a straight in-or-out referendum and believed that it was in Britain's interest to remain in the EU.
The Prime Minister told the Andrew Marr Show: "Europe is changing, the single currency is integrating rapidly.
"I think this presents a great opportunity for Britain to get the sort of deal we have always wanted in Europe. Let's be at the heart of a free-trading open-market Europe, but we don't want this endless political integration.
"I think the opportunity will open up over time to get a new settlement, and when we get that new settlement - after the general election - we should have new consent for that settlement."
He made clear that he expected this position to be a dividing line with Liberal Democrat coalition partners as the general election approaches.
"New settlement, new consent - that is what you will get with a Conservative government."
He added: "The trouble with a straight yes-or-no (referendum) is that, frankly, I am not happy with the status quo, so I don't want to say Yes to the status quo, but I also don't think it would be right to leave now.
"I think most people in our country don't want to leave the EU or just accept how it is at the moment. They want a change now. I want a change now. A Conservative-only government after the next general election can go and change it, can have that renegotiation."
He dismissed the prospect of eurosceptic Tory voters switching to the UK Independence Party, as the only party offering an in-out vote, saying: "I think Ukip is a complete waste of time, obviously."
Asked whether he would use the UK's veto to block an increase in EU budgets, Mr Cameron said: "If necessary, yes."
He added: "My approach is very simple. If we can't get a deal which has proper control of that budget, if they put forward ideas for massive increases, I won't say Yes to it."
But asked whether he was ready to invoke the veto to block any rise at all, Cameron responded: "I am not going to lay out my negotiating tactics in front of you, but let me be clear - people in Europe know I mean what I say.
"They know I am capable of saying No and if I don't get a good deal, I will say No."
The Prime Minister said that migration by workers within the EU was an issue being considered as part of the examination of the "balance of competences" between Westminster and Brussels currently being carried out by Foreign Secretary William Hague.
He voiced concern that factories were employing more than 50% of their staff from outside the UK, at a time of rising unemployment among home-grown workers.
"I think it is absolutely right to look at this balance of competences, to go through every topic and see what is in Britain's interests," said the PM.
But he added: "I believe in the single market, and I believe in free movement."
Cameron played down the boost in the polls enjoyed by Labour following leader Ed Miliband's well-received "One Nation" speech at its conference in Manchester last week.
"What I would say is that the central question of British politics right now is how do we get out of the difficult straits we are in, how do we deal with the debt and deficit and get the economy growing, how do we back aspiration amongst all our people?" said Mr Cameron.
"The Conservatives are absolutely talking that language and taking that action and I didn't hear anything from Labour about any of those issues.
"As far as I'm concerned, it's not the speech that matters, it's what you are going to do.
"And this week here in Birmingham, you are going to hear in huge detail how we get behind people who want to get on and want to make something of their lives. That's what it is about."
Speaking before the conference, chancellor Osborne also said he believed the "economy is healing", and the Government had the "right balance" on the pace of spending cuts.
Despite strong opposition from Tory traditionalists, the chancellor confirmed that he would be backing the introduction of same-sex marriage when a free vote is held in the House of Commons.
"I support gay marriage, I support gay marriage because I believe Conservatives support the institutions of commitment," he said.
Labour shadow Cabinet Office minister Michael Dugher said: "Britain needs a One Nation Prime Minister to deliver real change. Instead we've got one that asks millions to pay more and millionaires to pay less."