Health Secretary Jeremy Hunt gave a highly-personal defence of the Conservatives' attitude to the NHS on Tuesday.
Hunt, attacked for comments last weekend where he said he favoured cutting the abortion limit to 12 weeks, told Tory activists Labour's claim to the health service was insulting.
He also outlined greater access to radiotherapy, a crackdown on NHS chiefs who preside over care scandals, and called for hospitals and doctors' surgeries to offer more services online.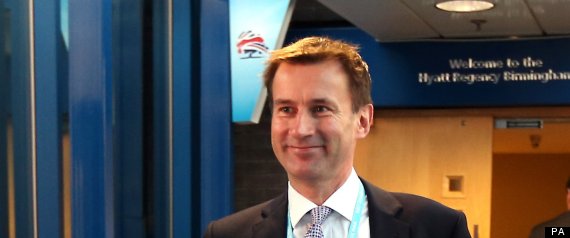 Hunt has come under fire for his views on abortion
"The NHS does not belong to Labour any more than victory in the Second World War belongs to the Conservatives," Hunt said.
"No party has a monopoly on compassion and it is an insult to common decency for any party to claim it, because the NHS belongs to all of us; to my children born on the NHS, to my father who worked as a manager for the NHS and my mother who worked as an A&E nurse and midwife. But most of all to the three million of us who use it every week."
Hunt told the Conservatives' annual conference in Birmingham the party "is and always has been the party of aspiration".
Hunt said he had told Whitehall and Care Quality Commission officials to ensure health managers were "held accountable for the care they provide, both in the NHS and social care sectors".
And he said that from April, cancer patients in England would have guaranteed access to "innovative" radiotherapy treatments, "wherever clinically appropriate and cost-effective".
He demanded more use of the internet to speed-up booking appointments and ordering repeat prescriptions.
"The big Labour disaster with the NHS IT contracts must not stop us trying to crack this, which means no to top-down, bureaucratic procurement - but yes to more information, faster response and the better service from technology," said Hunt.
He told activists the Government wanted to impose a cap on how much older people paid for their care - recommended to be £35,000 - "as soon as we are able".
But the Health Secretary added: "We need to face up to some hard truths about how we are going to pay for social care."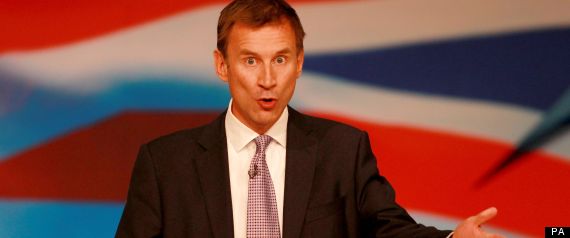 Hunt was attacked for a 'policy-light' speech
The Unite union attacked Mr Hunt's "policy-light speech".
Its head of health, Rachael Maskell, said: "It was evident that Jeremy Hunt has either not got a grip of the scale of the crisis facing the NHS or he is in complete denial - or both.
"The NHS deserves better than this short, vacuous, policy-light speech.
"There was no reference to the scale of the cuts currently taking place in England, or to the damage that the so-called £20 billion efficient savings are doing to the NHS that Jeremy Hunt professes to care for."

Last week Hunt was been accused of having "no concern for women's health" after backing restricting abortion time limits in the UK by half, from 24 to 12 weeks.