Fifty puppies crammed into boxes were found at an illegal Irish puppy farm - destined to be shipped to the UK.
Two men were arrested for alleged animal cruelty after police discovered the pups in two cars in Old Malahide Road in the Coolock area of Dublin.
Brian Gillen, Dublin Society for Prevention of Cruelty to Animals (DSPCA) chief executive, urged the public to be vigilant when buying a pup to stop the dogs being sold on the black market.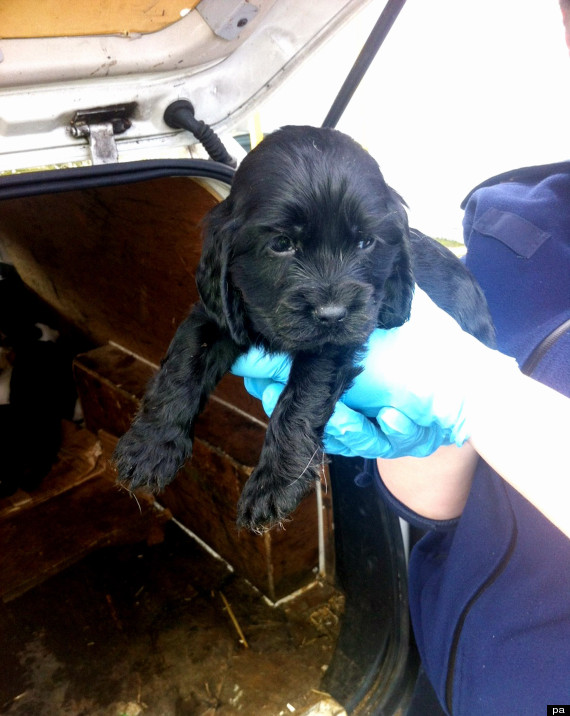 The pups were discovered in boxes in the rear of both vehicles
"Do not buy from the boot of a car or a van, and always arrange to meet the puppy with its parents at the breeders home. The conditions the mother is living in is a good indication of the health and welfare of the animals."
They encouraged people "not to buy dogs just because you feel sorry for them" and encouraged the public to instead report the incident to animal protection organisations.
The puppies, which include around 25 Jack Russells, cocker and springer spaniels, and terrier, beagle and Labrador breeds, have been taken into quarantine, many suffering from mange, ear mites, fleas, eye infections and parasitic infections, the DSPCA said.
Many of the puppies need to be in intensive care, as they were much too young to have been snatched from their mothers, and some have had tails and claws cruelly removed. A total of fifty puppies were found in two cars after uniformed police stopped and searched the vehicles on Old Malahide Road in the Coolock area of Dublin
But all will eventually be found new homes, the DSPCA said, after the animal cruelty investigation is completed.
"None of the seized puppies were micro chipped which make tracing their original owners and breeders impossible," a spokesman said.
"We would also like to thank the general public and our supporters for their support and concern for the puppies," he said.