And they called it puppy love...
Yes, say hello to Buttons the dog and Kitty the cat - who were both abandoned at a very young age and are now being hand-reared together at the Battersea Dogs & Cats Home Old Windsor: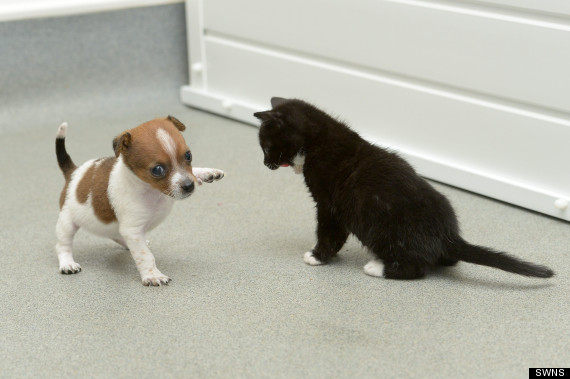 Buttons was born at the home - after his heavily pregnant mum was abandoned - and Kitty was brought in when she was just one-week old. Their bond is now so close that the cute four-week-old animals sleep together, play together and even feed together.
"Normally we'd hand rear puppies and kittens separately but we thought we could try putting them together as they are both so young," says Battersea Veterinary Nurse Sascha Taylor. "Luckily it's paid off as they adore being with each other and do everything together – it's really very sweet.
"Hand-rearing them is hard work – I have to feed them every two hours, even throughout the night – but it's totally worth it. We're not sure if they'll be rehomed together, though it would be great if they did!"
Take a look at the adorable photos of Buttons and Kitty in the gallery below. And if you'd like to home them - or another dog or cat - visit the Battersea Dogs & Cats Home website or call them on 0843 509 4444.