Downing Street has brushed off German comparisons of David Cameron's Britain with the grumbling old men in The Muppets.
German magazine Der Spiegel compared Britain to Statler and Waldorf, the two old men on The Muppet Show who continually gripe as spectators in the gallery.
In a statement, Number 10 said Britain will still "work closely" with Germany, amid claims that Chancellor Angela Merkel has lost patience with UK intransigence over the EU and wants to create a "new, more deeply integrated Europe" based around the eurozone.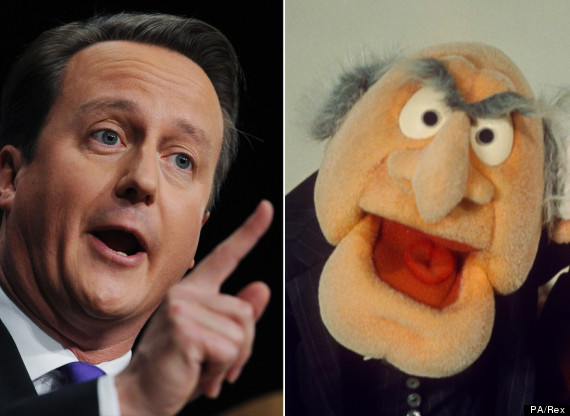 Statler and Waldorf of the Muppets, two grumpy old men who snipe from the sidelines
The magazine - often taken as reflecting the views of the German establishment - said that Merkel wants to push ahead without Britain with measures including a separate budget for the 17 eurozone states and a joint EU headquarters for military missions.
Merkel had long believed that "the door must be kept open for London" to engage more closely with the EU, but those hopes have now been "dashed" by the approach of David Cameron's administration, said Der Spiegel, which did not identify the sources of its claims.
"The German government is convinced that the euro group will be the core of a new, more deeply integrated Europe," said Der Spiegel.
"The Cameron administration's unwillingness to compromise leaves the German government with no choice.
"Berlin's official position continues to be that all integration steps must be fundamentally available to all EU members. But in reality, the Chancellor has long since come to terms with the fact that there will no longer be a path back to the centre of the union for the British." Angela Merkel, the German Chancellor, is said to be frustrated with David Cameron's leadership
Asked about the Der Spiegel article, the Downing Street spokeswoman said: "I'm aware of reports and I'm sure you are aware that these comparisons are actually made by a German magazine and not actually by the Chancellor herself.
"There will be issues we don't always agree on, but that is why we have constant dialogue and that ensures we both understand our priorities and how we can work together in our national interests."
Asked whether it was right to say that Mr Cameron was not a Muppet, as Der Spiegel suggested, she joked: "I think that's probably a factual statement".