A transgender man who was a former Broadmoor patient has claimed Jimmy Savile groped him while he was being treated at the secure hospital.
Steven George, who was known as Alison Pink before his sex change, told the BBC he was a 17-year-old girl when the abuse occurred. Police are probing as many as 340 lines of inquiry since a documentary aired allegations against the presenter
"In the 1970s he used to come in and watch television, usually Top of The Pops," Mr George said.
"The incident happened when I was sitting watching television in my nightdress minus pants because we were not allowed to wear them.
"He came in, sat down by the side of the sofa, and the sofa was blocking the staff's view. He shoved his hands straight up my nightdress and sexually assaulted me."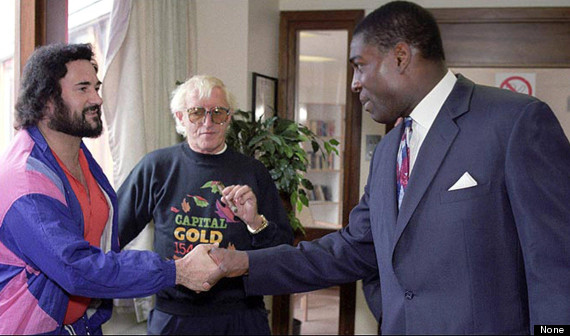 Jimmy Savile did a lot of charity work at Broadmoor. Here he is introducing boxing legend, Frank Bruno, to notorious serial-killer, Peter Sutcliffe in 1991
Although the assault was witnessed was by two other patients, Mr George said he could never say anything.
"We talked about between ourselves. If we had said something they would have punished us. Historically people in mental hospitals are never believed." Jimmy Savile's headstone has been removed and carted away to be used as landfill amidst the claims
Mr George said Jimmy was later allowed to move his caravan in to the female courtyard and was given keys to the institution. Two very young girls would 'clean' his caravan, Mr George said.
"He virtually had the run of the place" added Mr George.
Mr George's testimony comes as the Daily Mirror revealed that Savile ran 'lasses-only' discos at the secure psychiatric hospital.
There are now fears he abused girls whilst posing as "therapeutic entertainment." One allegation claimed Jimmy Savile molested a brain-damaged girl in hospital
Jimmy Savile's long-time producer on children's TV show Jim'll Fix It said on ITV Daybreak on Tuesday he was completely unaware of the presenter's activities and said the star managed to "hoodwink" him.
But Roger Ordish said he did know that Savile had a "predilection for younger females".
Ordish said Savile would compliment them on their beauty, "but nothing obscene".
"These are girls who are young females, they're not children. they could have been 14 looking like 18, but they were not children in my definition of the word," he said.