Nasa has revealed a high-resolution picture of a mysterious bright object currently troubling the team behind the Mars rover Curiosity.
It was originally found about a week ago, and websites across the internet have had fun trying to guess what it might be.
No, it's not evidence of alien life. In fact Nasa has already identified the object as debris from the $2.5bn rover. It is about 1.3cm long, and may have been dropped onto the surface during landing.
But as to what exactly it is - and what impact it might have on the rover's two-year scientific mission - is yet to be determined.
A new image of the debris from from the Mars Hand Lens Imager camera shows the bright, plasticy object on the Martian ground in high levels of detail.
The object has already caused the agency to dump the second scoopful of Martian soil taken by the craft, due to concerns about contamination.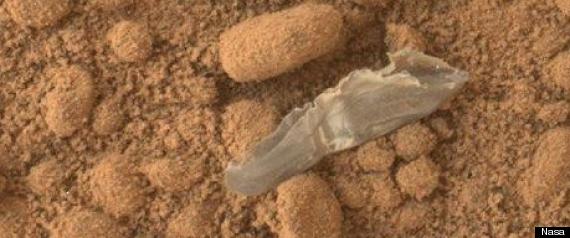 Scott Maxwell, one of the rover's drivers, said his main worry would be particles from the craft entering the soil sampling machine.
Nasa said: "The rover's second scoopful, collected on Sol 66 (Oct. 12), was intentionally discarded on Sol 67 due to concern about particles of bright material seen in the hole dug by the scooping.
"Other small pieces of bright material in the Rocknest area have been assessed as debris from the spacecraft. The science team did not want to put spacecraft material into the rover's sample-processing mechanisms."
However other "bright particles" from the area have been identified as 'Martian native' - and Nasa still doesn't know what they are. More studies and photographs are planned - and with more than two years to go until the end of the mission, Nasa does at least have time on its side.