George Osborne is reported to have stumped up an extra £160 for a first class train ticket after being told he could not sit in the restricted area with his standard class fare.
ITV News correspondent Rachel Townsend said she was travelling on a train to Euston when the chancellor got on at Wilmslow, in his Tatton constituency, and tried to get away without paying the extra charge.
Townsend made perfect use of Twitter to report that journey under the hashtag #getGeorgeinstandard, as an aide to the chancellor reportedly tried to persuade the conductor to let her boss stay in first class away from, for want of a better word, the plebs.
If accurate the incident will be highly embarrassing for a government wary of being seen as out of touch "posh boys" in the wake of chief whip Andrew Mitchell's alleged expletive-ridden rant at police officers.
It is not the first time Osborne has got into trouble for the way he travels. In May 2009 the Daily Telegraph revealed Osborne claimed £440.62 in expenses for a single 200-mile journey from Cheshire to London in 2005.
As Osborne's train approached Euston political reporters who had been following Townsend's tweets rushed to the station in central London, with Bloomberg's Rob Hutton Tweeted the below picture of the welcoming committee.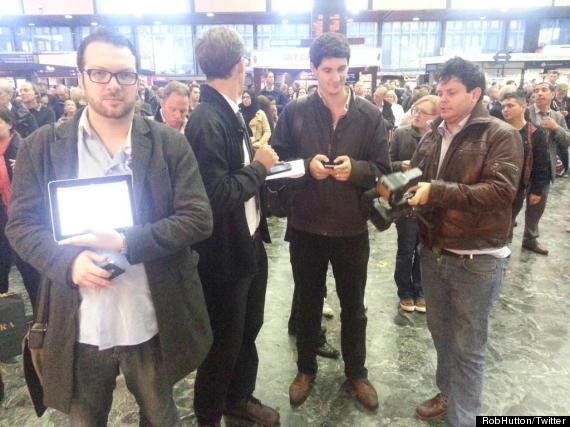 Jumping on the story, Labour's Michael Dugher, said it showed how out of touch the government was. "Just like Andrew Mitchell, George Osborne obviously thinks it's one rule for him and another for the plebs he's so keen to sit apart from. So much for 'we're all in it together'," he said.
According to TheTrainLine.co.uk the cheapest pre-booked first class ticket from Wilmslow to London Euston for the service Osborne took would have been £62.50.
By leaving it to the last minute and then having to fork out for an upgrade to first class, the austerity chancellor paid at least two times over the odds for ticket to London.
On Friday night, the chancellor's office and Virgin Trains denied there had ben a "stand-off" over the first class ticket.
George Osborne's Travel Playlist