Police are investigating alleged tweets from the BNP leader Nick Griffin, detailing the home address of a gay couple, which Griffin appeared to encourage a "British Justice team" to visit.
Griffin, a member of the European Parliament, allegedly asked for the home address of Michael Black and John Morgan, and later published that address on the site, after the gay couple won a landmark ruling against a Christian B&B owner who denied them a room because of her religious beliefs.
Human rights campaigner Peter Tatchell said police should take action against Griffin, but Mr Black told the BBC the comments were a "damp squib".
"It would be difficult for people to gather as we live in a small village and there's nowhere to park," he added.
Cambridgeshire Police are investigating the case, in association with Dyfed-Powys Police, who both said they had received complaints.
The Twitter account has since been reactivated, but the offending tweets have been deleted.
A petition has been started on Change.org to get Griffin banned from Twitter permanent, with 3,200 signatures in less than 24 hours.
On Thursday, a Twitter address @nickgriffinmep, alleged to be the BNP leader, wrote: "If anyone can give us the address of the two bullying 'gay' activists who've won case v Christian B&B owners, we'll hold demo.."
"..for rights of all home owners, gays included, to rent or not rent rooms to whomsoever they wish."
'"So Messrs Black & Morgan, [address given] A British Justice Team will come up to [address given] and give you a..."
"...bit of drama by way of reminding you that an English couple's home is their castle. Say No to heterophobia!"
Griffin then wrote: "Why don't left & gay activists confront Muslims instead of picking on meek & forgiving Christians? Bullies are always cowards!"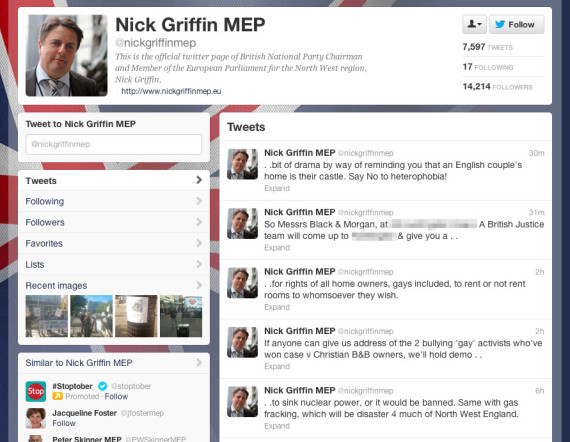 Griffin told ITV News he was not concerned that police are looking into the matter: "Why should I be? If they're daft enough to persecute me for making a stand against the avalanche of leftist persecution of ordinary folk and their traditional freedoms, then the rotten, anti-Christian system they defend will be the loser."
He tweeted on Friday morning:
Mr Black, 64, and his 59-year-old partner Mr Morgan, received £3000 in damages from Susanne Wilkinson after she would not let them have the room at the Swiss Bed and Breakfast in Cookham, Berkshire, in March 2010 despite them having made a reservation and paid a deposit.
The posting of their address caused a storm on Twitter, and users were urged to report the tweets.
A Cambridgeshire Police spokeswoman said: "We have received a number of calls in relations to the tweets and are looking into the complaints we have received.
"Officers will also visit the men mentioned in the tweets as part of our inquiries."
Mr Black, 64, an exams consultant and writer, called the politician an "idiot".
He told BBC Breakfast: "I think Nick Griffin has got very little support in the country.
"Certainly the public response to the incident, when it happened two and a half years ago, and again in the last 24 hours, has been overwhelmingly in support of our stand against discrimination so hopefully that will mean the vast majority of the people in the country will just see what an idiot Nick Griffin is and reject his views.
"We were shocked to hear about it and the more we read about it the more incoherent they seemed.
"So we don't really know what Nick Griffin is getting at.
"He accuses us of being heterophobic which is far from the truth and he has accused us of trying to outlaw Christianity which is not true either.
"The finding of discrimination protects Christians from being discriminated against as well as people who are gay or different races or different religions."
The case at Reading County Court, which angered Britain, concluded found that Mr Black and Mr Morgan had been the victims of direct discrimination.
Wilkinson, a married mother-of-four, considered that providing a double bed to the couple, who are not in a civil partnership, would involve her in promoting what she believed to be a sin, namely sexual relations outside heterosexual marriage, the court heard.