An unnamed former British Prime Minister has been linked to a "powerful paedophile ring" following a bombshell question during PMQs.
Tom Watson, who became a household name after his dogged pursuit of News International over phone hacking, threw a curveball at David Cameron during the session on Wednesday.
The West Bromwich MP asked a hushed house: "The evidence file used to convict paedophile Peter Righton, if it still exists, contains clear evidence of a widespread paedophile ring.
"One of its members boasts of his links to a senior aide of a former prime minister who says he could smuggle indecent images of children from abroad." Tom Waston tweeted he was 'anxious' about asking the question
At this point cameras covering PMQs cut to David Cameron who was sitting forward in his chair, clutching his binder and looking extremely serious.
Watson continued: "The leads were not followed up, but if the files still exists I want to ensure that the Metropolitan Police secure the evidence, re-examine it and investigate clear intelligence suggesting a powerful paedophile network linked to Parliament and Number 10."
There was an uncomfortable silence in the chamber before the current PM took to his feet.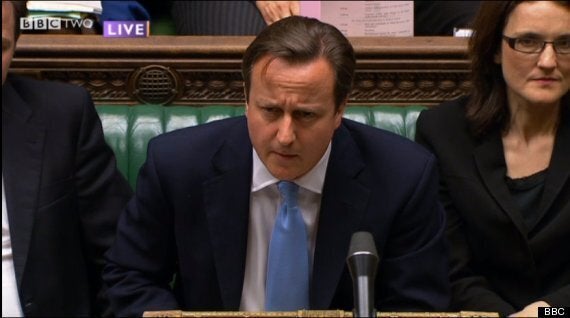 David Cameron looked concerned at the direction the question was going
Cameron said: "The honourable gentleman raises a very difficult and complex case and I'm not entirely sure which former PM he's referring to.
"What I'd like to do is look very carefully at Hansard about the allegations... and look very carefully to see what the government can do to help give him the assurances that he seeks."
A report from the Independent newspaper in September 1992 described the Righton case. It says:
A LEADING expert in residential childcare was fined pounds 900 yesterday when he admitted importing and possessing illegal homosexual pornographic material.

Magistrates at Evesham, Worcestershire, heard that the material included copies of a recognised paedophile magazine and photographs of young boys under the age of 16 posing partly dressed or naked.

Peter Righton, 66, of Badsey Road, Evesham, admitted two illegal importation charges and one charge of possessing obscene material. He was ordered to pay pounds 75 costs and the magistrates ordered that the magazines should be destroyed.
Righton is also mentioned in this piece by Nick Davies, the journalist whose claims about phone hacking at News of the World lead to the closure of the publication.