An art exhibition called 'Jimmy Savile is Innocent' has been criticised by a children's charity for displaying a sexualised picture of an underage girl.
The Bread And Butter Gallery in Islington, London, currently features a number of works addressing the allegations facing the former BBC presenter, including 'Reflections Of Savile' by Jonny Tanna.
The work shows a girl who appears to be around 10 or 11 years old posing suggestively at a camera, naked from the waist down except for a tiny thong.
The Metropolitan police told The Huffington Post that, though controversial, the image is not illegal because it doesn't show any genitals.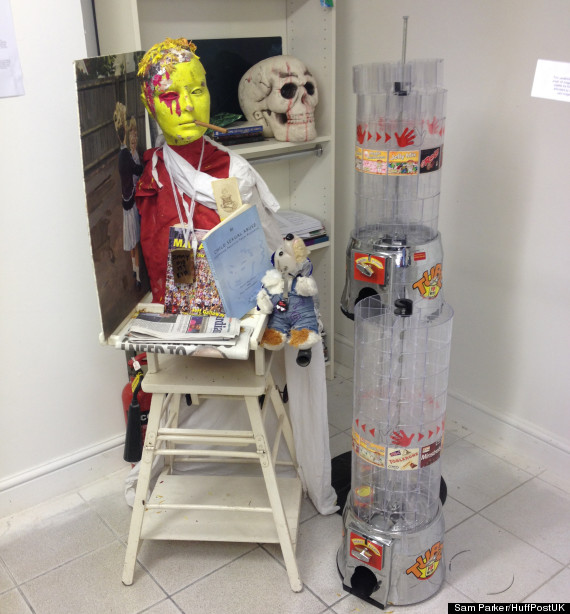 A green head is exhibited smoking a Jimmy Savile-style cigar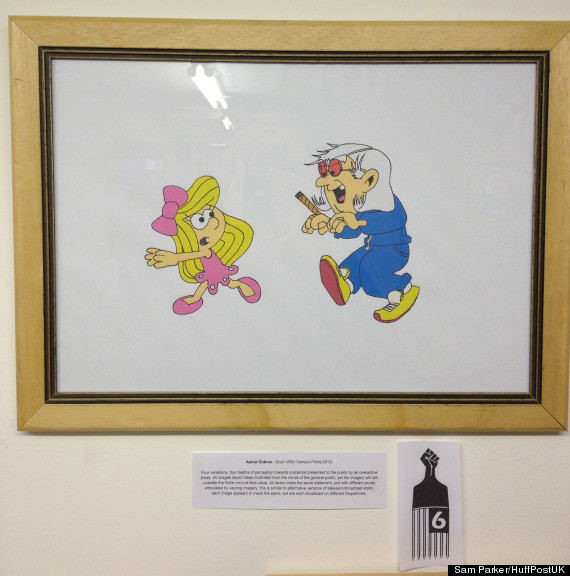 Jimmy Savile is shown as a Smurf character Gargamel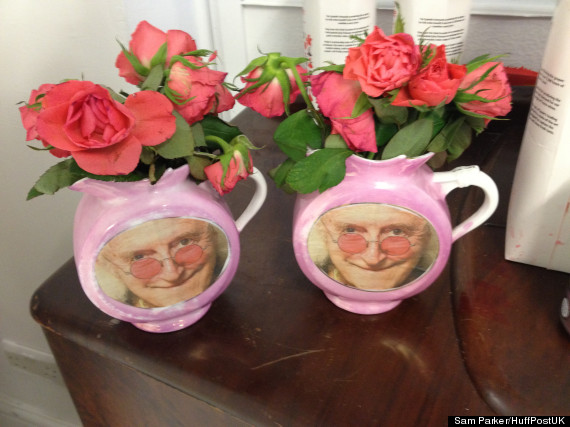 Two plant pots with Jimmy Savile faces stuck on are displayed
BLOG: What I Saw Inside The 'Jimmy Savile Is Innocent' Exhibition
However a spokesperson from the NSPCC said that such an image - classified as a low level "indicative" picture rather than child pornography - is "concerning" because it "might encourage child sex offenders to seek out further images or commit an act of abuse."
Tanna, a 32-year-old film artist and photographer from London defended 'Reflections Of Savile' saying: "I wanted to confront the issue that people have taken a media story and exploited it, rather than confronting what is actually happening."
What do you think?
The show's curator David C West stated that he and the artists involved are trying to make the point that Jimmy Savile, who is being investigated by Scotland Yard over hundreds of potential cases of child abuse, is technically innocent and the media furore around it resembles a "witch hunt".
But while the rest of the show is made up of sculptures, newspaper montages and illustrations, it is the photo of the young girl – which includes a small image of Savile in the background – that is the most disturbing.
"I came across the image accidentally when I was sent a file to download a model's portfolio," explained Tanna, who also works in fashion photography.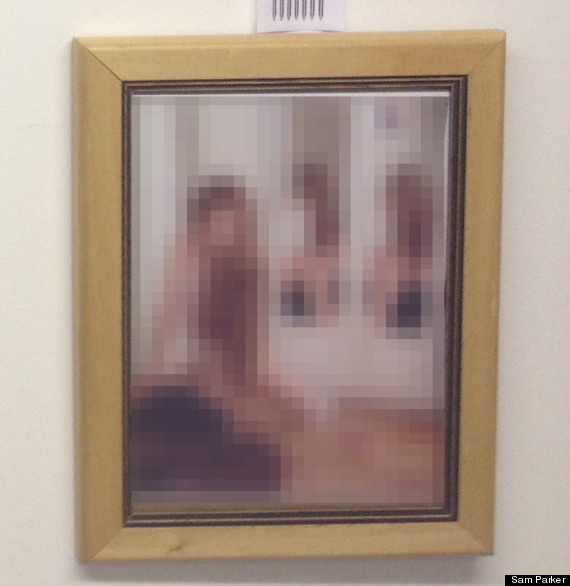 A pixelated shot of 'Reflections Of Savile' by Jonny Tanna
"It led to an entire Russian website with these images that no one has done anything about it. I was going to delete it, but when I saw this show come up I saw an opportunity to use it."
Rather report the images to the authorities, Tanna said he "showed it to a fellow artist who came up with the idea that we should use it for a piece."
He added: "I got rid of the rest of the images. I actually don't own a copy anymore myself because I don't feel comfortable with it."
Despite accepting the image is inappropriate, Tanna denied he was looking to cash in on the Savile affair.
"I agree there are more important things to make art shows about, but this was something topical we could work on.
"I'm not trying to make headlines. I don't want to be famous for exploiting a scandal - though I'm not saying that's what we did.
"I don't need it to be up there. It's not that important to me. To me it's just contributing a piece to an art show. If it's really causing a stir I might take it down myself."
The Child Exploitation and Online Protection Centre told The Huffington Post UK that "images that are indicative of child sexual abuse, although not defined as illegal, are concerning".
"These are not images you will find in a family album. As Operation Elm shows, there are people that will use these images to network online trying to operate 'under the radar' of law enforcement.
SEE ALSO -