David Cameron has arrived in Dubai as part of a three-day tour of the Gulf and the Middle East in a bid to cement UK arms sales and build a "reinvigorated partnership" with the region's leaders after the Arab Spring.
The Prime Minister is personally spearheading a push to persuade the United Arab Emirates to buy 60 of BAE's Typhoon jets in a deal reported to be worth upwards of £3bn.
He will travel to Saudi Arabia on Tuesday - Britain's biggest trading partner in the region - which is also considering adding to its fleet of the aircraft. A Eurofighter Typhoon takes off on November 15, 2011 at the Dubai Airshow.
Downing Street said the visit - his second to each country as premier - were part of a wider effort to reinforce military ties.
These are seen as crucial amid continued fears over Iran's nuclear ambitions and the threat Tehran could seek to badly disrupt oil supplies by blocking the Straits of Hormuz.
Mr Cameron landed at a military airbase near Dubai where a number of RAF Typhoons are stationed to promote the aircraft to military and political figures from the UAE.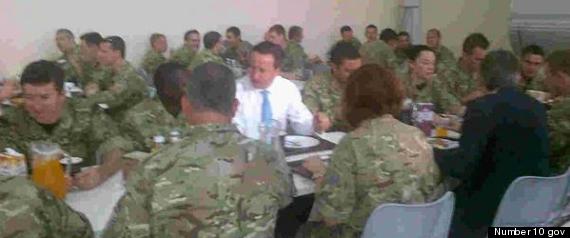 David Cameron joined 70 British personnel stationed at Dubai for breakfast. Cameron will personally push to persuade the United Arab Emirates to buy 60 of BAE's Typhoon jets
He will also hold talks with the Crown Prince of Abu Dhabi and Prime Minister of UAE on the potential for a joint work on the next generation of military aerospace equipment.
Overall - including an expected deal with Oman - the government hopes to secure deals for 100 Typhoons to the region in the coming year - worth at least £6 billion to British firms.
It could prove vital to BAE as it struggles to deal with massive defence spending cuts in the US and Europe and following the collapse of its planned merger with EADS.
Mr Cameron faces a tough balancing act however as he attempts to secure billions in investment from the oil-rich states while addressing concerns about the human rights records of their regimes.
The Arab Spring has led to an increased focus on largely autocratic rule in many states, including crackdowns on pro-democracy and other protest movements.
The government has been criticised for failing to condemn abuses and accused of continuing to sell military equipment with insufficient guarantees it would not be used in repression.
But Saudi officials reacted angrily to an "insulting" inquiry into it by the Commons foreign affairs committee, warning it would be "re-evaluating" relations.
And British businesses are said to have been excluded from contracts in other nations in protest at the British support for the pro-democracy movements elsewhere.
As part of the visit, Mr Cameron will take part in a question and answer session with university students in Abu Dhabi and meet with UK business leaders at an investment event.
"We want to work together with the Gulf countries towards a future that is rich in prosperity, strong in defence and open in its handling and pursuit of political and economic reform," Downing Street said ahead of the visit.
On Wednesday, Mr Cameron will make a short visit to the Middle East before flying home for talks with German Chancellor Angela Merkel at Downing Street ahead of the crunch EU budget summit.
It means he will be out of the country when he learns whether Barack Obama or Mitt Romney have won the bitterly contested US presidential race. He will also miss Prime Minister's Questions in the Commons.