ITV's director of television has admitted Phillip Schofield was "wrong" in confronting David Cameron with a list of alleged paedophiles on live TV, adding that the action was "misguided".
In an interview on ITV News, Peter Fincham said that he would be responding to letters from Lord McAlpine and Tory MP John Whittingdale "very quickly".
TV regulator Ofcom has received 415 complaints about last week's incident and has launched an investigation into it.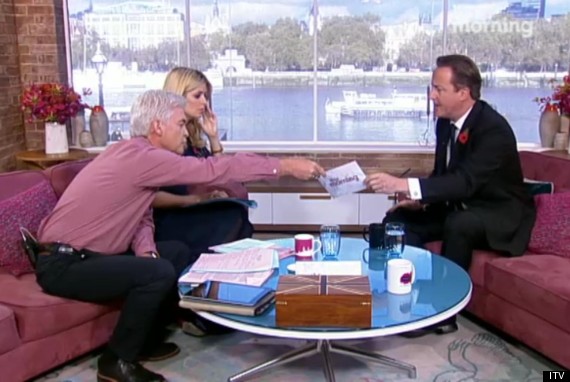 Schofield hands Cameron the list live on TV
Mr Fincham said he was "confident this sort of thing won't happen again".
He said: "I think the way This Morning interviewed the Prime Minister last Thursday or that portion of the interview was wrong, was misguided.
"I'm not happy that this happened. We have editorial processes and checks in place and, to be honest with you, they weren't followed so I'm not happy about that but I think the way we have tackled this and responded to this has been quick and decisive."
Mr Fincham said the channel would "co-operate fully" with the Ofcom investigation.
He said he was unable to discuss the disciplinary action taken against those involved in the production but the matter had been taken "extremely seriously".
He added: "I've spoken to Phillip Schofield myself. He realises his mistake. He apologised for it extremely fully and extremely quickly and I discussed that with him and I think he's under no illusions that this was a lapse in ITV journalism; this is something we shouldn't have done."