The cartoon has attracted more than 300 comments.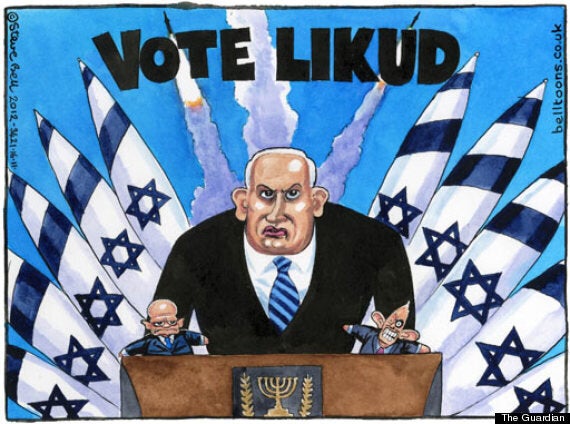 The Guardian's cartoon on Friday featured Netanyahu and puppets
Foreign secretary Hague has been accused by some of a statement too critical of the Palestinians, after saying on Thursday: "Hamas bears principal responsibility for the current crisis.
"I utterly condemn rocket attacks from Gaza into southern Israel by Hamas and other armed groups.
"This creates an intolerable situation for Israeli civilians in southern Israel, who have the right to live without fear of attack from Gaza."
The Community Security Trust, which monitors anti-Semitism in Britain, said in a statement on its website: "What is striking about Steve Bell's cartoon is that he seems to have reached for the 'puppeteer' trope to explain that fact that William Hague's statement on the conflict was presumably not critical enough of Israel for his liking, as if this is the most plausible explanation for Hague's view.
"The anti-Semitic trope of Jews as puppeteers, controlling the politicians of ostensibly much more powerful nations, should be familiar to the Guardian: Jonathan Freedland wrote about it in their pages in 2011, when he described it as 'an image with long-established service in the cause of antisemitism'."
The Board of Deputies of British Jews' chief executive Jon Benjamin said the cartoon could be "straight out of Der Sturmer", the Nazi propaganda newspaper.
The cartoon caused fierce debate on Twitter, with many arguing it was published purely to demonstrate the influence of the Israeli government and a criticism of Netanyahu's influence.
A spokesman for the Guardian said the newspaper had not yet decided what would be their response to the criticism.