The anti-war campaigner who burst into Tony Blair's appearance at the Leveson inquiry is to appear in court on Friday charged with threatening or abusive language or behaviour - and claims his case is backed by Archbishop Desmond Tutu.
David Lawley-Wakelin, the maker of a documentary called Alternative Iraq Enquiry, stormed into the inquiry into press standards in May this year, and is alleged to have shouted insults connecting the former prime minister with war crimes, alleging the war in Iraq was linked to money he was paid by investment bank JP Morgan.
Lawley-Wakelin posted a picture of himself with Archbishop Tutu in Leceister on Thursday, with the caption "Last night in Leicester, letter of support to follow ..God willing" in a Facebook post which garnered 28 likes from friends.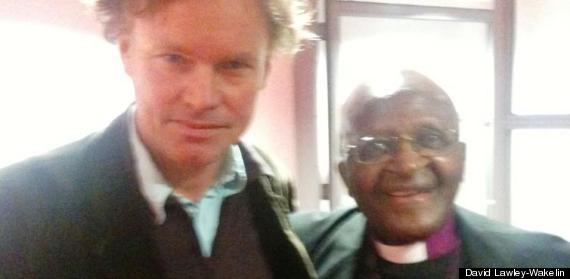 David Lawley-Wakelin with Archbishop Desmond Tutu
In August, Archbishop Tutu pulled out of a leadership event in South Africa, refusing to to share a platform with Blair, calling the former PM's support for the invasion of Iraq "morally indefensible."
Lawley-Wakelin has been charged under the Public Order Act 1986 for using threatening abusive or insulting words or behaviour that may have caused someone harassment, alarm or distress, and is set to appear at Highgate Magistrates Court, in a trial which may last until Monday.
In an article for Stop The War coalition immediately before his trial, Lawley-Wakelin wrote: "The Act 1 - under which I have been charged with causing "distress" to the war criminal Blair - states that in my defence I need to demonstrate that my conduct was reasonable.
"I will of course be pleading not guilty, which will enable me to make a statement and call witnesses. I am asking anyone who attended the Leveson Inquiry when I made my protest, and is prepared to be called as a witness in my defence, to call me."
A protest, named "The Wrong Man In The Dock" was scheduled to take place outside the Highgate court on Friday morning.