The fragility of the ceasefire between Israel and Hamas was underlined on Wednesday by a rocket attack by Palestinian militants an hour after the Egyptian-brokered truce came into effect.
Twelve rockets were launched from the Gaza Strip into Israel after hostilities officially ended, according to Reuters.
Israeli police spokesman Micky Rosenfeld told the news agency: "We have not changed our mode of alert and remain vigilant." Joy: Palestinians celebrate the ceasefire in Gaza City
There were no reports of any injuries, with Israel's sophisticated anti-missile system shooting down most of the rockets.
The ceasefire was announced by the Egyptian foreign minister Kamel Amr leading to Gazans celebrating in the streets.
The truce came after eight days of violence that saw the deaths of over 140 Palestinians and five Israelis. Israeli Prime Minister Benjamin Netanyahu, right, together with Israel's Defense Minister Ehud Barak, centre and Israeli Foreign Minister Avigdor Lieberman deliver a joint statement on the truce
UK Foreign Secretary William Hague welcomed the ceasefire, tweeting that it was now important to make it last.
US Secretary of State Hillary Clinton said it was "a critical moment for the region." She thanked Egypt's new president Mohammed Morsi for his "personal leadership in de-escalating the situation and ending the violence."
"There is no substitute for a just and lasting peace," she said.
"The US welcomes the agreement today for a ceasefire in Gaza - for it to hold the rocket attacks must end and a broader calm must return.
"In the days ahead the US will work with partners across the region to consolidate this progress, improve conditions for the people of Gaza, provide security for the people of Israel."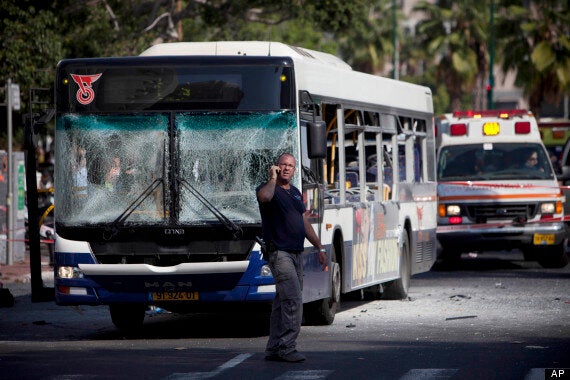 An Israeli security officer stands next to a blown up bus in Tel Aviv
A Whitehouse statement said: "Barack Obama commended Israeli prime minister Benjamin Netanyahu for agreeing to the Egyptian ceasefire proposal - which the President recommended the Prime Minster do - while reiterating that Israel maintains the right to defend itself."
A statement from Benhamin Netanyahu's office, reported by Aljazeera, said: "A short while ago Prime Minister Benjamin Netanyahu spoke with President Barack Obama and agreed to his recommendation to give a chance to an Egyptian proposal for a ceasefire and thereby give an opportunity for the stabilisation of the situation and a calming of it."
It comes a week after Operation Pillar of Defence began with Israel assassinating the head of Hamas' military wing Ahmed Said Khalil al-Jabari.