As the Diamond Jubilee year comes to an end, you could be forgiven for feeling a little 'Queen fatigue'.
Nevertheless, Windsor Castle has collected portraits of the Queen by some of the world's top artists, having decided there is room for at least one last Queen-themed hurrah before the all the bunting comes down for good.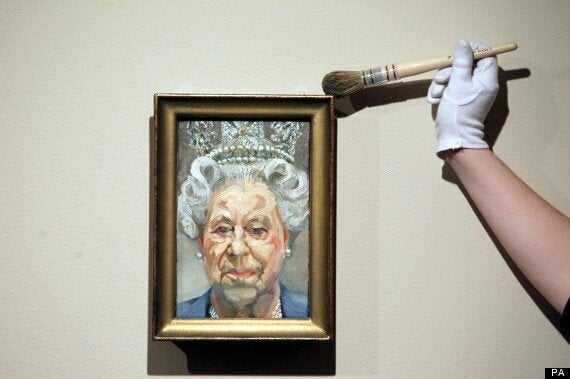 Lucian Freud's famous Queen portrait being dusted down for one last Jubilee show
Paintings and photographs by artists including Andy Warhol, Cecil Beaton, Lucian Freud and Annie Leibovitz are amongst those which will go on show in The Queen: Portraits of a Monarch from Friday.
They span the six decades of her reign, from society photographer Dorothy Wilding's image from February 1952 that went on to be used on postage stamps, to John Swannell's Diamond Jubilee portrait, taken in December last year and released this year to mark 60 years on the throne.
Four classic pop-art prints by Warhol, who famously said he wanted to be as famous as the Queen, were acquired by the Royal Collection in September and will be shown for the first time.
The brightly coloured images - created in 1985 and part of a series called Reigning Queens - include one in electric blue and another in neon pink. The screenprints measure 39in (100cm) by 31.5in (80cm).
Lady Jane Roberts, co-curator of the exhibition, said the bright vivid colours make them the talking point of the exhibition.
"They have this wonderful diamond dust on the outlines," she said.
"When they arrived they were still in their paper wrappings, so they have never been framed or hung before - that is what makes them so extraordinary."
Lucian Freud created his diminutive oil portrait after the Queen sat for him between May 2000 and December 2001.
The work measures 23.5cm (9.2in) x 15.2cm (5.9in) and was extended in height by 3.5cm (1.4in) to accommodate the Diamond Diadem, which Freud chose to add some time after starting the painting.
The exhibition, which celebrates the Diamond Jubilee and the anniversary of the Coronation next year, runs from 23 November to 9 June.