The website exposed last week for apparently offering students tuition fee money in return for sex is the "tip of a very large iceberg", a sex industry expert has warned.
"And we are incredibly worried," adds Dr Tracey Sagar, a lecturer at Swansea University and leader of the Student Sex Worker Project.
The professor is well qualified to comment on the recent revelations a website had been set up to lure female students into prostitution. Sagar is currently working on a three year project to promote learning and understanding about student sex worker needs, primarily in Wales.
The Sponsor A Scholar website, which offered to set up students with tuition fee "sponsors" who would pay up to £15,000 in return for sex, has now been "closed for maintenance". On Friday, a Channel 4 investigation named the founder as Mark Lancaster. An undercover reporter met with Lancaster and was asked to have sex with him in order to prove her commitment. She was told: "I need to make sure you're someone who can represent. It is time for the practical."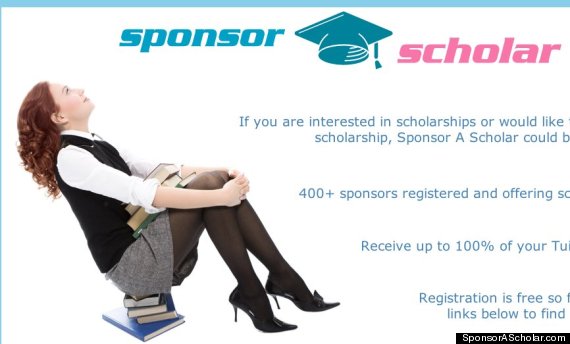 The site claimed to pair up wealthy businessmen with young women in exchange for "private meetings" of a sexual nature
The programme also tracked down one female student who had been drawn in by Lancaster, and had sex with him so she could qualify to join the sordid scheme. She told Channel 4: "I was in a different city so I couldn't leave [his flat] and if I did and he chased me I wouldn't know what to do."
The woman was then sent an email a few days later which told her she had not "made the grade" this time but should reapply in the next couple of months.
Although it is now thought the site was a sham,the issue of students turning to the sex trade to pay for their tuition fees cannot be put to bed so easily.
Kelley Temple, the National Union of Students' women's officer told The Huffington Post UK: "It's deeply problematic that people would seek to capitalise on the poverty and financial hardship of women students and sexualises what is undoubtedly intended to be an unequal power dynamic... to create trust and then exploit it.
"Even more disturbingly it appears that even the promised money is sham and the individual involved is lying to women in order to coerce them into sex under the pretence of an assessment."
Sagar says there are many who advertise prostitute services on the internet but "no-one knows who they are".
"The law has not caught up with the internet and nor has society," she told HuffPost. "Technically the website falls between loopholes in the law. The internet falls between everything."
And it is the internet which appears to be cashing in on the ever-increasing numbers of students turning to the sex industry to earn money.
A look at any "escort" website will reveal students selling themselves to anyone who will pay.
"Emily", one of the girls advertised on Escort Oxfordshire, describes herself as "currently studying at university and looking to earn a little pocket money". One Northern Ireland escort service even categorises girls according to the university they go to.
Sagar says the future is bleak: "I do not see any resolution on the horizon. I think it is a runaway train. There are no resources and there is no will. The main thing is to keep them safe."
One woman, who wishes to remain anonymous, has owned escort services in the UK and the US for 15 years. Claire (not her real name) says more students are putting themselves at risk without considering the consequences.
"The problem is there aren't a lot of places they can go to get cold straight facts," she told HuffPost. "It's one of those things you really can't predict or protect because so much of it is under the radar."
Sagar, whose student project was borne out of the need for young sex workers to receive advice without judgement, continued: "At the end of the day young women are still going to sell sex. This kind of site [Sponsor a Scholar] is not the first and it definitely won't be the last.
"We're really worried about young people in the sex industry, particularly for that student age group. If something's too good to be true, it probably is. But many girls may not realise this.
"This occupation is so secretive - it is so hard to break through and speak [to the girls]. They don't want to come forward. This is what scares me about the internet."
The Channel 4 news journalists reported Mark Lancaster to the police, who said they would not take action until the victim herself lodged a complaint. This, Sagar says, is part of the problem.
"The police should be investigating it but I am not surprised they aren't. They are focused on what is on the streets. What goes on underground is not a high priority.
"Unless someone reports it the police are not going there [the websites]. This is much more about regulating but it's so difficult to regulate anything on the internet.
"It's just the tip of the iceberg."
Have you got a story to tell? Get in touch with ukstudenteds@huffingtonpost.com