Monaco's Princess Charlotte Casiraghi has been criticised for donning Native American warpaint and a feathered headdress during the Gucci Masters horse show in Villepinte, France.
The granddaughter of Grace Kelly has been accused of pulling "a Victoria's Secret", a reference to the lingerie giant's grovelling apology after sending one of its knicker-clad models down the runway in a Native American headdress.
The 26-year-old, who is fourth in line to the Monaco throne, was blasted on Twitter and Tumblr, while fashion writers were left scratching their heads at the apparent gaffe. Charlotte Casiraghi at the Gucci-sponsored Paris Masters International Jumping Competition
The Cut asked: "Really, did we learn nothing from the Karlie Kloss - Victoria's Secret debacle, or the No Doubt gaffe just a week earlier?"
Styleite monitored responses to Casiraghi's attire, pointing out it had directed attention "yet again to the issue of people in positions of privilege (like, say royalty), appropriating the attire of persecuted cultures or races."
Casiraghi wore tassled trousers, a shirt and jewellery for her appearance and performed a "cowboy and Indian" routine with fellow rider Edwina Tops-Alexander for the Style and Competition leg of the event on Saturday.
Indian Country Today, which also reported on the outfit, points out Casiraghi has courted controversy previously, by appearing at an equestrian event last year dressed in an afro wig.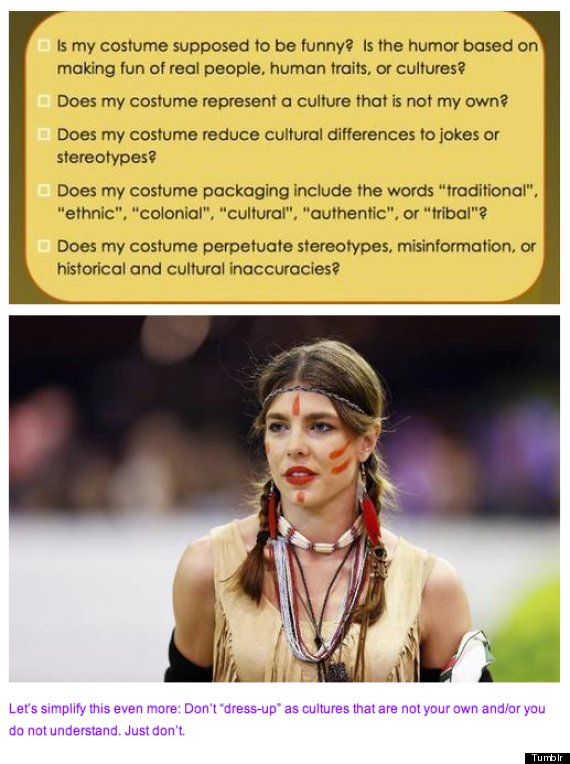 Tumblr user prin-ses-ka-ro-LEEN composed this note in response to Casiraghi's outfit
Victoria's Secret was accused of displaying ignorance towards tribal culture and history and has since removed the buckskin bikini and headdress outfit modelled by Karlie Kloss from broadcast and marketing material.
Speaking on behalf of Navajo Nation, spokesman Erny Zah said: "We have gone through the atrocities to survive and ensure our way of life continues... Any mockery, whether it's Halloween, Victoria's Secret - they're spitting on us.
"They are spitting on our culture, and it's upsetting."
Michelle Spotted Elk, who is married to a Lakota man, told AP: "When you see a Lakota chief wearing a full headdress, you know he is a very honourable man. He was a leader. He did a lot of honourable things for his people.
"It also has religious significance. With them, there's not a division between spirituality and their leadership."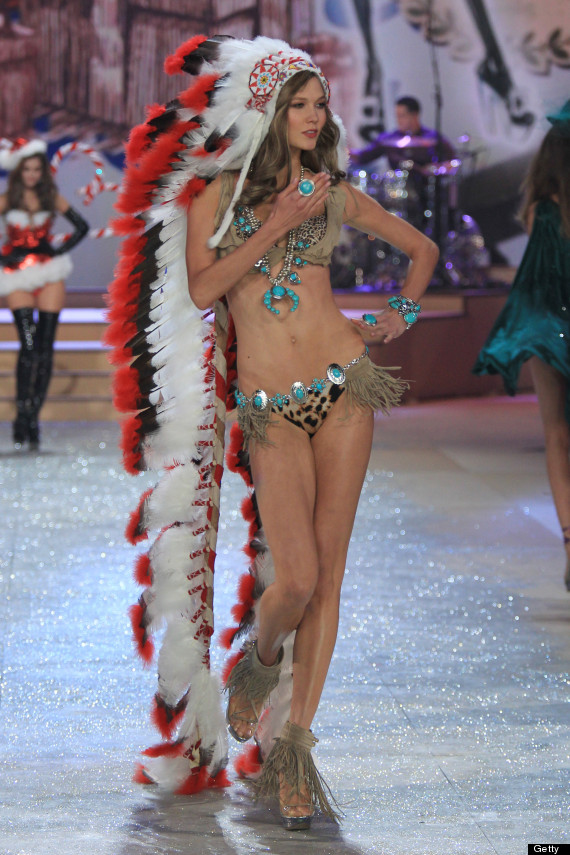 Karlie Kloss wore a Native American headdress at the Victoria's Secret catwalk show
Sasha Houston Brown, a member of the Santee Sioux tribe of Nebraska, agrees.
Writing for Indian Country Today, she said: "Perhaps it's that warm Indian summer weather that seemingly makes non-natives so eager to sport culturally-demeaning faux Indian apparel and legitimise it under the guise of 'ignorance' or 'appreciation.'
"After all, it's totally cool to be an oblivious racist these days. Whatever the case, there have been unusually high rates of playing Indian this season."
In light of the uproar, Jezebel makes several salient points on a piece entitled: When Is It OK? A Much-Needed Primer On Cultural Appropriation.
Katie JM Baker asks: "Why are fashion brands so bad at discerning the difference between cultural appropriation and appreciation - and, moreover, why don't they care about putting in enough effort to get it right?"
Casiraghi and Tops-Alexander's performance is reminiscent of the same theme in No Doubt's video for the single Looking Hot - which was pulled amid criticisms from the Native American community.
The clip featured a cowboys-and-Indians storyline with stereotypical tee-pees, smoke signals and headdresses and was withdraw with an apology from the band.
SEE ALSO:
Published online, it read: "As a multi-racial band our foundation is built upon both diversity and consideration for other cultures.
"Our intention with our new video was never to offend, hurt or trivialise Native American people, their culture or their history. Although we consulted with Native American friends and Native American studies experts at the University of California, we realise now that we have offended people."
In February Navajo Nation filed a lawsuit against clothing firm Urban Outfitters alleging breach of trademark and violations of the federal Indian Arts and Crafts Act.
The complaint was in relation to the firm's Navajo Hipster Panties and Flask, which it says it views as offensive in nature and a threat to the established Navajo brand.
Meanwhile in September, Victoria's Secret found itself in hot water with its Sexy Little Geisha line.
Race and pop culture blog Racialicious criticised the underwear retailer's controversial line for appropriating, sexualising and degrading Asian culture for Western consumption.
The Sexy Little Geisha outfit contained a mesh teddy with flirty cutouts and Eastern-inspired florals that promised an "exotic adventure".
It also included a matching removable obi belt, fan and chopsticks - all for a mere 98 dollars.
Since then, the US-based underwear retailer, who opened their first flagship store three months ago in the UK, has pulled the products from its online shop.