"Martin Freeman used to sit and complain, 'I'm so hot. Can someone cool me down?' and all he had going on were his rubber feet. What about us with our boots, and our bellies?"
If Adam Brown has a gripe about filming 'The Hobbit' in the sweltering summer of New Zealand, that's his only one. For the rest of it, the British actor waxes lyrical about his time participating as a dwarf in Peter Jackson's prequel to the 'Lord of the Rings' trilogy.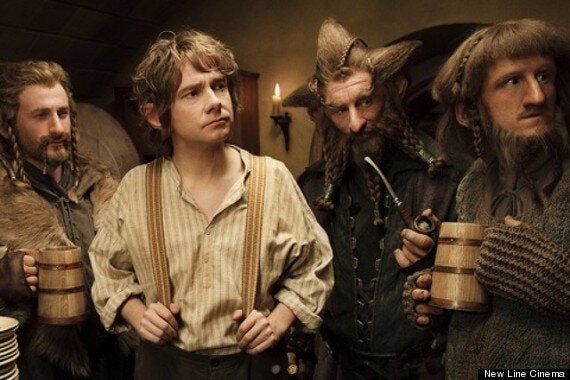 Adam Brown (right) plays Ori, one of the 13 dwarves befriended by Bilbo Baggins (Martin Freeman) in 'The Hobbit'
"There was a pinch-me moment every day. Great actors, my first helicopter ride ... Martin Freeman warned me, 'Don't get used to this it isn't normal.' I could have turned into a monster."
"Peter Jackson is lovely. You've got it in your head that he's Peter Jackson, and then he'd shout at us, calling us 'my little b**tards'. And off we'd go."
Adam Brown is one of the many Brits who's spent the best part of the last two years running, sweating, climbing, fighting and falling in the paradisical environs of Jackson's 'Middle Earth' Down Under, as one of the 13 dwarves intent on reclaiming their kingdom in the Lost Mountain, with the help of hobbit Bilbo Baggins.
"Scene 88 was the absolute worst," reports Brown, who previously ran his own theatre company in the UK for a decade before the call that changed his life.
"It was literally weeks of running, with big boots on, even a small belly. Scene 88 is the reason for the whole of the third film... it was just weeks and weeks of running."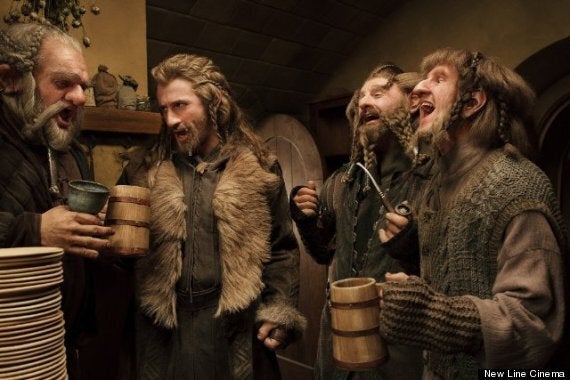 Adam Brown and the other 13 'dwarves' had to attend Dwarf Boot Camp before shooting began on the epic films
To say 'from Chucklevision to Middle Earth', doesn't really tell the whole story of Adam Brown's illustrious career ("I did only spend a couple of days on the former," he points out mildly). Nonetheless, it's been a dramatic leap to the big time for the actor - so how does an invitation to be a big-budget dwarf actually happen?
"I auditioned first for Bilbo," explains Brown. "It was before Peter Jackson was directing, and Martin Freeman was busy. Then everything went quiet for a couple of months, I just forgot about it.
"I was driving in my car on London's North Circular road (which locals will know isn't the most glamorous spot for a life-changing experience), and I suddenly got a phone call - 'You're off to New Zealand.'"
Brown, a longtime fan of the Lord of the Rings - "the films, not the books" - spent 18 months in total out in New Zealand, going to Dwarf Boot Camp, before transforming himself into Ori, one of Bilbo's miniature companions.
And now he's back, enjoying the calm before the storm of the worldwide junkets, the red carpets, but also the chance to catch up with his Hobbit friends...
"It sounds like such a sound bite, but it's true. We became one big family on the other side of the world, and I feel like I've met great people who will be friends for life. And I've had a lovely roast dinner with Ian McKellen, which isn't something I thought I'd be saying."
"I don't know. I'm a complete unknown," Brown makes the point which, though true for now, might be about to change.
'The Hobbit' is in UK cinemas from Thursday 13 December. Pictures below...