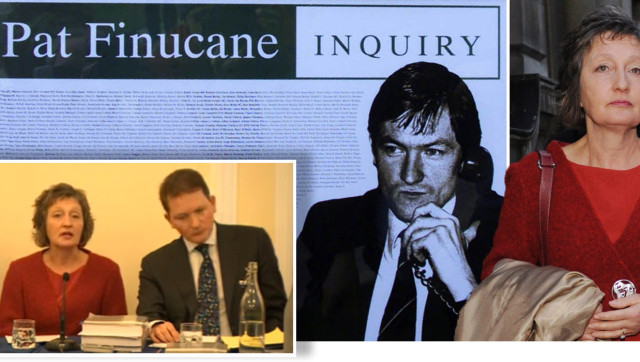 PA/BBC
The widow of murdered solicitor Pat Finucane has denounced Sir Desmond de Silva's review of his 1989 killing as "a sham... a whitewash... a confidence trick", telling a London press conference: "This report is not the truth."
Geraldine Finucane's comments came after David Cameron told MPs the report highlighted "shocking" levels of state collusion into the death of Belfast's Mr Finucane, but did not find evidence the government was informed in advance of the murder or knew about the subsequent cover-up.
Speaking on Wednesday afternoon, Mrs Finucane said: "The dirt has been swept under the carpet without any serious attempt to lift the lid on what really happened to Pat and so many others."
Cameron said the Finucane family suffered "the most grievous wrongs" and he respected their view that the de Silva review was not the right response. Sinn Fein President Gerry Adams with Geraldine Finucane earlier this week
Labour leader Ed Miliband and human rights campaigners, including Amnesty International, have slammed the report, and called for an independent inquiry, which Cameron has so far rejected.
The murder is one of the most controversial killings during the Troubles in Northern Ireland.
Catholic father-of-three Mr Finucane was a solicitor who represented a number of IRA convicts.
He was sitting down to Sunday lunch with his young family, when loyalist paramilitaries used a sledgehammer to break into their house and opened fire in the kitchen.
As his family watched, Mr Finucane was shot 14 times.
In 2001, his son Michael, wrote a remembrance piece in the Guardian.
"I can still remember it clearly. It is an image seared into my mind. The thing I remember most vividly is the noise; the reports of each bullet reverberating in the kitchen, how my grip on my younger brother and sister tightened with every shot.
"It's not a memory I care to visit very often, but it's there. I expect it always will be."
The family have repeatedly denied that Mr Finucane was a member of the IRA.
The report published on Wednesday found that government employees actively facilitated the loyalist murder of Mr Finucane but there was no over-arching conspiracy.
Sir Desmond de Silva's review of the 1989 murder, which began more than a year ago, found that collusion by the state went beyond a failure to prevent the crime.
Sir Desmond examined the role of two British agents in the murder and found that another man involved was later also recruited as an agent even though he was suspected in the UDA murder of Mr Finucane. A poster demanding a public enquiry into the murder
While the QC accused successive UK governments of a "wilful and abject failure" to implement an appropriate legal framework for running agents within paramilitary groups, he said no minister was aware of the plot to kill the solicitor.
Mrs Finucane said in response: "Yet another British government has engineered a suppression of the truth behind the murder of my husband, Pat Finucane.
"At every turn it is clear that this report has done exactly what was required - to give the benefit of the doubt to the state, its Cabinet and ministers, to the Army, to the intelligence services and to itself.
"At every turn, dead witnesses have been blamed and defunct agencies found wanting. Serving personnel and active state departments appear to have been excused.
Cameron told the House of Commons the murder was "an appalling crime" and said the degree of collusion exposed was "unacceptable".
And he said, in a message to the family: "I am deeply sorry."
Cameron said the de Silva report made "extremely difficult reading", setting out evidence of "shocking" levels of collusion in areas such as "identifying, targeting and murdering Finucane, supplying a weapon and facilitating its later disappearance and deliberately obstructing subsequent investigations".
"When you read some of the specific cases in the report... it is really shocking that this happened in our country," said the prime minister.
In his report Sir Desmond said he was in no doubt that state employees were involved in collusion with terrorist killers.
He said: "The real importance in my view is that a series of positive actions by employees of the State actively furthered and facilitated his murder and that, in the aftermath of the murder, there was a relentless attempt to defeat the ends of justice.
"My review of the evidence relating to Patrick Finucane's case has left me in no doubt that agents of the State were involved in carrying out serious violations of human rights up to and including murder." Pat Finucane's widow Geraldine arrives with her children John, Michael and Katherine to read the report
Miliband said on Wednesday at a statement in the House of Commons: "Anyone reading this report will believe it is an appalling episode in our history.
"All sides of the House believe that we must establish the full and tested truth about Pat Finucane's murder but on this side of the House we continue to believe that a public inquiry is necessary for his family and Northern Ireland."
Amnesty International's Northern Ireland Programme Director, Patrick Corrigan, said: "Patrick Finucane's family has been failed time and time again by successive governments and regardless of the outcome today they are still being denied the full inquiry that they have fought for, for all these years.
"The Finucanes, and indeed the public, have been fobbed off with a 'review of the paper work' - which reneges on repeated commitments by the British government and falls short of the UK's obligations under international law.
"It is unacceptable and Amnesty, his family and the public should not settle for anything other than the full and independent investigation that this case, and Patrick Finucane's memory, warrants.
"The state has accepted that there was collusion in Patrick Finucane's killing. Those responsible must be held accountable."
In 2005, Amnesty led a worldwide campaign calling on judges to boycott any non-independent inquiry into Mr Finucane's murder held under the Inquiries Act 2005.