Richard Armitage, star of Peter Jackson's 'The Hobbit', confesses he fell so much in love with New Zealand during his time filming the epic, he nearly gave his agent palpitations by declaring he was staying put.
"My agent told me, 'You'll never work again, or only with Peter Jackson.' It's weird, it was like falling in love with England all over again, but a country I remember from my childhood. I was always on my bike, or running by the water..."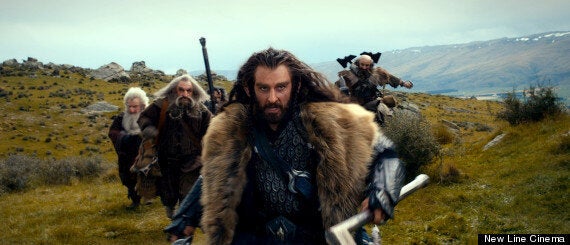 Life was blissful work and play for Richard Armitage, filming Peter Jackson's 'The Hobbit'
Lest we be thinking it was all an 18-month nostalgic rural romp, Armitage - full of good humour, a million miles away from his 'Spooks' double-crossing spy Lucas North and or even his brooding John Thornton in Mrs Gaskell's 'North and South' - is quick to point out the challenges of filming life as dwarf leader Thorin in the piercing heat of a New Zealand summer...
"When we shot 'Spooks', we were often out in London freezing cold, so I spent most of 'Spooks' moaning about that. And then I got to New Zealand, and it was baking hot. Once you've established the fact that you're hot and sweaty, it gets better, and they did their best to look after us. We had special vests that had air in them to cool us down, in blazing heat, but we were covered head to toe in silicon suits.
"You could feel the sweat trickling down behind your ears, and at the end of the day you'd peel off the suit, and you could pour a glass of sweaty dwarf away." Nice.
But, sweatbaths aside, Armitage is evangelical, almost endearingly tearful, as he recounts getting the call that summoned him to Middle Earth...
"I remember thinking, 'they'll never cast me in anything like that,' so when the audition phone call came in, I thought 'It's that job you've been waiting for, THAT's the call you waited all your career for, stay calm, he's never going to cast me.'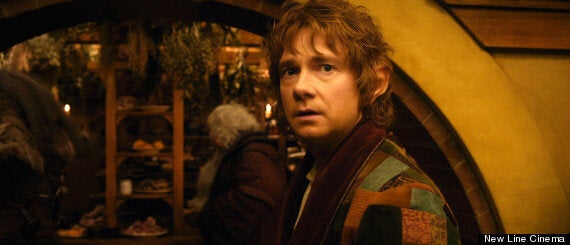 Martin Freeman takes the title role in 'The Hobbit'
"And the day of the audition, I'd been to the chiropractor because I'd hurt my back on 'Spooks'. I nearly didn't make it to the casting I was in so much pain... I even asked my agent if I could see Peter Jackson the following day, but he was leaving town. So I spent the whole audition crouched up like this (he curls up in his chair to demonstrate)... I'd love to watch the tapes back, I must have looked like sh*t... what a weird day.
"Three weeks later, the phone rang. You hear these words, 'You're Peter Jackson's first choice'... I'm kind of welling up thinking about it."
One of the lead roles in one of the year's biggest films in the world... it's all downhill from here, then? Armitage agrees, happily.
"I don't care because I've had that moment. I could retire now and it would be okay, because I've had it.
"Of course, the fear kicked in soon afterwards, when you realise you have to actually play the role. You can't be the weak link, and there was controversy about my casting, along the lines of "he's not old enough... he's too tall... no one knows him". You just have to put your head down and earn it, by working like you've never worked before."
If Armitage's adoring fanbase - the Armitage Army - have been wondering where he's been, he's been immersed in the world of Erebor, and Thorin's odyssey to reclaim his kingdom, with the help of Bilbo Baggins, the Hobbit played by Martin Freeman.
"I'm genuinely saying this... " he laughs at my raised eyebrows... "There's a very strong force in Tolkien's characters. Thorin's leading a race of people, hidden underground, pushing to free themselves, claim back what's been taken. That's an enormous passion, and very interesting to play."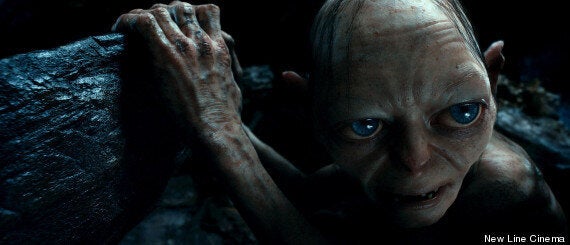 Armitage thinks the performance of Andy Serkis as Gollum needs to be recognised
Of his co-stars, including Martin Freeman and Sir Ian McKellen, Armitage has only good things to say, referring to the high bar they set on screen - "all the nuances and challenges they set for each other" - and joins in the special praise once again coming Andy Serkis's way for his portrayal of misunderstood Gollum...
"I think after seeing the film for the third time, something needs to change with regard to performance capture. I didn't see a CGI character, I saw Andy Serkis and his fine work, and if this movie does anything to help create a character for performance character, then it's done its job."