Eva Rausing, the wife of multi-millionaire Hans Kristian Rausing, died from cocaine abuse, a coroner has recorded.
The mother-of-four's body was discovered in a fly-filled room hidden under a pile of bedding with a foil pipe in her hand. The Rausings in 1996, before their troubles with drug abuse
Mr Rausing, who was too unwell to attend the inquest, said in a written statement that he had been left devastated by the death of his "beloved wife".
He explained how he discovered Mrs Rausing after hearing her slide off the bed while he was shaving in the bathroom.
"She landed sideways and her head was resting on a pillow," Mr Rausing said.
"I tried to pull her up...I shouted 'Eva, Eva, Eva'".
Mr Rausing said he could see his wife's eyes dim before covering her lifeless body with duvets and bedding.
He was given two suspended sentences in August after admitting preventing the lawful and decent burial of his wife's body. Eva Rausing
In his statement, the multi-millionaire said that in hindsight he had not acted "rationally".
"I could not cope with her dying or confront the reality of her death," he added.
The 48-year-old's body lay undiscovered for two months before she was found at the five-storey west London home she shared with her husband Hans, heir to the Tetra Pak fortune.
Police discovered the body of mother-of-four Mrs Rausing in an advanced state of decomposition after they arrested her husband - heir to the Tetra Pak millions - on suspicion of driving under the influence of alcohol or drugs on 9 July.
Deputy coroner Dr Shirley Radcliffe said Mrs Rausing died on May 7 as a result of cocaine intoxication contributed to by a heart condition - tricuspid valve disease.
Delivering her verdict, she said: "Mrs Rausing's death was as a result of the dependant abuse of drugs."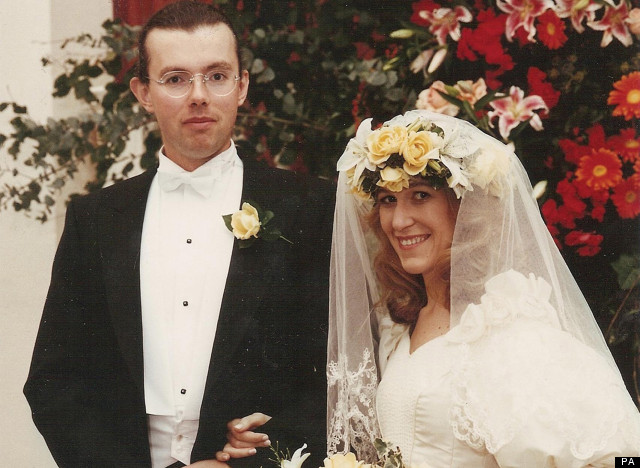 Eva and Hans Rausing on their wedding day
Detective Inspector Sharon Marman, who led the investigation into Mrs Rausing's death, told the inquest that she was found with silver foil in her hand.
It had been rolled up as a pipe with wire wool inside, indicating it had been used for smoking cocaine, she said.
Toxicology reports on Mrs Rausing showed cocaine, opiates and amphetamines in her blood.
Mrs Rausing had been fitted with a pacemaker following heart surgery in August 2006, which revealed she had suffered a "non-survivable" heart rhythm on the morning of May 7.
In his written statement, Rausing denied giving his wife drugs and said the couple would buy cocaine separately.
Det Insp Marman said an investigation to find out who supplied cocaine to Mrs Rausing remained "unresolved". Eva and Hans Rausing in happier times
The couple had fought a public battle against addiction to drugs after meeting in a drug rehabilitation centre in 1989 and marrying in 1992.
Mrs Rausing had been clean for years but spiralled back into problems with substance abuse after drinking Champagne on New Year's Eve in 1999.
She and her husband were living a "solitary" lifestyle in recent years as their problems with drugs worsened, the inquest heard.
Rausing, heir to a £5.4 billion fortune from his Swedish father's business, had been arrested in Wandsworth on July 9 when people saw him driving erratically and alerted the police.
When officers stopped his car they found inside a pile of post addressed to Mrs Rausing, and drug paraphernalia.
When officers asked where his wife was, Rausing replied she had been in America for the last two weeks. But the police decided to search his home in Chelsea.
They discovered Mrs Rausing's body in the bedroom of a second floor annexe in the couple's home in Belgravia, London. The couple's multi-million pound home
Housekeepers working for the couple had been told never to enter that area of the property and had last seen Mrs Rausing in late April, the inquest heard.
Officers searching the house detected the smell of decomposition and discovered the body after removing furniture blocking the entrance to the room and gaffer tape sealing the door.
The inquest heard the couple had been living exclusively on the second floor of their home in the weeks before Mrs Rausing's death.
The bedroom where Mrs Rausing's body was found was a "scene of disarray", with syringes and drug paraphernalia on the floor and tarpaulin covering the bed, Det Insp Marman said.
Pc Darren Reynolds, who searched the property on July 9, said white powder was found on the bed, which was thought to have been used to cover the smell of the decomposing body.
One of the couple's housekeepers told police that Rausing had been sleeping on a kitchen sofa in the weeks before his wife's body was found.
She had last been seen by their staff on April 29 after returning from an American rehabilitation clinic, the inquest heard.
Mrs Rausing had a history of heart problems and failed to attend follow-up appointments following her surgery, the coroner was told.
A post-mortem revealed her pacemaker was working correctly but was in an energy-saving mode as the battery was running out.
After hearing the evidence, deputy coroner Dr Shirley Radcliffe said Mrs Rausing died as a result of cocaine intoxication with a contributing factor of a heart condition - tricuspid valve disease.
Delivering her verdict, she said: "Mrs Rausing's death was as a result of the dependant abuse of drugs."
Dr Radcliffe described Mrs Rausing's life as being on a "downward trajectory" as she failed to take care of her physical and mental health.
"I offer my condolences to the family for the loss of a 48-year-old mother, wife, sister and daughter," she added.