It's been a wonderful year for British TV, including shed loads of quality drama, reality TV showdowns and fantastic live events crowned by the Olympics. Below, we've attempted to pick our top 10 small screen moments from the last 12 months.
This is by no means an exhaustive list, please let us know yours in the comments below...
10. The Great British Bake Off
Mouth-watering BBC series 'The Great British Bake Off', which packed into each episode enough calories to make up five times your recommended daily allowance, gained more followers than ever when it returned to TV in August.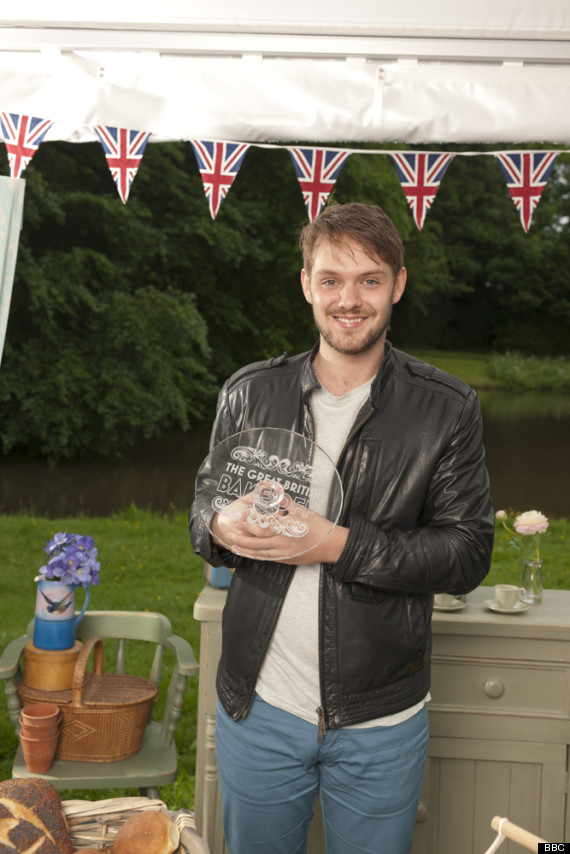 John Whaite was a delighted winner of this year's baking trophy
John Whaite, a 23-year-old law graduate (whose cooking inspiration is French patisserie) emerged triumphant in a closely fought, all-male final, beating unlikely sex symbol James Morton and cherubic Brendan Lynch.
John said afterwards, "I feel faint, really, really queasy. I cannot believe it. I've finally done something to please my mother."
9. Rylan storms the X Factor
Some light-hearted fun came in the form of Rylan Clark's emotional response to getting through to the final stage of the competition...
The Essex singer collapsed to the floor, and emitted some inhuman-sounding sobs after learning that Nicole Scherzinger had chosen to put him in her final three of the Boys group, much to Gary Barlow's dismay.
Rylan went on to be the fifth act left in the competition, with viewers voting for him over sweet 16-year-old Ella Henderson who was thrown out of 'X Factor' in a truly shocking elimination.
8. Sean Bean in a dress
Sean Bean put on a dress for 'The Accused', and in the process showed a vulnerability and complexity many miles away from his usual tough-man roles.
We ended up caring deeply for his characters, both as the brave, indomitable Tracie, and as the heartbreakingly lonely Simon, in the first of Jimmy McGovern's four-part drama examining the British justice system.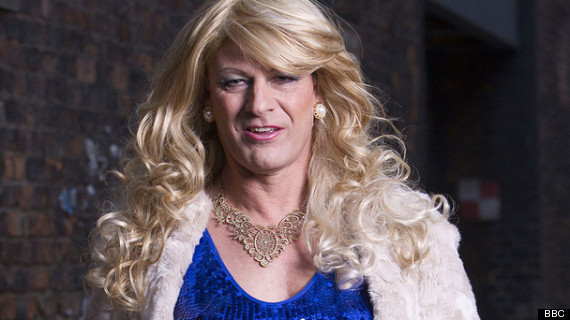 Sean Bean as indomitable Tracie
7. A Doctor Who departure
'Doctor Who' fans waved a tearful farewell to two great characters, Amy and Rory Pond.
Steven Moffat did what he does best, and brought everything full circle to a satisfying whole, as Amy left the lonely Doctor a note reminding him to look after the little girl we met all that time ago - the one who sat on her suitcase, dreaming about a strange man who likes fish fingers and custard, and waiting for her time-travelling adventures to befall her.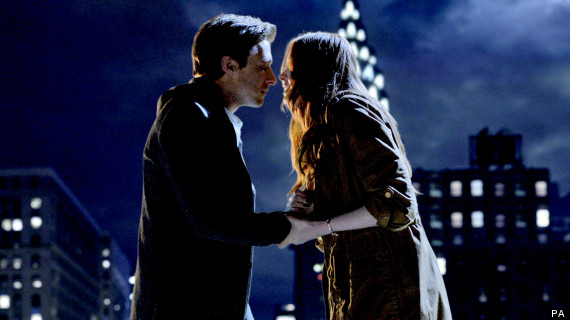 Karen Gillan and Arthur Darvill on a rooftop
6. Frozen Planet brings us polar bears
In the land of documentaries, viewers were seduced with images of bumbling bears, posturing penguins and impossibly cute polar cubs for six weeks in BBC One's hit series 'Frozen Planet'.
The series signed off with an unblinking exposition of how quickly this ice-scape may all be consigned to history, although Sir David Attenborough and his team were very careful not to lay blame with any culprit for the changes in the regions.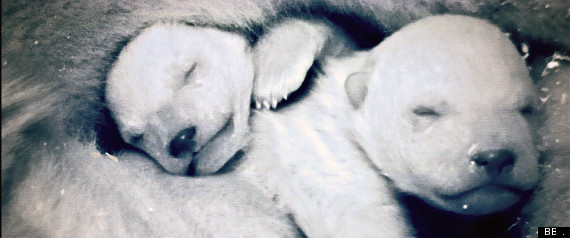 The most memorable and controversial moment of the series was its footage of newborn polar bear cubs, which, it turned out, was actually filmed in an animal park and not in any polar region.
5. Helen Flanagan's I'm A Celebrity antics
Down Under, an assortment of 'stars' put themselves mentally and physically to the test by spending three weeks in the jungle in ITV's 'I'm A Celebrity' contest.
The standout contestant by far was Helen Flanagan, whose hysterical entry into the jungle was a sign of things to come. Helen Flanagan enters the jungle
The 'Coronation Street' star was smothered in mascara of the non-waterproof variety after her perilous entry into the camp - on swinging tree-high planks of wood - got her wobbling, weeping and screaming in equal measure.
Helen, in both happy and unhappy times...
I'm A Celeb: Helen Flanagan
4. Downton Abbey is plunged into mourning
'Downton Abbey' has been crowned the highest-rating drama of the year so far, with 10.7 million viewers tuning into watch the finale of the third series. And it's no surprise really as Lord Fellowes has provided plenty of emotive story arcs to keep viewers glued to their screens.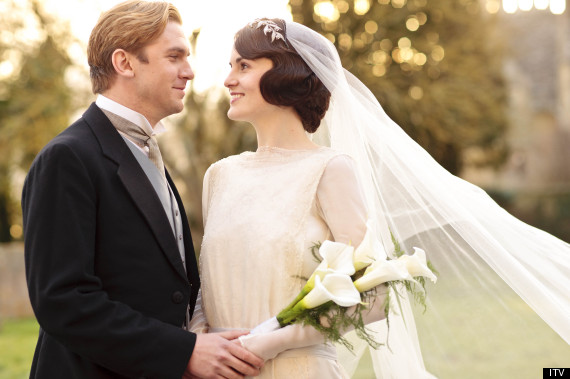 Married at last: Matthew Crawley and Lady Mary
The series kicked off with the long-awaited and oh-so-beautiful wedding between Matthew Crawley and Lady Mary, and saw the addition of a character whose wit could rival the Dowager's, in the form of Shirley MacLaine as Martha Levinson, a widowed American heiress and mother of Cora Crawley.
However, it was Lady Sybil's untimely and disturbing death that stood out at as Downton series three's most memorable moment.
Sybil's baby was on its way, but complications over the birth ignited a clash between new - the administrations of Doctor Clarkson (David Robb) - and the old-fangled ways of purse-lipped surgeon Sir Philip (Tim Piggott-Smith). As the Dowager explained, "the decision must lie with the chauffeur" - but poor old Branson bowed under the weight of Sir Philip's arrogant complacence, disaster struck that even the tartan warrior Dr Clarkson was unable to prevent and the house was plunged into mourning.
3. Brody finally cracks in Homeland
Making Sunday night's on the sofa irresistible was Golden Globe and Emmy Award-winning 'Homeland'. There was Brody's suicide tape and Carrie's vindication, but the most unforgettable stand-out moment of the series found Brody back in captivity and under the interrogation light bulb - again - but this time on US soil.
Damian Lewis as Brody, back in captivity and very, very stressed
And in a mirroring counterpoint to his ordeal in Iraq, there was a very bad cop to kick off proceedings - a menacing Peter Quinn (Rupert Friend), culminating in an uncontrolled stabbing.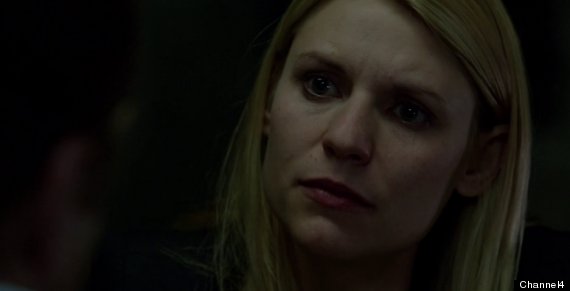 Carrie admitted her feelings to Brody - but was it all a ruse, or honest, or both?
But his rage left the door open for good, understanding, soft-eyed, seductive cop Carrie - who knew every Brody button to press. This set piece brought the best out in both Claire Danes and Damian Lewis - already both Emmy winners, but proving to any doubters just why they got them. By the end, all had been confessed, much seemed forgiven, and the battle lines had been redrawn.
2. James Bond meets the Queen
This summer saw a TV moment that will not only stay fresh in viewers' minds into 2013 but probably for decades to come.
It was, of course, the Queen's (probably faked) spectacular entrance into the Olympic opening ceremony.
A short film showing James Bond actor Daniel Craig meeting her Majesty and her corgis at Buckingham Palace played out across the world, before the pair apparently flew in a helicopter across London where they jumped out into the stadium aided by parachutes.
The laughter from the crowd in the stadium was mirrored by the reaction on Twitter, with tweets expressing shock, disbelief and amusement flooding through.
I'm A Celeb: Helen Flanagan
1. Sherlock stuns us all
And finally, who can forget Benedict Cumberbatch in action, as eccentric detective Sherlock jumped off a tower block and somehow managed to survive?
Viewers tweeted their theories furiously after they saw him apparently jump to his death at the end of the second series, much to the shock of his sidekick Watson (Martin Freeman), only to re-emerge in the shadows of the graveyard where Watson was grieving over his freshly-dug grave.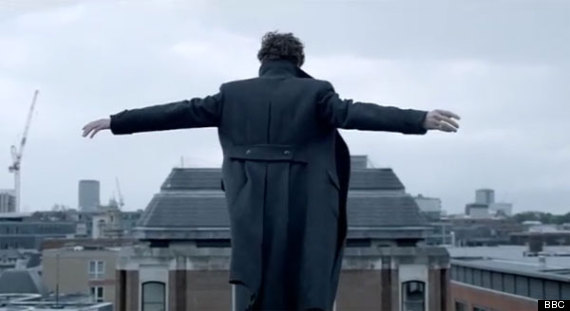 Sherlock (Benedict Cumberbatch) jumps
'Sherlock's co-writer Mark Gatiss has revealed that fans will not be disappointed by the revelations of how the stunt was achieved when the third series finally airs.
READ MORE TV MOMENTS FROM 2012: