The close-knit Welsh community blighted by the abduction of April Jones earlier this year is struggling to overcome the undeserved stigma caused by the 5-year-old's disappearance.
Residents in the mid Wales market town of Machynlleth increasingly find its unusual Celtic name familiar for all the wrong reasons.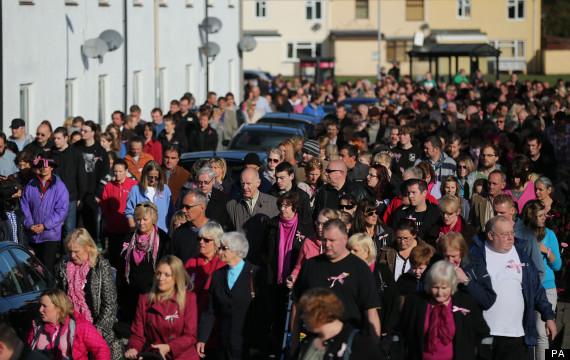 The community has struggled with the stigma of the young girl's disappearance
Some have grown so fed up with the notoriety, they pretend they are from nearby Aberystwyth when they travel, to avoid unpleasant reactions.
Known as the ancient capital of Wales, in modern times Machynlleth has been best known for its friendliness and warmth to strangers.
But in the wake of the the young girl's abduction, the pretty market town's name has become synonymous with her disappearance.
April was last seen playing out on her bike on the town's Bryn-y-Gog estate, where she lived, on the evening of 1 October.
She was allowed out late as a special treat after receiving a glowing school report from her teachers.
Her disappearance triggered a wave of community solidarity as a huge volunteer army stepped up to take part in her search.
Months after her disappearance, pink ribbons still festoon shop windows, garden gates, front doors and car dashboards across the town. April Jones went missing in early October
The family's appeal to "wear pink for April" was taken up across the UK, but nowhere more so than Machynlleth.
While sympathy and support for parents Coral and Paul Jones remains unshaken, the town is having to learn to live with the stigma of notoriety.
"We went to Blackpool recently and when you say you are from Machynlleth, people react, they have heard of it," said Kay Cochrane, who lives on the Bryn-y-Gog estate.
"We went there to see the illuminations but when people hear where you are from they know it immediately.
"There is a stigma attached. They ask you if you 'know' anything and you have to explain that you don't know more than anyone else. I know people who now say they are from Aberystwyth and not here to avoid the questions."
She said that she was born in Australia and moved back to Machynlleth in January to live with her mother who is from the town.
Since October, relatives she would expect to fly over from Australia have failed to visit, explaining: "It is best to stay away."
SEE ALSO:
New Pictures Of Five-Year-Old Posted On Facebook
Specialist Help For Family Of Missing Girl Over Halloween
'Sick' April Jones And Jimmy Savile Tweeter Joey Guy Sacked
The cruel legacy of April's abduction has also transformed the estate where local children used to play out together so happily.
Cochrane said April was a familiar figure playing outside with children from the estate and her own god-daughter would take part when she was visiting.
Since she was snatched from the estate, the number of children playing outside had dwindled to almost nothing.
"It used to be full of kids but now there is nobody," she added.
Police confirmed earlier in December that they are still looking for the missing 5-year-old.
Mark Bridger, 46, from Machynlleth, has been charged with April's murder. He is also charged with child abduction and perverting the course of justice. He is due to appear at Caernarfon Crown Court on 11 January for a plea hearing.
Comments have been closed for legal reasons.