As MPs gather to vote on plans to cap benefits and slash a further £5 billion from the welfare bill, a single mother affected by the cuts told the Huffington Post UK: "I don't know how I will survive."
The Welfare Uprating Bill proposes a 1% cap on most working age benefit payments and tax credits, ending inflation-linked rises and introducing what will be a real-terms benefits cut.
Ministers say the cap is needed because it is unfair that welfare payments have been rising twice as fast as wages during recent years of austerity.
However charities and campaign groups have slammed the 'indefensible' legislation, saying it will punish the most disadvantaged, deepen inequality and increase child poverty.
Sarah Easterbrook, 39, has a 16 hour contract at a large supermarket chain. She'd like more hours but they don't have them at times which would fit around her childcare. She brings home around £1000 a month with her tax credit.
She told the Huffington Post UK it is a daily struggle to make ends meet and that if her benefits were to be capped it would be devastating.
"By the time I've paid for fuel, gas bills, council tax and rent I'm left with £50 a month and I'm meant to clothe and feed my child with that.
"My mum was paying for my daughter's packed lunches for a while because I just couldn't afford to pay it. I don't qualify for school meals because I work part time and they cost around £40 a month," she said.
"There's never enough at the end of the week. You think to yourself 'I'm working so why am I in this situation?'
"Family and friends tell me to give up work but I don't think that would solve anything. I've worked all my life and I just couldn't sit at home all day.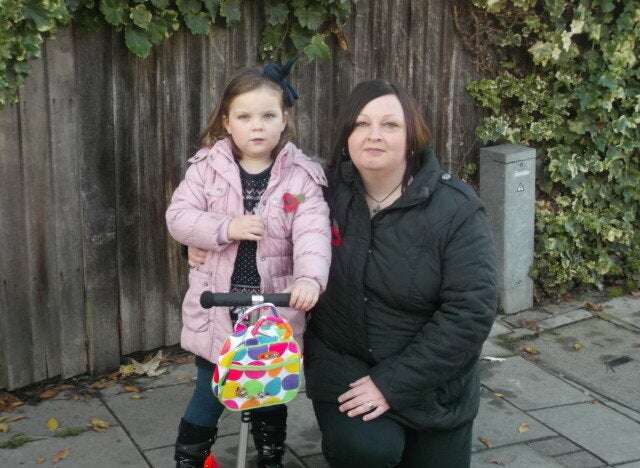 Sarah's daughter is five years old. Her daughter's father has stopped making child support payments and the Child Support Agency are unable to trace him. She said she's noticed food prices increasing over the past year, and is worried as she is already having to cut back on food.
"I don't know how I will survive if any benefits are capped. At the moment the grocery shop seems to be the one taking the cut because I've already cut back as much as I can.
"I struggle most days just making ends meet. I buy bits and pieces of food every day and if I'm lucky I can do a big shop every two months. That's to buy things like detergent, maybe put some tins of food in the cupboard and putting some stuff in the freezer.
"There's just not any more hours available for me to do at work: I'm restricted over times because I need to take my daughter to school and back."
Work and Pensions Secretary Iain Duncan Smith said the decision to cap some benefits was not taken lightly but was necessary to tackle the deficit.
"Reducing the deficit is the number one priority for the government because, if we don't, what happens is borrowing rises and you have to pay for that, so low-paid taxpayers will pick up a massive bill if you don't resolve that," he said
Clegg has also defended the bill, saying the three-year-squeeze was necessary to stop schools and the NHS from suffering.
However Ms Eastbrook said that the government didnt understand how the cuts were really affecting people.
Her story of a working woman still struggling on benefits is at odds with the 'strivers and shirkers' rhetoric by the Conservative party which has also come under fire.
"It really annoys me because they don't understand what it is like to struggle. There's not a lot you can do; it's just the way this government seems to be.
"People who are working part time will soon have to do cash in hand jobs just to get by. The government will push them to it and that's not right."
Alison Garnham, chief executive of Child Poverty Action Group, criticised Iain Duncan Smith in a statement, quoting comments he made in November that "this government will always stand by its commitment to tackle child poverty".
"But the impact assessment does nothing to explain how he can square that statement with this poverty-producing bill," she said.
"The truth, of course, is that the main impact of this bill will be to make life much more difficult for millions of ordinary families, whether they are surviving on meagre benefits or relying on tax credits to make work pay."
Analysis of the Welfare Benefits Up-rating Bill by the Institute for Fiscal Studies (IFS) found half of working-age households with someone in work would be affected in some way.
The average loss would be £165 a year for seven million families - compared with around £215 for the 2.5 million workless households hit by the cap, it said.
Matthew Reed, chief executive of the Children's Society, said the bill will hit families across the board, adding "From a nurse with two children losing £424 a year by 2015, to the army second lieutenant with three children losing £552 a year, this will hit children and families from all walks of life.
At least two Liberal Democrat MPs have said they will rebel tonight by opposing the cap, with another warning that a "large number" were opposed to the measure.
Labour is voting against the legislation too, pointing to analysis showing seven million working households will lose out by an average £165 per year.
In Commons clashes ahead of the debate - deputy Labour leader Harriet Harman said the government had "failed on compassion".