As winter storms lash the Middle East, politically-themed snowmen are cropping up along the region's usually arid landscapes.
As well as ones wearing intifada scarves and brandishing flags, the sombre sight of what looks to be a snowman funeral is also circulating in the social media stratosphere.
Scroll down for more images of the Middle East winter storms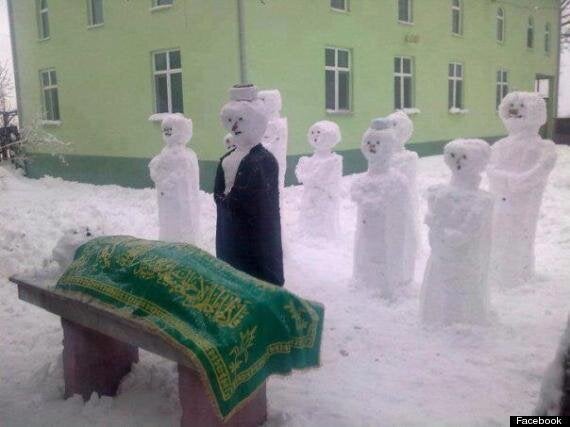 A snowman funeral, published on Facebook by a Syrian NGO
Ramzi Hanna lives in neighbouring Jordan, which is experiencing a large influx of Syrian refugees, and told Huffington Post UK he found the image saddening.
He said: "Do you recall building snowmen like that when you were younger? A security officer adds finishing touches on a snowman in the West Bank city of Hebron
"The children in places like Palestine, Syria, Iraq and Afghanistan have seen things in their lifetimes that no kids should ever have to see."
The storms are the fiercest to hit the region in years and have claimed the lives of at least eight people.
The weather brought a rare foot of snow to Jordan on Wednesday, caused fatal accidents in Lebanon and the West Bank, and disrupted traffic on the Suez Canal in Egypt, the Associated Press reported.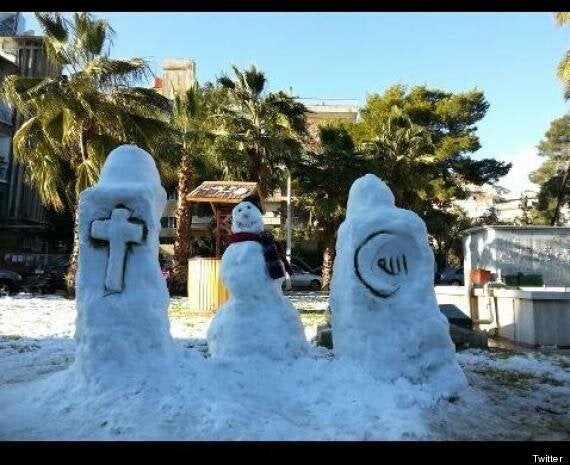 This image of snowmen representing Christians and Muslims in Damascus, Syria, was posted on Twitter by @Noora_93