Oxford University students planning to protest against the appearance of Julian Assange at the union have been branded "a gang of rabid, irrational frenzied feminists", by the WikiLeaks' founder's mother.
The WikiLeaks founder is due to speak via videolink next week and his appearance has prompted students to organise demonstrations, as The Huffington Post UK revealed on Wednesday. Reacting angrily at the proposed demonstrations, Christine Assange publicly attacked Oxford students on Twitter, branding them "wilfilly uninformed, reactionary and libellous".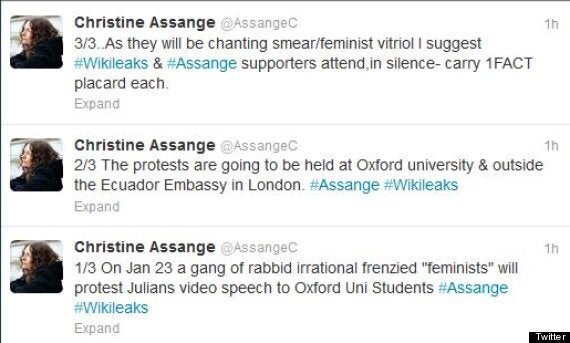 "I encourage #Assange supporters 2 counter protests at #Oxford Uni#Ecuador Embassy Jan 23 with silent vigil holding FACT PLACARDS #Wikileaks," she urged her Twitter followers on Friday.
The students at the receiving end of Assange's tirade are those who have signed up to protest to coincide with her son's virtual appearance.
Julian Assange is due to speak at Oxford university's debating union on 23 January at the Sam Adams Awards, which celebrate "integrity in intelligence". Assange won the award in 2010.
Oxford Union have included a description of Assange, who is currently living at the Ecuadorian Embassy to avoid extradition to Sweden, where he is wanted for questioning over rape allegations.
As a result of the arrangements, Oxford student and feminist Simone Webb set up a Facebook group to organise protests in London and Oxfoes, which has already attracted hundreds of comments. She told HuffPost UK last week: "I'm doing this because I want to express my anger at Assange's continued evasion of the justice system over his rape allegations.
"The [Oxford] Union have invited him to speak at an awards ceremony at the Union - a speech, not a debate, so there will be little opportunity for him to be called to account. I do not think that someone who is actively fleeing rape allegations should have been offered this privilege."
Christine Assange continued her verbal attack over the weekend, telling student paper Cherwell: "You silly, spiteful, naive, wilfully disgracefully uninformed little girls need to grow up.
"Not only a mans [sic] reputation is at stake but his life and liberty and the greater cause of global freedoms."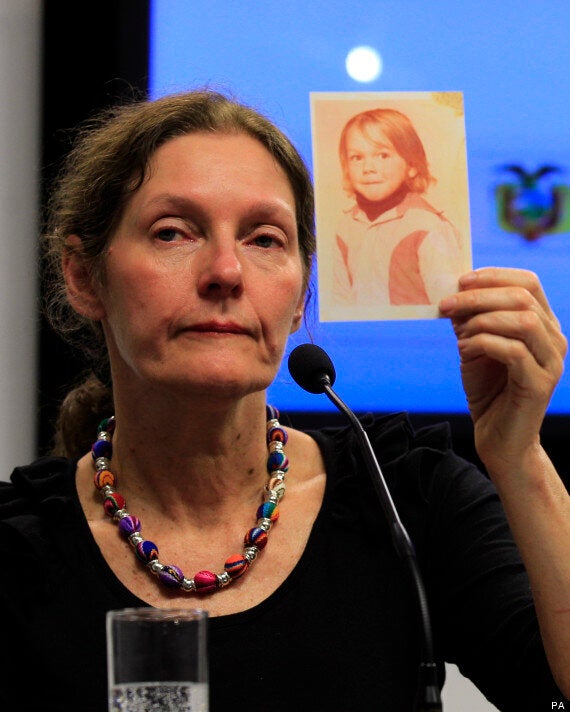 Christine Assange launches a vicious attack on Oxford University students
Assange's mother has also focused her attentions on Simone Webb, the student responsible for organising the protests, telling her: "You are coming over as someone who is enjoying the limelight generated from this Oxford #Assange protest just a little too much."
After blocking Assange, Webb tweeted: "Assange's mother is now claiming that abusive tweets I've received are actually from the government trying to stir up anti-Assange hate."
Webb, who is president of Oxford University's LGBTQ society, added:
One Australian news agency described Webb as a "victim of social media abuse". Webb told the Australian Associated Press: "I have been sent abusive tweets by Assange supporters, including his mother. I've been described as pig-headed, a bitter jealous mediocrity, a misandrist, a retard, an extremist, and a hairy-legged truck driver."
Fingar said he is "appalled" by Assange and wants to distance himself from the WikiLeaks founder.
"I know that Julian Assange has been honored by Sam Adams Associates but want to disassociate myself from him and his actions. I am appalled by the theft and distribution of US government documents because it violates the law, personal obligationss, and professional ethics. It will make it harder to obtain useful information and may cause both sources and analysts to trim and hedge their judgments.

"Moreover, the charges against him are serious and the evidence apparently sufficiently compelling to persuade judicial officials in two countries that he should answer them. I believe that he should do so."