A campaign group set up to fight gay marriage has been accused of misleading voters by suggesting MPs support the campaign when they do not.
Newton told The Huffington Post UK that the leaflets, which say gay marriage could lead to legalised polygamy, had offended a considerable number of her constituents and led them to believe she was behind them.
"I was appalled that the Coalition for Marriage chose to use a photo of me without permission, apparently to give residents the impression that I support the claims made within their leaflet," she said.
"Whilst I respect the right of individuals and groups to oppose equal marriage proposals, I condemn the language the Coalition for Marriage used in their publication.
"This language fell short of the standards of respect and tolerance that all members of the community are entitled to, and caused offence to a considerable number of my constituents."
The leaflets are being delivered nationwide by C4M ahead of next week's Commons vote and encourage people to lobby their MP against allowing same-sex weddings. The campaign group has reject the claims it is misleading voters as "wholly mendacious".
A flyer delivered to homes in Labour MP Keith Vaz's East Leicester seat reads:
"Politicians at Westminster want to rewrite the meaning of marriage to make it 'genderless'. But kids need a mum and a dad. Did you know all the rights of marriage are already available to homosexuals through civil partnerships? The politicians don't own marriage, and they have no right to change it. This wasn't in any of the main manifestos before the last election, and they're ignoring well over 600,000 people who've signed a petition against the plans. Typical. Don't let them get away with it. Show them that ast Leicester is for marriage."
Newton said she would vote according to the majority view of her constituents and had been listening to those both opposed to and supportive of the proposals before next week's Commons vote.
She said: "These views have been expressed in a spirit of honesty, respect and tolerance for the views of others, an approach that sadly seems to have been rejected in this instance by the Coalition for Marriage."
Anne Milton, the Conservative MP for Guildford in Surrey, has also complained about the leaflets.
"I am not happy that the Coalition for Marriage used my photograph on their leaflet," she told HuffPost UK.
"This leaflet is not from me. I have twice spoken to the Coalition for Marriage and written to them to ask them repeatedly not to deliver the leaflet in my constituency because it is causing residents to believe (mistakenly) that it is from me."
And North Warwickshire and Bedworth Dan Byles, who supports gay marriage, has said he has received "many letters and emails" from his constituents who believed he was opposed after receiving the flyer.
"I support gay marriage and will vote for it. I am aware that the Coalition for Marriage are putting out misleading leaflets," he said on Twitter.
"It is very frustrating. The leaflets don't actually claim to be from me but they are very open to misinterpretation."
The Tory MP's office said that while the leaflets did not claim to be from Byles, they "looked ambiguous enough" that many voters would be confused.
However the Coalition for Marriage has defended its leaflets, arguing any allegation that it tried to mislead people is "wholly mendacious".
"In no way have we implied the MPs support or disagree with same-sex marriage," a spokesperson said, pointing out only three out of 650 MPs had complained about the leaflets.
And C4M said it was standard practice of campaign groups to use photographs of MPs in their literature. "The Coalition for Marriage supports a dialogue on this issue," the spokesperson added.
An Example Of The C4M Leaflet: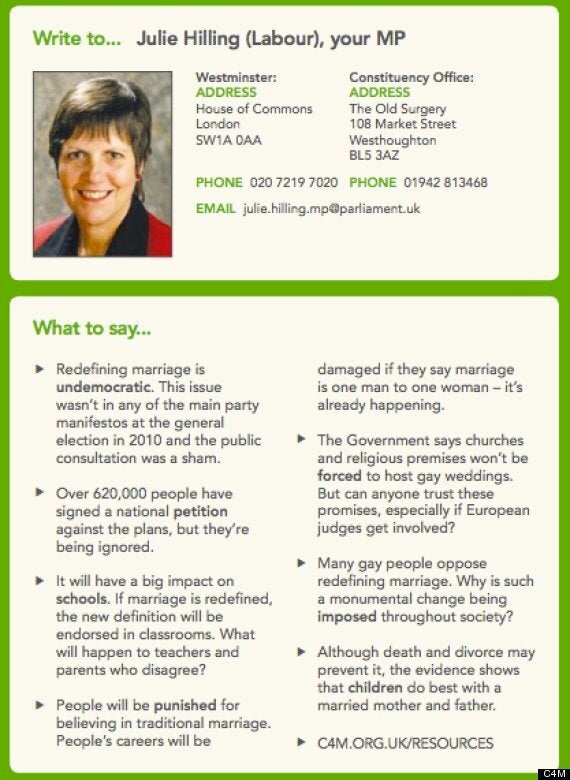 Popular in the Community