A Romanian newspaper has responded to rumours of a proposal to dissuade would-be immigrants with anti-Britain adverts with a stinging campaign of its own.
With the poster tagline 'We May Not Like Britain, But You Will Love Romania', daily newspaper the Gândul has launched a series of posters, explaining why Britons should come to Romania.
It leads with the claim that 'Half of our women look like Kate. The other half like her sister,' and also refers to TopGear.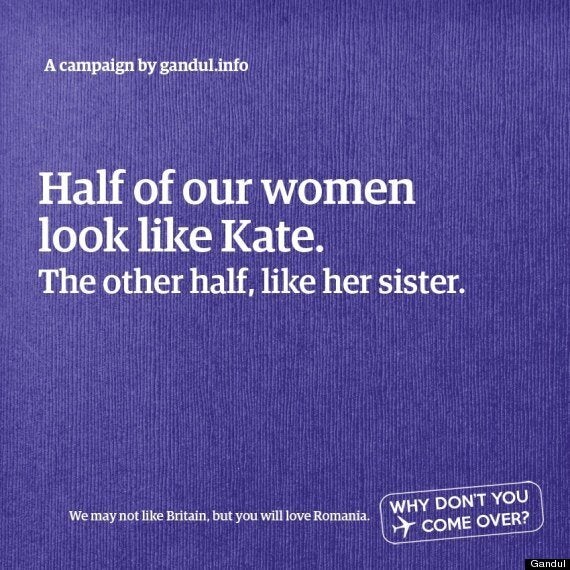 National pride has been clearly prickled by the suggestion that Romanians will immigrate to the UK in 'hordes' after residency restrictions are relaxed later this year.
The newspaper writes: "You may not like us UK, but you will love Romania. Why not come to us? This is our slogan devoted to British prejudices about Romania.
"Without studies based on official figures the British are advancing hundreds of thousands of Romanian immigrants waiting to come to their country." A couple of Romanian women... actually this might be Pippa and Kate. We can't tell.
On the newspaper's Facebook page revealing opinions of the Brits can be found.
One reader writes "English people won't like Romania because there is not enough ALCOHOL for them and will be hard for them to find all the drugs they need!!"
Another suggests: "Take the chance to be on the "right" side of the road!"
Less stinging and perhaps more tongue-in-cheek, a final suggestion is: "Keep calm and visit Romania!"
Related