The snow has melted and it is feeling altogether more mild and breezy across Britain following the freezing trudge into work that's marred much of January.
However as any Briton will know, wild weather is never too far away and the Met Office has issued weather warnings for Thursday and Friday, ahead of a sunny Saturday and a rather wet Sunday. It's a gloomy start to Friday
The south of England, Wales and all of Scotland will wake up to dark rain clouds on Friday morning in a soggy start to the best day of the week.
However the Met Office predicts that many of these clouds will disperse by lunchtime, especially in central England where people in Birmingham, Shrewsbury and Wrexham should see bright sunshine with their midday sandwiches.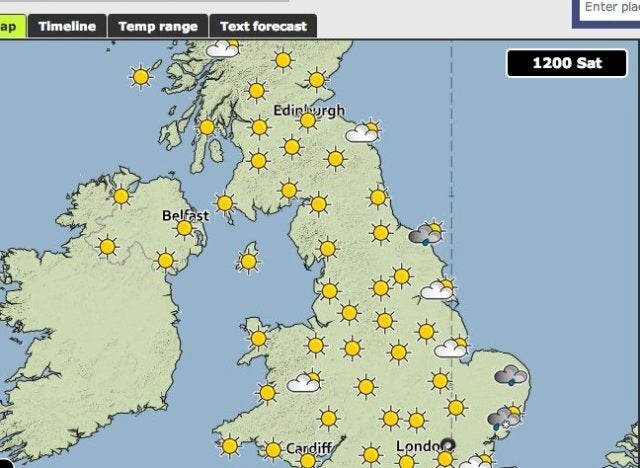 By Saturday day things are looking up, weather-wise
By evening however, those ominous rain clouds will be back looming over the south west, so its best to take your umbrella if you're planning to start your weekend with a night on the tiles.
The Met Office has issued yellow 'be aware' warnings of rain, so it will feel heavier than just a light shower and residents should be aware of some localised flooding. Gusts of winds are also likely to accompany the downpours.
In Scotland, snow is on the cards overnight for Aberdeen and Aberlour, but the rest of the UK looks set to experience scattered clouds over night and then Saturday is looking much brighter.
Almost all the UK will wake up to clear skies and sunshine on Saturday which will last throughout the day (until the evening, but who cares about cloud in the dark?) It's going to feel much colder though, with Friday's highs of 13C dropping to 6C. Ok so maybe not quite... but it's going to be sunny on Saturday
Sunday will be a bit warmer with highs of around 10C, but its a tradeoff with rain and and clouds dominating the horizon almost all day. A mixed weekend for Britons, but at long last a day of sunshine!
Related