Tesco has became the latest firm to drop a major supplier after discovering a range of spaghetti bolognese ready meals contained more than 60% horse meat.
The supermarket giant said on Monday that tests on its frozen Everyday Value Spaghetti Bolognese, withdrawn last week as a precaution, showed some had high levels of contamination.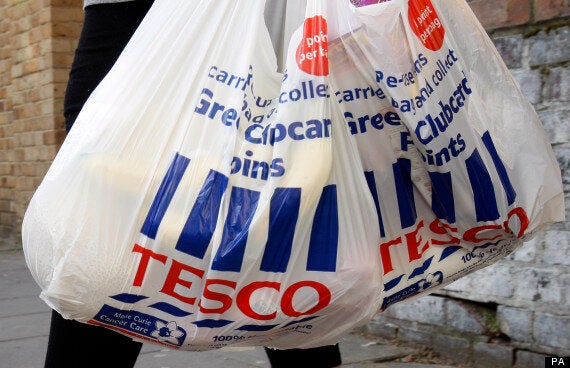 Tesco has apologised for letting its customers down
It followed frozen food firm Findus and Aldi in finding the meat in products made by French firm Comigel, and joined them in dropping the company as a supplier.
The announcement came as environment secretary Owen Paterson told the House of Commons it appeared that "criminal activity" had been at the heart of the scandal.
Tim Smith, Tesco's group technical director, said the spaghetti bolognese should have contained only Irish beef from its suppliers and that it was sorry for letting customers down.
The supermarket was forced to issue a public apology last month after tests discovered traces of horse in burgers from an Irish supplier.
"Of the positive results, most are at a trace level of less than 1% but three showed significant levels of horse DNA, exceeding 60%," he said.
"We have carried out further tests to ensure that there is no danger to health through the presence of potentially harmful bute. The test for bute was clear.
"The source of the horse meat is still under investigation by the relevant authorities. The level of contamination suggests that Comigel was not following the appropriate production process for our Tesco product and we will not take food from their facility again."
The National Beef Association (NBA) called for more precise labelling of products today in the wake of the scandal affecting products made by Comigel, including own-brand lasagne for Findus and Aldi, that would add the words "United Kingdom origin" to packaging to prevent "further cheating" by suppliers.
Butchers have reported a marked spike in trade as consumers turn their backs on imported and processed goods as the extent of the contamination grows.
The scandal has spread all over the continent as details of the elaborate supply chain in the meat industry emerge.
French consumer safety authorities have said companies from Romania, Cyprus and the Netherlands as well as its own firms were involved.
Romanian authorities have confirmed they are investigating while their Dutch counterparts said they are ready to do so if necessary.
One theory for the apparent increase in the presence of horse meat in the food chain is new restrictions on using horses on roads in Romania, which have led to a surge in numbers of animals being put down.
Findus, which has taken its beef lasagne made by Comigel off shelves after some were found to have up to 100% horse meat in them, said it was considering taking legal action against its suppliers as an internal investigation "strongly suggests" that the contamination "was not accidental".
Mr Paterson told MPs there would be immediate testing of products across the supply chain, including tests at schools, hospitals and prisons.
The FSA had also reassured him that the products recalled did not present a risk to the public, but consumers who had bought Findus beef lasagnes should return them to the shop they had bought them from as a "precaution".
He said the "ultimate source" of the problem was not yet known but agencies were investigating a supply network that stretched across Europe.
Mr Paterson said: "At the moment this appears to be an issue of fraud and mis-labelling, but if anything suggests the need for changes to surveillance and enforcement in the UK we will not hesitate to make those changes."
Shadow environment secretary Mary Creagh claimed there were 70,000 horses unaccounted for in Northern Ireland, with unwanted animals given false paperwork before being sold for €10 (£8) and then resold to dealers for meat for as much as €500 (£423).
Speaking in the Commons, Ms Creagh said: "The Ulster Society for the Prevention of Cruelty to Animals have clear evidence of an illegal trade of unfit horses from Ireland to the UK for meat, with horses being re-passported to meet demands for horse meat in mainland Europe.
"It is very convenient to blame the Poles and the Romanians but so far neither country have found any problems with their beef abattoirs."
Conservative MP Anne McIntosh, chairwoman of the Environment, Food and Rural Affairs select committee, backed a ban on meat imports and urged the public to buy their meat locally.
Industry figures claimed British consumers have already started to return to the high street butcher as confidence in processed and cheaper, imported meats plummets.
Yorkshire butcher Brindon Addy, the chairman of the Q Guild which representing 130 butchers across England, Scotland and Wales, said: "There has definitely been a spike in sales for the high street butcher in recent weeks, some are saying by as much as 20 and 30%.
"It is obviously great news for those butchers who have found it difficult to compete with the big supermarkets in the past. People slip into the convenience of supermarket shopping, but whenever there is a scare - be it horse meat or BSE - they always come back."