The chief superintendent of the Metropolitan Police's Public Order branch, Mick Johnson, says his force is working closely with football clubs at tackling racism in the light of further allegations which surfaced last night.
A television report on the matter appeared to show Millwall fans persistently subjecting Leeds striker El-Hadji Diouf to racial abuse when his side played at the Den on November 18.
Sky Sports News footage appeared to show the Senegal international alerting the referee, Mark Halsey, and making stewards aware of his allegations.
Millwall released a statement last night in which they said they were "appalled" by the footage they had witnessed.
Chief executive Andy Ambler said: "Clearly that behaviour is unacceptable in any football ground in the country and at Millwall we will ban the individuals for life and we hope that Sky will pass the footage to the police so that further action can be taken."
Johnson said: "It is important that we work with football clubs and the football authorities, including the FA, to ensure that there is no misunderstanding about what constitutes racist language or behaviour and that we work with clubs to educate, encourage and empower supporters to stamp out racism in football.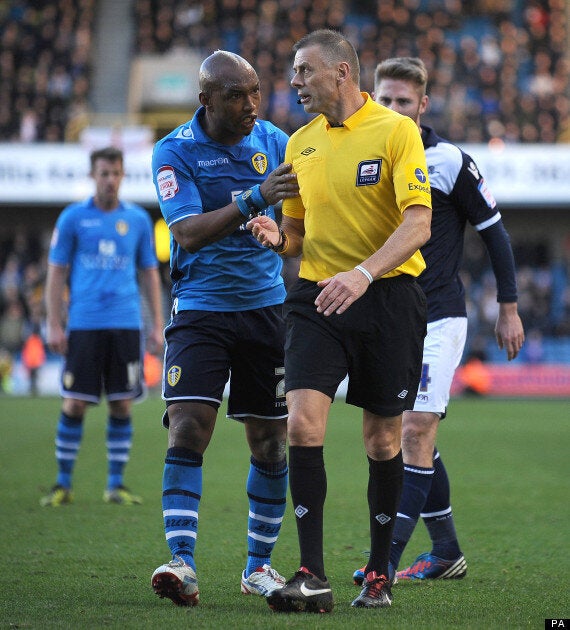 Diouf speaks with Mark Halsey during Leeds' game at Millwall
"Some words which historically have been perceived by some as acceptable cause harassment, alarm or distress to others, and people who use this language could be committing a criminal offence.
"Offensive language, within football chants or otherwise, has no place within football, or indeed in society, and those who engage in such behaviour should be under no illusion that they are committing a crime.
"If it is unacceptable outside football then it is unacceptable inside football. We are working closely with partner agencies and all football clubs to get this message across to their supporters."
Bolton forward Marvin Sordell has previously made allegations of racial abuse towards Millwall's fans.
Sordell who represented Great Britain at the London 2012 Olympics, has faced racial abuse on social media websites and claims he is not shocked that such things still occur. Sordell spoke of his disgust at being racially abused
He said: "We're a developed, multi-cultural society. It's surprising it can still go on - but it doesn't exactly shock me.
"We can't be silent about it. We need to make people aware that there is a problem going on and only when people are aware of the problem can it be sorted out."
Allegations of abuse against Diouf initially surfaced online directly after the match, with Millwall claiming an investigation carried out at the time resulted in there been no case to answer to.
"Sadly racism exists in our society and certain individuals want to bring it into football grounds. It's down to us in football do to more," Ambler added.
"We think football is the solution to the problem and the work that we do will continue and we need to continue it.
"That day against Leeds obviously there was an allegation of abuse made online initially. We investigated it straight away.
"We interviewed stewards, police, players, we looked at the TV footage too as it was live on Sky.
"After speaking to the player who had the alleged abuse at him during the day, he said that he heard no abuse on the day so that was basically at that point the end of the investigation - although we're going to open it again now."
Related