If you've caught whisperings about One Billion Rising, then you'll probably have some sense of the scale of playwright and activist Eve Ensler's vision for women.
The award-winning author of The Vagina Monologues wants, quite simply, to end violence against women and girls, and her latest project One Billion Rising (based on the statistic that 1 in 3 women on the planet will be beaten or raped during their lifetime) requires women and men to 'rise up' in the street today. Or in other words: dance.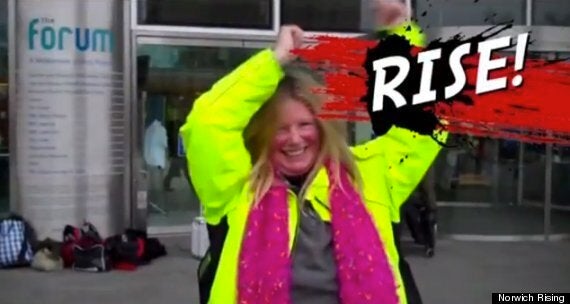 From 'Norwich Rising' video (below), which aims to inspire 20,000 local people to dance
But beyond the global awareness-raising dance-off, which will see women and men in 202 countries from Lima to Paris dancing in the streets (watch them live here), the activist told HuffPost UK Lifestyle that after 15 years of campaigning, it's this project that appears to be finally delivering tangible, political change.
"No idea I've worked has caught fire in the same way," says the Ensler, with a sense of genuine amazement.
"We've been on the front line in many countries, for a long time working on V-Day [named after the Vagina Monologues], and we've had victories indeed. But now we're seeing laws instituted and a level of justice like we've never seen."
It was less than a year ago that Ensler announced One Billion Rising, when she realised that despite her annual efforts to raise awareness via V-Day, she needed to escalate her efforts.
Writing in The Guardian she says: "What is most remarkable is what One Billion Rising has already accomplished before we even begin to dance today.
As a seasoned feminist campaigner, Ensler has noticed that in past months that pro-women subjects, which challenge the cultural orthodoxy in countries across the world, have become worthy of front page headlines.
"In the last year, we've finally seen stories about violence against women breaking through in big ways, such as in India.
"For those who have been working to have stores about violence against women reported in the news for decades, we know that women getting hurt is not new. But it's just that now newspapers will report it."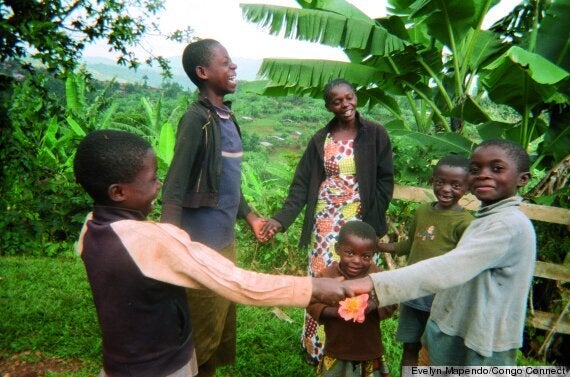 Evelyn Mapendo photographed for Congo Connect exhibition (part of One Billion Rising campaign)
According to Ensler, the protesters in India, outraged by the fatal gang rape of a young woman on a bus in New Delhi last year, have used the campaign to harness their anger.
"One Billion Rising is fanning the fire and allowing that energy to continue so that real legislation and real laws, real action is beginning to happen."
As an example of concrete action, Ensler points to the work of Stella Creasy, Labour and Co-operative MP for Walthamstow, who has called for a parliamentary debate and vote on providing statutory sex and relationship education in schools for both boys and girls.
In a blog for the Huffington Post UK, the politician underlined the need for boys and girls to be taught about respect for one another, and encouraged the public to write to their MP in support.
"Stella Creasy has worked very hard on One Billion Rising," Ensler told HuffPost UK Lifestyle.
"The issue is going to come up to be debated and she need lots of support. But I've also been noticing everywhere, people using the global energy and the global solidarity to put towards the things in their comunity that they need to happen.
"It's happened organically."
As part of the One Billion Rising artistic collaboration, a UK-based charity Congo Connect that campaigns against human rights abuses in eastern Congo, has developed a new exhibition consisting of photography and writing called: 'I Dream of Congo', which runs in London until February 23.
"I dream of having a doctor of medicine among my children, a driver and a schoolteacher so they might have a better life," says Evelyn Mapendo, featured in I Dream Of Congo exhibition (pictured above)
Nicola York, co-founder of Congo Connect, told HuffPost UK Lifestyle: "Our aim is to shed new light on a region that is often dismissed as having intractable problems and expose the untold stories of bravery and hope that exist in a region that has suffered from conflict for almost two decades. Hope survives even in the darkest places and nowhere is this more evident than in eastern DRC."
Related