David Cameron took a break from his trade mission in India to play a game of cricket on Mumbai's famous Oval Maidan.
The cricket-loving prime minister wielded the bat against some ferocious deliveries from local youngsters who flock to the recreation ground in the centre of the city to play.
But it was not long before his middle stump fell to a fastball from a young bowler named Sachin - possibly in homage to India's cricket hero Sachin Tendulkar.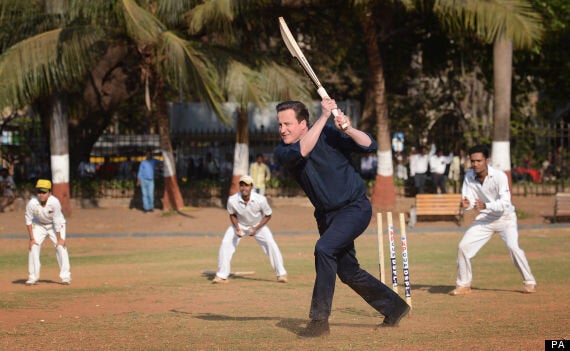 Cameron played a rather short innings
Cameron's technique won approving comments from members of the England women's squad, who have been helping train boys and girls through the ECB-backed Global Cricket School while in town for the World Cup.
"He's got used to the rough surface very quickly," said former England captain Clare Connor, adding: "That's a brilliant cover drive", just before Cameron almost got himself run out.
Unlike the boys and girls, who were all kitted out in immaculate whites, the Prime Minister wore a blue casual shirt and trousers for his stint at the crease, and faced a tennis ball rather than the more perilous cricket ball.
After his game, Cameron chatted with Connor and Arran Brindle, a current member of the England team, which took third place in the World Cup.
"It was good fun and it's a great place to play," said the PM, slightly red-faced from the baking temperatures. "I knew I was in trouble when they brought on that third bowler though.
Connor said: "They are cricket-mad here. Every day as we came back from practice, we would see thousands of people here and literally hundreds of games going on.
"It's the perfect place for the prime minister to see some of the local life."
Also taking part were Leicestershire star Jigar Naik and student Freddy Preston, 18, from Cambridge, who has been helping coach children from the Mumbai slums in cricket during his gap year.