America's newly appointed secretary of state flew 3,678 miles on Monday for a meeting with David Cameron- and failed to discuss two of the UK's biggest international issues.
Whilst they did discuss prospects for a US/EU free trade agreement as well as ongoing tensions over Iran, Syria, the two failed to broach the Falkland dispute or Britain's possible exit from the EU.
It is understood that the UK's row with Argentina over the future of the islands is likely to be discussed when Kerry meets foreign secretary William Hague later today.
The PM's spokesman said that Kerry did not raise the issue of Britain's possible exit from the European Union as a result of the referendum promised by Cameron during the next Parliament.
In the run-up to Cameron's announcement of his referendum plan last month, the White House had signalled its preference from Britain to remain part of a strong EU.
But the spokesman said that the European focus of today's discussions was the free trade agreement and the potential for using the UK-chaired meeting of the G8 group of rich states in Northern Ireland in June to take the process forward.
Cameron and Kerry, who is on an 11-day "listening tour" of Europe and the Middle East. "reiterated their shared determination to prevent a nuclear-armed Iran", said the spokesman.
Both men were hoping for progress on the issue at the meeting of the P5+1 group - made up of the US, UK, Russia, China, France and Germany - with representatives of the Tehran regime in Almaty, Kazakhstan, this week.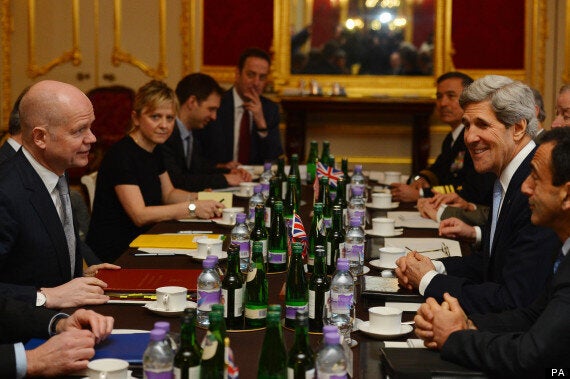 Kerry had a breakfast-time meeting at 10 Downing Street
Cameron and Kerry agreed on "the importance of restarting a viable peace process" in the Middle East, said the spokesman. And he said they discussed "the challenges posed by fragile states around the world and how the US and UK will continue to work together on these issues".
They also discussed the situations in Egypt and Libya following the fall of long-standing regimes as a result of the Arab Spring.
Kerry, who took office as Secretary of State at the start of this month following the resignation of Hillary Clinton, is also due to visit Berlin, Paris, Rome, Ankara, Cairo, Riyadh, Abu Dhabi and Doha during the current tour.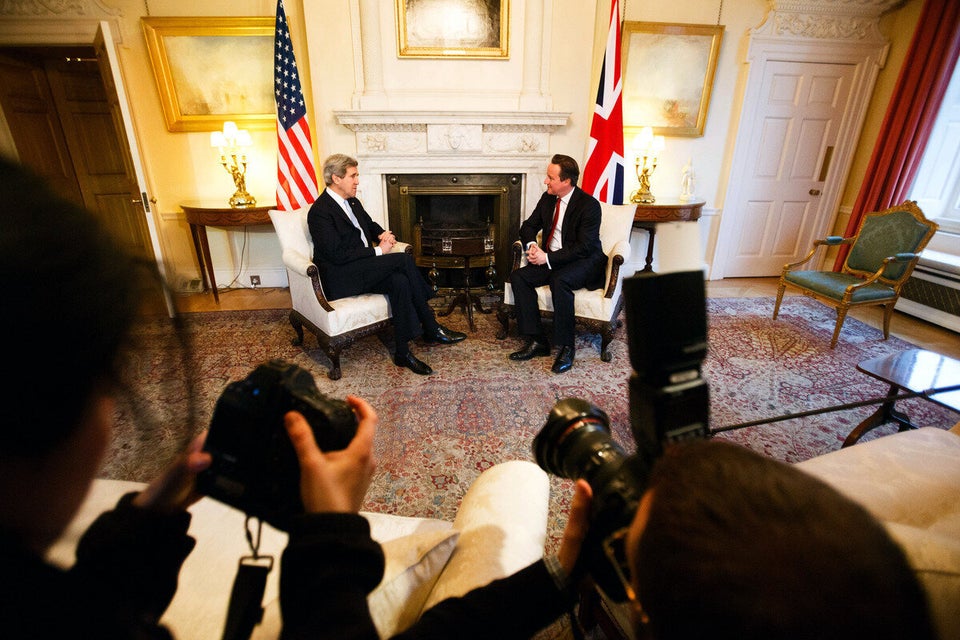 US Secretary of State John Kerry Meets Prime David Cameron
Popular in the Community