WARNING: this video contains footage of the balloon crash that some viewers may find distressing
Three Britons are among 19 tourists who were killed following a horror balloon crash in Egypt - thought to be the biggest of its kind in history.
The Foreign Office confirmed that two British nationals and one British resident died when the balloon plunged to the ground in flames.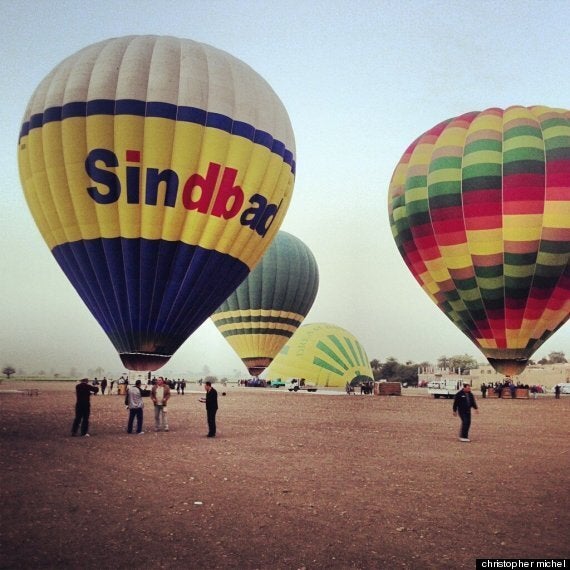 The scene of the balloon crash
Witnesses told how the balloon exploded into flames before crashing into sugar cane fields as it travelled over the Valley of the Kings near Luxor.
Two of those caught up in the tragedy have been named by neighbours as Michael Rennie, 49, and wife Yvonne, from Perth, Scotland. A spokeswoman at Luxor International Hospital said on Tuesday evening that Michael Rennie was in a stable condition. Other reports later said that Mrs Rennie had died in the tragedy.
Next-door neighbour Linda Kettles said: "They were very, very nice people who kept themselves to themselves.
"They've gone on holiday to enjoy themselves. They only get the weekends together and any break together is good for them.
"They were really looking forward to getting away.
"I'm totally devastated by the news. I really feel for their families."
The couple moved from Dundee to Perth about 10 years ago and although they have been together for a "long time" they were only married recently, Ms Kettles said.
Mrs Rennie worked as a hospital receptionist and Mr Rennie worked in the construction industry, she said. Linda Kettles puts flowers on the doorstep of her next door neighbours Michael and Yvonne Rennie
Former policewoman Linda Lea, 67, from Stoke-on-Trent, still suffers from the multiple injuries she sustained in a similar crash in Luxor in 2009.
The balloon was believed to have hit a mobile phone transmission tower near the banks of the Nile, injuring 16.
She said: "I cannot believe this has happened again. They promised to tighten safety procedures after my crash. Flights were stopped for a time.
"These balloons are just too unstable. There is not enough training of staff. There were about 22 or 23 in my balloon when it crashed and maybe there were too many then and too many in today's accident."
Following the 2009 crash, early morning hot air balloon flights over the Valley of the Kings on the West Bank of the Nile were suspended for six months while safety measures were tightened up.
During the break, all 42 pilots from the eight companies who operate flights had extra training.
Other initiatives to improve safety brought in included confining all take-offs to a new balloon "airport" and limiting the maximum number of balloons up at the same time to eight. Previously as many as 50 could share the air space.
Harrowing pictures emerged of the wreckage earlier on Tuesday, which showed the dead in body bags and charred helicopter remains in nearby fields.
The four Britons were on holiday in Luxor with tour operator Thomas Cook.
Mr Rennie and the Egyptian pilot, who is also in hospital, are the only survivors of the crash.
Thomas Cook initially announced that two Britons had survived the crash but later revealed that one of the two, believed to have suffered 70% burns, had since died.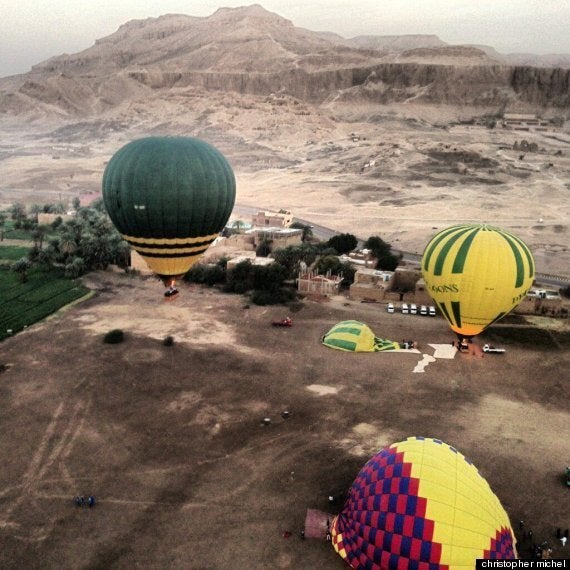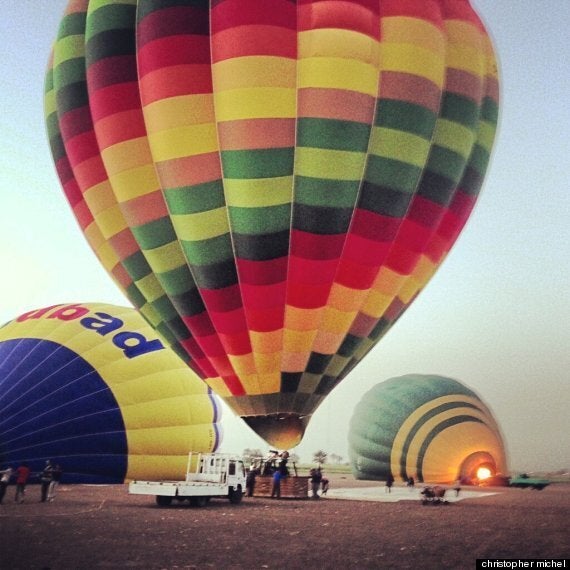 Pictures of the crash taken by tourist Christopher Michel
The survivor was flown to hospital in Cairo more than 300 miles away. The four Britons were believed to have been among nine people who had jumped from the balloon.
The other tourists, including holidaymakers from France, Hong Kong and Japan, were all thought to have died in the explosion. Authorities in Luxor, where there have been previous balloon crashes, have suspended all balloon flights and an investigation is under way.
Thomas Cook UK and Europe chief executive Peter Fankhauser said: "What happened in Luxor this morning is a terrible tragedy and the thoughts of everyone in Thomas Cook are with our guests, their family and friends."
He said the company had a very experienced team in Luxor and that full support was being provided to the family and friends of those who had died.
Thomas Cook said it was working with local officials and a full investigation would be taking taking place. The company is asking concerned relatives who have guests in the resort to contact 0800 107 5638.
Later, the Foreign Office (FO) said the next of kin of the three British dead - two British nationals and one British resident - had been informed and were being provided with consular assistance.
The FO added that the British survivor was in a stable condition and that the UK Ambassador to Egypt "has met the injured British national and has offered our assistance".
Cherry Tohamy, an Egyptian living in Kuwait who was on holiday in Luxor, was in another balloon which was landing when she heard an explosion and saw flames from a balloon above.
She told the BBC: "Our pilot told us that the balloon had hit a high pressure electrical cable and a cylinder on board exploded.
"People were jumping out of the balloon from about the height of a seven-storey building."
She said ambulances were at the scene within 15 minutes.
Witnesses described hearing a loud explosion before seeing plumes of smoke as the balloon caught fire.
Christopher Michel described the carnage on Twitter, where he posted a series of photographs showing the balloons ahead of the flight.
He said: "It was the balloon behind mine. I heard a loud explosion and saw smoke."
Mr Michel, who previously made a balloon excursion with an English pilot, said the Egyptian operation "didn't feel quite as professional" as that of his first voyage.
The US photographer was taking aerial photographs at the time of the crash.
He told the BBC: "We flew over the ancient ruins. Just before landing in the cornfields, I heard an explosion and saw smoke. I think it was the balloon behind mine.
"I wasn't sure what had happened at first. It was only when we landed we heard the full extent of what happened."
He added: "It's really, really tragic and everyone involved is in a lot of shock."
Hamdy Shabaan, operations manager at another operator, Sinbad hot air balloons, said the basket was on fire when it fell to the ground.
Hot air balloon trips usually take place at sunrise over the Karnak and Luxor temples as well as the Valley of the Kings.
Thomas Cook has around 150 clients in the Luxor area at present. The company was not giving out any information about just when the four Britons involved had started their holidays or what their package involved.
Konny Matthews, assistant manager of a Luxor's Al Moudira hotel, said she heard a boom around 7am local time.
She went on: "It was a huge bang. It was a frightening bang, even though it was several kilometres away from the hotel. Some of my employees said that their homes were shaking."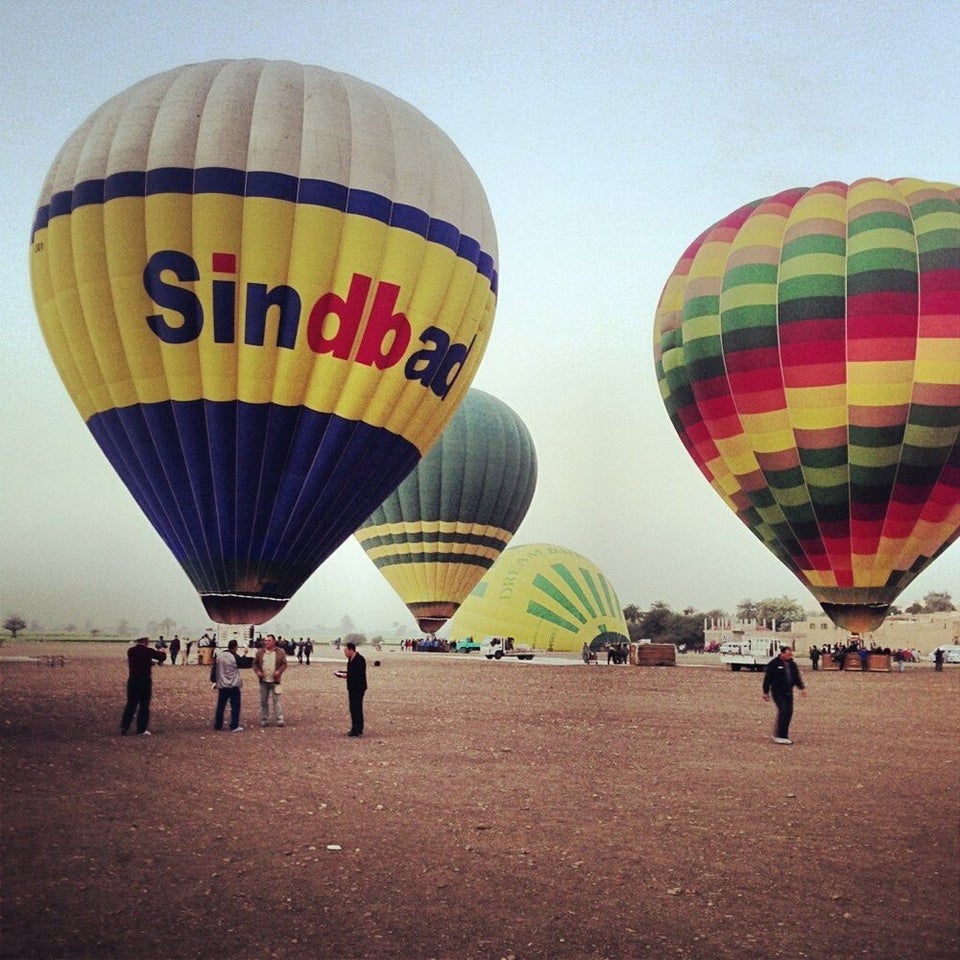 GRAPHIC WARNING: Hot Air Balloon Crash in Egypt