Knitting might be proven to help prevent stress, manage depression and lower blood pressure - but few realise it can also fight crime.
Neighbourhoods feel safe when there's more knitwear about, according to a local police initiative to "yarn bomb" an area of Leicester to ward off criminals with pom-pom power. A craze known as 'guerrilla-knitting' or 'yarn-bombing'
Officers from Hinckley Road police station, with support form Leicester City Council and students from De Montfort University encouraged guerrilla knitters to donate cuddly accoutrements to hang from trees and decorate streets.
A police spokesman said: "This is part of action being taken following feedback from some members of the public who feel that there is a greater risk of becoming a victim of crime in the area than other parts of the city.
"The perception of crime is disproportionate to actual reported levels of crime and police and partners hope that by bringing the local community together to brighten up the stretch of Great Central Way, more people will use the walkway and the fear of crime will be reduced."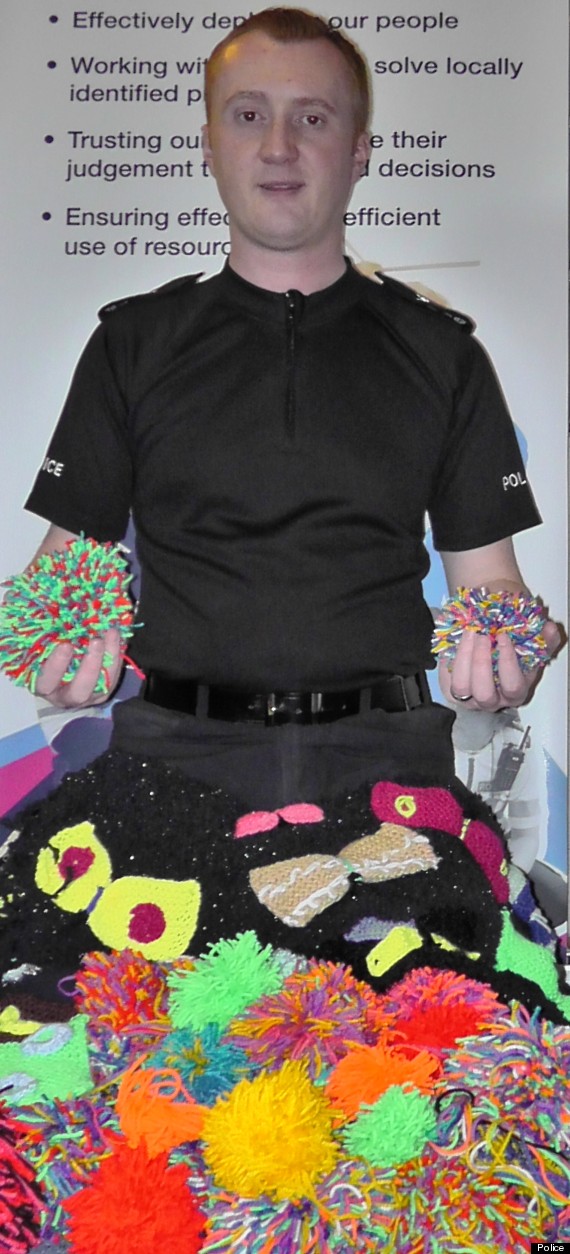 Sergeant Barnes, of the Westcotes safer neighbourhood team, with his pompoms
Sergeant Barnes, of the Westcotes safer neighbourhood team said: "It's a bit like a public art display, but one which the entire community have created.
"I am really hopeful that the actions will reduce the fear of becoming a victim of crime, as the perception really is much different to the actual reported levels of crime."
Dozens of groups are clicking their needles in the name of crime-prevention, including schools, nurseries, OAPs, police staff and the Polish Community Centre.
Charlotte Bilby, a senior lecturer in criminology at Northumbria University, told the BBC that knitting could work as a crime-fighting weapon. "As we all know more officers on the beat doesn't actually have a massive impact on crime rates in [an] area.
"More officers on the beat plus community involvement - community engagement, making sure that people feel part of the community and that the community belongs to them - perhaps that's a better way of making an area feel safer."
The guerrilla knitting craze has been traced back to Texas in 2005, where a group formed called Knitta Please, covering everyday objects across the city in wool.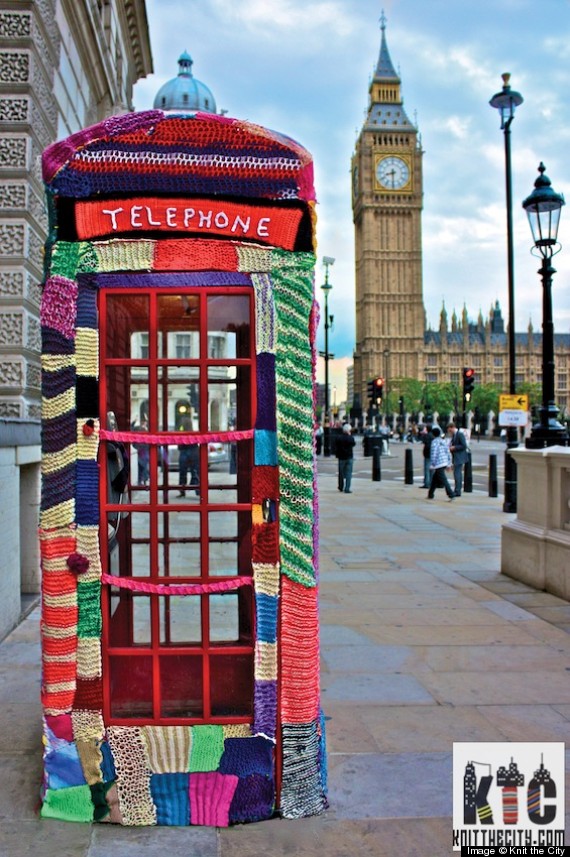 One of the creations of Knit The City
In the UK, Knit The City was the first graffiti knitting group, formed in 2007. The members remain anonymous, but the group's founder Deadly Knitshade, told HuffPost UK that the yarn bombing could indeed have a positive effect on communities.
She said: "It seems to be popping up all over the place now and it's brilliant to see it in Leicester. With Knit the City we've always had a positive response.
"In Parliament Square in 2009 our Phone Box Cosy got both a thumbs up from the police and a cheerful 'just doing our job' official notice that they were aware it was being installed. Graffiti knitting is handmade street art you can take home.
"It's making a mark on the world without causing any lasting damage and it definitely stitches together a sense of community and care of a place, much like guerilla gardening, and gets people talking to each other.
"A ball of yarn can do so much more than a woolly jumper in the hands of a yarnstormer. Though I would remind folks that all graffiti knitters have pointy sticks. So don't go demanding we make you socks instead of street art."
Other artistic initiatives to battle anti-social behaviour have been trialled across the UK.
Brixton Station and the shopping centre above it in south east London blast out classical music to deter loitering youths, a strategy first pioneered in 2004 by British Transport Police. In six months, they cut robberies by 33%, staff assaults by 25% and vandalism by 37%.
Council attempts to brighten up an underpass in Blackpool with classical music and pictures of dolphins to ward off marine mammal-despising miscreants were less successful however. The Lancashire Telegraph reported in March 2008 council bosses commissioned a local artist to paint images of dolphins in the underpass, after claiming vandalism was costing taxpayers £10,000 a year.
But two weeks later, with the paint still drying, graffiti had already been daubed on the head of one of the dolphins.