David Cameron was under fresh pressure on Sunday after a poll put the party on just 27% - one of its lowest ratings of recent years.
According to the Opinium research for the Observer Ukip is just 10 points behind on 17% after luring voters away from the Tories and Labour.
It also found the prime minister's personal rating dropped 8% in a fortnight to 18%.
The latest study comes after a poll of marginal constituencies yesterday suggested Labour would scoop 93 seats from the Conservatives and take the keys to No 10 if a general election was held tomorrow.
Senior figures have this weekend set out their agenda for trying to restore the party's fortunes.
Former Defence Secretary Liam Fox criticised "multiple taxation of the same money", describing it as an "iniquity that creates the wrong pattern of behaviour".
He told The Sunday Times: "We pay tax on our income. Then if we save we pay tax again. If we invest in businesses or property and try to move our money, we will be hit by capital gains tax or stamp duty. Finally, if we have the audacity to die, we get the indignity of inheritance tax."
Theresa May fuelled speculation that she holds leadership ambitions yesterday with a speech to Tory grassroots that ranged across industrial policy, banking and the economy as well her usual turf of home affairs.
She also reached out to the right out the party with a promise that a Conservative government would scrap the Human Rights Act and could go further by pulling out of its European obligations on rights altogether.
At the conservativehome website's Victory 2015 conference, the Home Secretary said the party must "consider very carefully our relationship" with the European Court of Human Rights (ECHR), suggesting it was restricting Britain's ability to act in the national interest.
"We need to stop human rights legislation interfering with our ability to fight crime and control immigration.
"That's why, as our last manifesto promised, the next Conservative government will scrap the Human Rights Act, and it's why we should also consider very carefully our relationship with the European Court of Human Rights and the convention it enforces."
May said she expects the Conservative's public sector reform agenda to "become even more radical" and could include allowing companies to make a profit delivering frontline services.
More private companies and charities should be brought in to run public services to improve quality and end the "monopoly" of the state, which is too often a "poor provider", May said.
"A future Conservative government should therefore go further in increasing the number of charities, companies and co-operatives that deliver frontline services.
"And if allowing those organisations to make a profit means we have a more diverse supply side and better outcomes, then that is something we should consider with an open mind."
Shadow Home Secretary Yvette Cooper said: "This is a blatant political pitch to the right of the Tory party who are so cross with David Cameron.
"This is political manoeuvring whilst the Tories offer nothing to the millions struggling with a cost of living crisis."
Speaking to Dermot Murnaghan on Sky News, former commissioner of the Metropolitan Police Lord Blair said cases such as Abu Qatada, the radical preacher the Government wants to deport to Jordan, should not mean scrapping the Human Rights Act or leaving the European Court of Human Rights.
He said: "This does seem to me an extraordinary idea. Hard cases like Abu Qatada make bad law and make dangerous politics.
"I have worked with five home secretaries, all of whom have been dealing with Abu Qatada and all of whom have been frustrated by it.
"But one or two of these really difficult cases doesn't mean that we should withdraw from a treaty which British lawyers drew up in the 1940s after the Second World War.
"Where do we go next? Do we withdraw from the United Nations?"
Baroness Warsi said the prime minister commands the support of "large parts" of his party and insisted she, and May, had "full confidence" in his leadership.
Asked about the leadership rumours surrounding the Home Secretary, the senior Foreign Office minister told Murnaghan on Sky News: "I think Theresa has been doing a fantastic job.
"There are many, many politicians who have taken on the job of Home Secretary, which is sometimes seen as a poisoned chalice, and have tripped. She has been a steady, stable, safe pair of hands in that job making some fantastic decisions.
"But I think Theresa, like me, would agree that we have full confidence in the prime minister and fully support him continuing to lead the party."
She added: "Question marks about who should lead a party at any one time happens in all political parties at all times.
"Believe it or not, these political parties are broad churches but what is very clear from the Conservative Party is that there is a huge amount of support behind the prime minister.
"He is doing a very difficult job in very difficult circumstances and he commands the support of large parts of his party."
Former Cabinet minister Michael Portillo told Murnaghan on Sky News: "I think we have reached the stage of the Government where lots of people are thinking about who might be the next Conservative leader and in what circumstances.
"There are two possible circumstances. One is a challenge to the leadership during the course of this parliament, which I still think is pretty unlikely.
"The second is a Conservative defeat at the general election and the replacing of the leader thereafter, which I think is a great deal more likely.
"Even if it is only the second case, then a number of Cabinet ministers would do well to put their portfolios, as it were, in order now."
Conservative MP Sarah Wollaston warned the Prime Minister he was "running out of time" to tackle problems with his "posh" top team.
In a series of tweets the backbencher insisted she was loyal to the leader but suggested his closest allies were yes men.
She wrote: "Inner circle still look far too posh, male & white & Cameron is running out of time to fix it.
"I consider myself a Cameron loyalist; he is the best person for the job but should listen to critical friends.
"I am a Cameron loyalist but he needs to change his inner circle which just seems to be telling him what he wants to hear."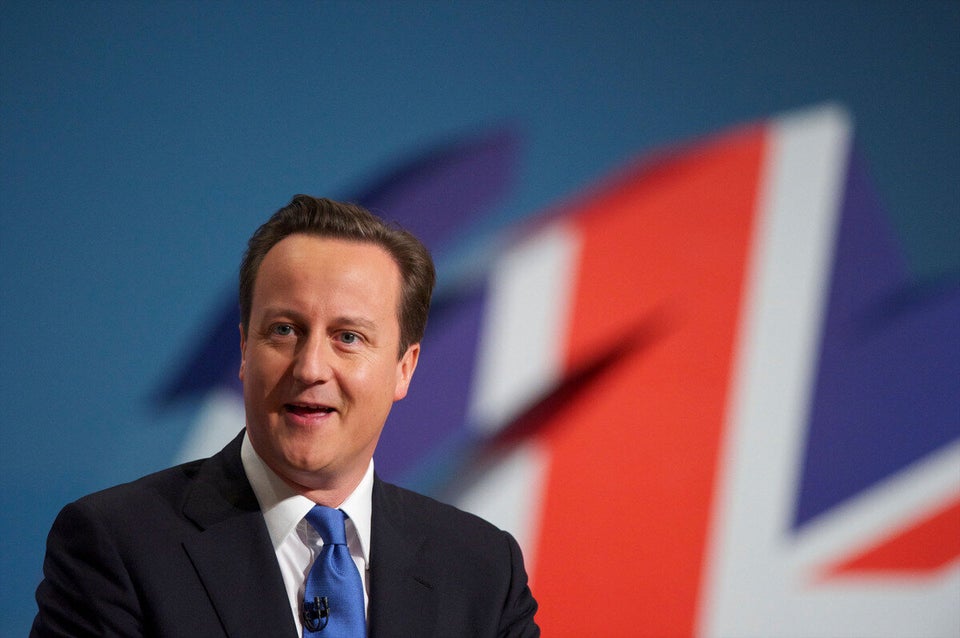 David Cameron Bio
Related