Sir Alex Ferguson has cast doubt on Rio Ferdinand making a return to the England team due to the fitness programme Manchester United have tailored for him.
Ferdinand has suffered back and groin injuries in his 30s but is enjoying a largely injury-free season, having made 26 appearances.
Ferguson's successful rotation of his centre-backs has aided the Ferdinand's game-time, however he claimed that should Ferdinand travel to San Marino and Montenegro it would affect his training programme. Ferdinand has suffered one injury all season
Asked about Ferdinand's call up, the Scot said: "I was surprised as anyone. We have to speak to the Dr, before Rio decides if he joins up.
"We've detailed his training programmes to give him the treatments he needs for various back and groin complaints.
"The doctor has to make sure he will be okay in terms of the number of games he plays.
"So far it's worked very well, so we have to look at all these things before Rio decides [on England recall]."
Ferdinand has not played for England in 21 months but has arguably been the best English centre-back in the Premier League this season.
Ferguson's comments do however risk exacerbating United's relationship with the Football Association, a week after he bemoaned the amount of promotional work Wayne Rooney does when on England duty.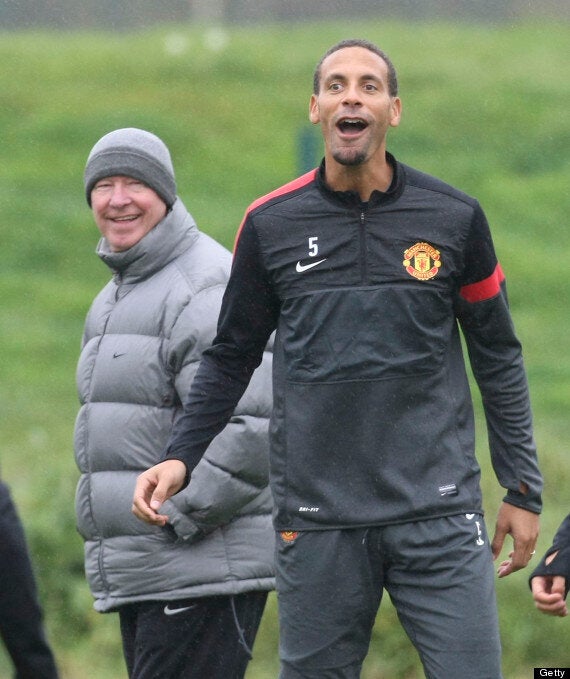 Ferguson is concerned about Ferdinand's fitness if he plays additional games
The FA issued a rebuttal to Ferguson which read: "Wayne has not undertaken any commercial appearances for the FA in the past 12 months and has not fulfilled any more media obligations than other senior squad members. We ensure media activity is sensibly managed. It is important to talk to the fans during international weeks."
The United manager has also criticised the FA and England Under-21 coach Stuart Pearce for disclosing the injuries of Ashley Young and Phil Jones earlier in the campaign.
At his press conference ahead of United's home match with Reading, Ferguson then ridiculed Chelsea interim manager Rafael Benítez's allegation that he refused to shake his hand ahead of the clubs' FA Cup quarter-final last week.
"It's absolute nonsense. If he wanted to shake my hand he could have walked straight in front of me," Ferguson added.
Popular in the Community