Gary Neville has hinted he may leave his role as Sky Sports' chief pundit to concentrate on coaching England ahead of the 2014 World Cup.
The former Manchester United defender joined Roy Hodgson's England staff ahead of Euro 2012 and will resume his role this week ahead of the two World Cup qualifiers in San Marino and Montenegro.
Last season he emerged as British televeision's best football pundit, offering insightful analysis to nationwide approval and garnering plaudits from supporters who loathed him in his days as an ardent United player.
His skill in the studio has drawn jealous comments from beleaguered BBC pundits, with Match of the Day continuing to leave viewers enraged rather than illuminated.
Yet Neville has conceded the two jobs he is juggling cannot continue for much longer.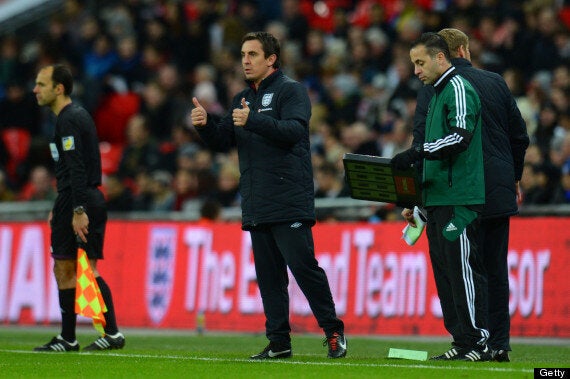 Neville has been a part of Roy Hodgson's staff for nearly a year
"I'm not naive and think that both roles can go on forever," Neville told The Telegraph. "I'm not stupid and eventually I will have to make a choice or something will happen with the England job or the Sky role. But I love doing both things."
"When I work for Sky I don't have anxiety about what's going to happen in the match. I have anxiety about making sure that I'm professional and say the right things. That's a different type of feeling whereas with England you are just so desperate for the team to do well, for the fans, for everyone."
In his autobiography, Neville stated an apparent lack of interest in coaching despite doing his badges while at United.
At the tail-end of the 2010-11 campaign, he began appearing on Sky Sports in the months after Richard Keys and Andy Gray departed following sexist comments about official Sian Massey. Neville had retired in February, having played his last match for United on New Year's Day when he toiled against West Brom and was fortunate not to be sent off before he was substituted.
The 38-year-old became a regular last season, and, with Ed Chamberlain anchoring, has used the Monday Night Football slot to pioneer a new breed of football analysis.
Ironically, he features in his own Sky Sports advert which aired for the first time last week.
Popular in the Community