Argentina's president, Cristina Kirchner, has called on Pope Francis, with whom she is reported to have "frosty" relations , to intervene over the Falkland Islands dispute.
Meeting at the Vatican on Monday, Kirchner called on the newly elected pontificate, the first ever from Argentina, to "achieve a dialogue with the United Kingdom over Malvinas".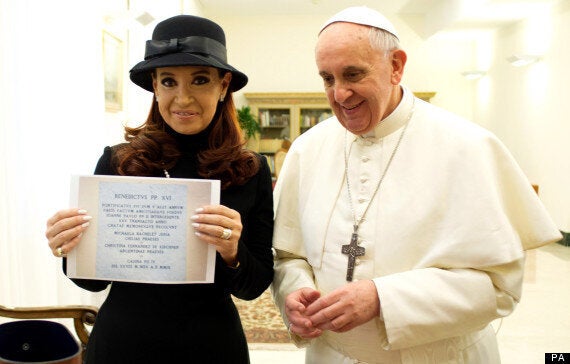 Pope Francis and Kirchner at the Vatican
"We want a dialogue and that's why we asked the pope to intervene so that the dialogue is successful."
Kirchner's bellicose bellowing has taken a more personal turn of late.
Last week she said the Falkland Island's referendum on remaining British was if "a bunch of squatters were to vote on whether or not to keep occupying a building illegally".
"There are angels who will accompany you, who are sons, husbands and fathers of yours, who fell there, in an almost religious movement, of kissing with their blood the native soil," he added.
David Cameron last week upheld the outcome of the referendum, in which all but three vote were to remain British, saying: "The white smoke over the Falklands was pretty clear."
Many see Kirchner's relentless focus on the Falkland's issue an attempt to distract the country's population from the poor economic record of the government.