New press regulation could have a "chilling effect" on online news and blogs, but be rejected by large media corporations like the Daily Mail and Rupert Murdoch's News International.
Freedom of speech campaigners and journalists said that the loose definitions in the act, including website containing "news-related material" means blogs could be regulated under the new Royal Charter.
Index on Censorship CEO Kirsty Hughes said in a statement: "This introduces a layer of political control that is extremely undesirable. On this sad day, Britain has abandoned a democratic principle" Will major newspapers sign up to the new press regulator?
"But beyond that, the Royal Charter's loose definition of a "relevant publisher" as a "website containing news-related material" means blogs could be regulated under this new law as well. This will undoubtedly have a chilling effect on everyday people's web use.
"Bloggers could find themselves subject to exemplary damages in court, due to the fact that they were not part of a regulator that was not intended for them in the first place.
"This mess of legislation has been thrown together with alarming haste: there's little doubt we'll repent for a while to come."
The Huffington Post UK's editor-in-chief Carla Buzasi said that the lack of clarity in the new regulations was the major issue.
"We are concerned that new regulations appear to have been rushed through by politicians with little thought given to defining the terms. We know that "news-related websites" are covered, but we are told blogs are not.
"We have over 6,000 bloggers, so are they covered by the regulation? No politician seems to have had this discussion, and it appears to be paving the way for legal challenges across the industry."
Five major newspaper publishers - the Daily Mail Group, News International, Telegraph Media Group, the Newspaper Society and the Professional Publishers Association (which represents more than 200 magazine companies) issued a joint statement on Monday, which did not rule out refusing to join the new regulator, saying it had concerns about "several deeply contentious issues which have not yet been resolved with the industry."
The Newspaper Society, representing the UK's 1,100 local newspapers, went even further, warning that the plans - including fines of up to £1 million - would place a "crippling burden" on local press.
"A free press cannot be free if it is dependent on and accountable to a regulatory body recognised by the state," said Newspaper Society president Adrian Jeakings.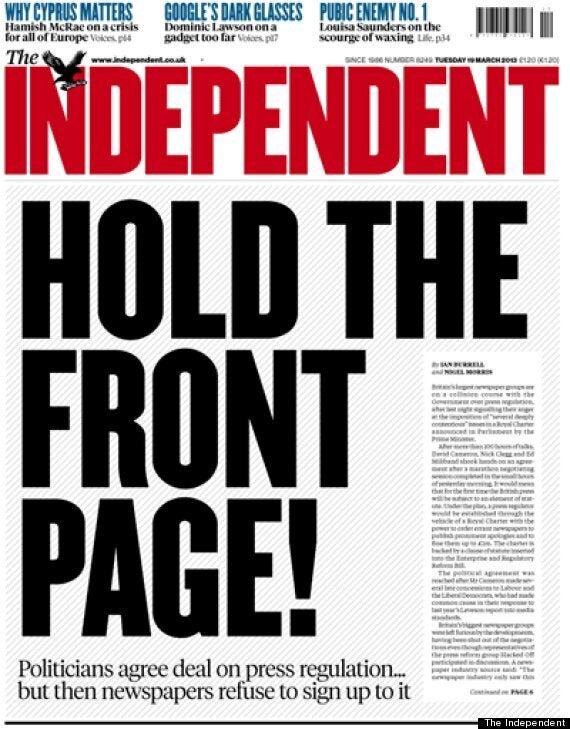 The front page of the Independent
Chris Blackhurst, editor of The Independent, said: "Ideally we would not want any new regulatory system at all, but that was never going to happen. This isn't perfect but neither is it terrible. I don't see anything in it that will threaten the sort of journalism we produce at The Independent."
"The agreed terms are not ideal, but after two years of inquiry and debate we finally have the prospect of a robust regulator that is independent of both press and politicians. It's a big improvement on what went before."
Those who refuse to sign up to a new regulator could be subject to punitive damages as a result of civil lawsuits.
This clause is likely to face a legal challenge, according to prominent legal bloggers like the New Statesman's David Allen Green.
Andrew Neil, chair of the Spectator Magazine and the presenter of the BBC's This Week and Daily Politics, said editors were consulting lawyers.
David Cameron said on Tuesday that he is convinced a new press regulator will "work and endure".
"I'm confident that we've set up a system that is practical, that is workable, it protects the freedom of the press, but it's a good, strong self-regulatory system for victims, and I'm convinced it will work and it will endure."
Deputy Prime Minister Nick Clegg said: "I think the whole design of Leveson was based on self-regulation, so not something imposed by anybody else, but independent self-regulation, but with a number of incentives which make it worth newspapers actually joining in the system.
"And that's all to do with this detailed business of exemplary costs and damages which can be imposed upon newspapers that don't participate in the system.
"I hope that when they examine the fine print, they will see that the incentives are strong and that it's worthwhile, not least in order to restore public trust in the conduct of newspapers, for them to join in with the system, and I very much hope they will."
Under the plan, a royal charter - set to be approved by the Queen at the May meeting of the Privy Council - will establish a "recognition panel" to oversee the new system of press self-regulation.
At the same time, Bills going through the Lords and Commons were amended to prevent the charter being changed without the support of a two-thirds "super majority" in both Houses and to enable the courts to impose "exemplary" damages on newspapers which do not sign up to the new system.
Cameron insisted they did not "cross the Rubicon" of creating a press law, which could be used by future governments to suppress free speech.
But Labour leader Ed Miliband maintained it did have "statutory underpinning", while Lib Dem leader Nick Clegg - who sided with Labour against his Conservative coalition partner - said it was "a royal charter protected by legislation".