Britain's new police commissioners are under fire for handing top jobs to the "cronies" that helped them get elected.
Rows have broken out across the country at the appointments, and campaigners said it "added insult to injury" following the feeble turnout in November's elections.
This week, Northamptonshire's Tory Police and Crime Commissioner (PCC), Adam Simmonds, announced the appointment of his former press officer, Peter Heaton, and his best friend and election agent, Kathryn Buckle, to jobs paid £65,000 a year.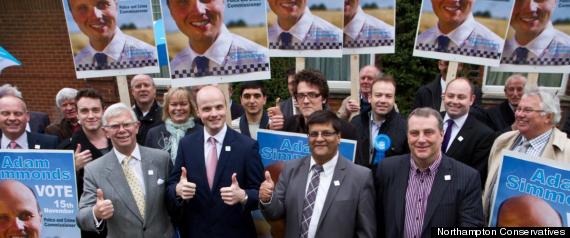 Adam Simmonds with Tory campaigners
In West Yorkshire, the PCC is only advertising the £56,571 job of deputy to members of the Labour Party.
And in West Mercia, the new Independent PCC Bill Longmore faced a vote of no confidence after appointing his friend and campaign manager as £50,000 deputy with no interview process.
Talking about Adam Simmonds' appointments, the leader of Northamptonshire's Liberal Democrats, Brendan Glynane, told the Northampton Chronicle the Tories were "choosing cronyism and jobs for the boys and girls over making our streets safer."
But Heaton, appointed as 'Assistant Commissioner for Public Involvement,' told The Huffington Post UK there had been a rigorous, three-stage appointment process including an online assessment and an interview with a three-person panel including Simmonds.
He said: "I think the criticism is coming from a relatively small number of vociferous and ill-informed people."
There was fierce criticism for the PCC elections held in November, which yielded a record low turnout. On Tuesday, the Electoral Commission said 80% of voters were not given enough information to make an informed choice.
A spokesman for the Electoral Reform Society said: "The stated purpose of these elections was to bring democratic accountability to the police service. This seems to be going in exactly the opposite direction.
"It adds insult to injury that probably the worst peace-time elections in peace-time history are being followed by appointments like these."