Heavy snow and prolonged winter weather could be what tips the UK into a triple dip recession, economists have warned.
Dr Howard Archer, chief European and UK economist at IHS Global Insight told HuffPost UK: "Bad weather is always unwelcome news for the UK economy, and the latest bout is particularly bad timing at is battling to avoid further contraction in the first quarter of 2013 and dodge a triple dip recession.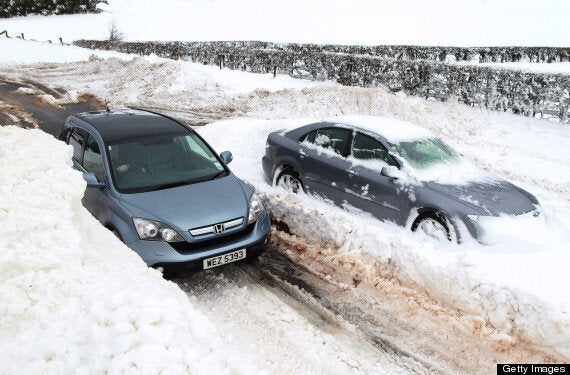 A man drives pass another car buried in a snow drift in the Craigant Hills near Belfast, Northern Ireland
"Just how much the economy is affected by the latest snow will obviously depend on how widespread it ends up being and how long difficult travelling conditions last.
"Clearly, the longer that the snow lasts and the more widespread it is, the greater will be the negative impact on the economy.
"Consumers are prevented from getting to the shops or to restaurants, pubs and entertainment venues, some people are unable to get into work while others have to stay at home due to the need to look after their children as a consequence of schools being closed, construction work is hit, and supply chains for manufacturers and retailers may be disrupted due to the difficulties in moving goods around the country."
The snow has brought chaos and disruption to sports fixtures, transport and power across the country, with Northern Ireland's World Cup qualifier against Russia was called off for the second time in 24 hours, with hostile weather conditions making Windsor Park unplayable.
Other cancelled games included Sheffield United's npower League One clash against Brentford and Shrewsbury's meeting with Oldham. In League Two, the games at Rotherham (v Exeter), Burton (v Wycombe), Chesterfield (v Plymouth), Crawley (v Crewe), Port Vale (v Aldershot) and Rochdale (v Southend) all went the same way.
Games between Elgin and Clyde, and Annan and Queen's Park, were cancelled in Scotland.
Race meetings in Doncaster and Newbury were also abandoned due to snow.
Hospital staff, paramedics and renal patients have been taken to work in North Wales hospitals by British Red Cross volunteers, using 4x4 vehicles to negotiate treacherous roads.
So far, they have helped more than 70 people in the Wrexham and Flintshire areas today, starting from 5.15am.
David Hallows, service manager for emergency response for the Red Cross in North Wales, said: "I've never seen snow like it. It's a metre thick in places and it's not drifting.
"I just can't believe it. It's great to know that our 4x4 capability can be of such vital use to medical staff in getting them through these tough weather conditions to patients, many of whom are seriously ill.
"Snowy and icy weather such as this can cause huge problems for people, especially those living in rural areas.
Driving conditions are particularly bad but our volunteers are all highly trained and happy to help."
He thanked volunteers who travelled to the region from other parts of the UK to help, as well as the North Wales 4x4 Club which provided the Red Cross with eight vehicles.
The Highways Agency said their road network was performing well despite the adverse conditions, but warned road users to check conditions before travelling.
Trains have been affected by the snow however, with disruptions on First Transpennine Express services between Huddersfield and Manchester, and no Northern Rail services between Skipton and Carlisle, among the problems reported today.
The Environment Agency has one flood warning still in place, around the River Clyst in the Broadclyst area of Devon, by midday, and 72 flood alerts.
It wasn't all doom and gloom though - in south-west London, Merton Police tried to lighten the mood by tweeting a picture of two snowmen, dressed in police garb.
Forecasters have predicted it could be the coldest March in 50 years. In 1962, average temperatures for the month were 2.8C (37F).
Heavy snowfall across many parts of the UK has caused disruption to communities and the nation's transport network - with warnings of more wintry weather to come.
The severe weather has brought down power lines, leaving thousands of homes in Scotland, Northern Ireland and areas of northern England without electricity.
Airports have been forced to close their runways, with road closures hitting motorists, but a spokesman for East Midlands Airport said the runway reopened at about 12.30pm.
About 70 people stranded in their cars in Cumbria overnight were put up in a local high school.
In North Wales, the British Red Cross was brought in to help transport medical staff to hospitals in 4x4s after roads became impassable.
Sports fixtures were also called off in light of the continuing snow, which led the Met Office to issue a yellow weather warning for widespread parts of the country, urging people to be aware of adverse conditions.
Forecaster Chris Burton of MeteoGroup, the weather division of the Press Association, said: "Most places have seen some kind of snow, with the highest levels in the Peak District and the Pennines.
"Strong easterly winds have have been blowing the snow around on higher ground, causing snow drifts and reduced visibility. In some areas, snow is drifting in excess of a metre."
The highest recorded snowfall so far was Bingley in West Yorkshire, which had 22cm (8.6 inches), but Mr Burton said some parts of north-east Wales were thought to have seen up to 30 cm (11.8 inches) of snow.
In lower-lying regions, up to 5cm (two inches) of snow was thought to have fallen.
"Temperatures will only be just above freezing during the day," said Mr Burton. "There will be widespread frost overnight, with temperatures down to minus 3C."
Heavy snowfall forced the closure of runways at East Midlands Airport, with no aircraft able to fly in or out.
The total area of the airfield crews had to clear was equivalent to 87 football pitches, according to an airport spokesman.
Humberside Airport has been closed since 8am, with no flights landing or taking off at Leeds Bradford Airport either.
Doncaster's Robin Hood Airport closed for a short time, later reopening with limited service.
Cumbria Police are advising motorists not to travel in the south and west of the county unless absolutely necessary.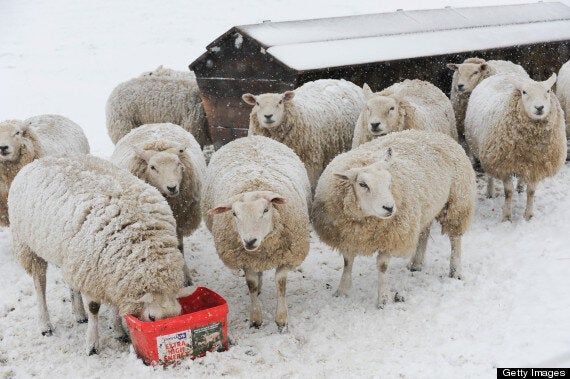 Heavy snow falls over parts of Yorkshire as winter weather continues in Harrogate, United Kingdom
Snow drifting has closed many roads in the area, with others - including the M6 between Hackthorpe and Shap - only passable with care.
Some 70 stranded drivers stayed overnight at Millom High School, which police opened as a reception centre for those unable to return home. Others who were stuck in their cars slept in local hotels.
Electricity North West is trying to restore power to parts of Cumbria, with 350 customers still without electricity this morning, as engineers are unable to reach them due to road closures.
Northern Ireland Electricity said there were still 35,000 customers without power, while electricity was returned to 5,000 homes overnight.
In Scotland, ScottishPower estimated there were some 6,000 homes still off supply in the south-west area.
Sports fixtures also fell foul of the weather, with international and domestic football programmes hit.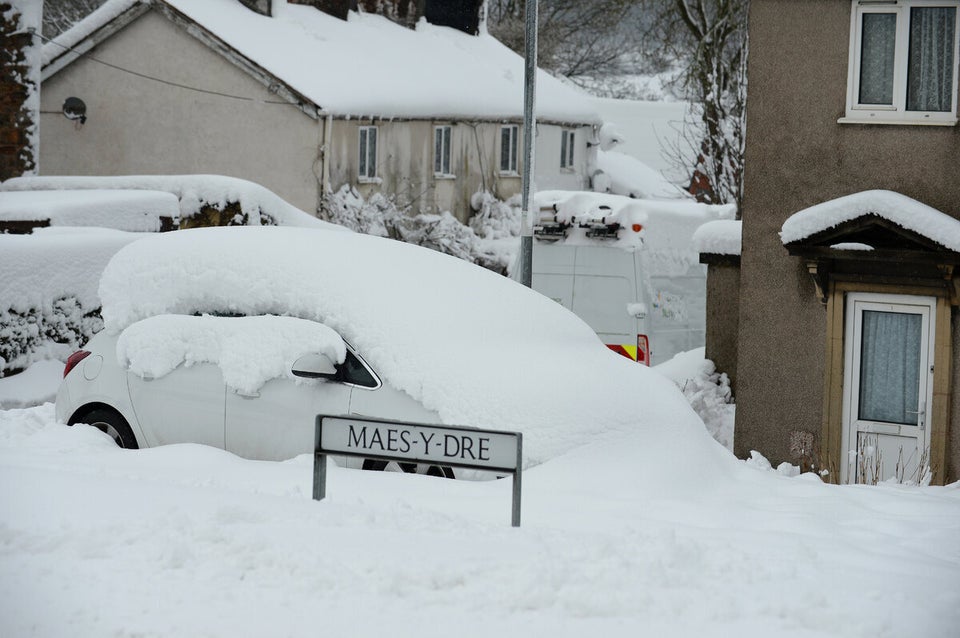 Snow in Springtime
Popular in the Community