Here are six talking points from the game...
After a dominant first 45 minutes England offered the perennial after the Lord Mayor's show performance in the second 45 and to deprive themselves of victory. Montenegro improved immeasurably after an abject start, but they were invited to equalise by their reticent and timid visitors, as Mr Hyde remained in the dressing room. Hodgson paid for not reacting to the Montenegrins' pressure
With the pressure mounting, Roy Hodgson failed to adapt. The fading Tom Cleverley was withdrawn only after the lead had been extinguished, whereas Frank Lampard or Scott Parker would have exerted pressure on the extra space the Montenegrins began to enjoy.
Apathetically, Hodgson appeared to be content with a draw as only Ashley Young, in uninspiring form on the wing, entered the fray with the potency of Lampard and Jermain Defoe left on the bench.
MONTENEGRO FLATTER TO DECEIVE
Three times England have faced Montenegro and three times they have drawn with them. In two of those fixtures, victory should have been secured but for differing circumstances, and it remains difficult to decipher which Montenegro on Tuesday night was the genuine article, but the hapless side of the first 45 edges it.
Their comebacks against England have come via a red card or, in the case of Tuesday night, a sudden regression in their opponents' performance. Their draw was merited, but refereeing intervened again when Danny Welbeck was denied a penalty at 1-0 after the bumbling Stefan Savić tripped him over. Damjanović's equalises for Montenegro
Mirko Vučinić and Stevan Jovetić provide dexterous dynamism up front but the remainder of the team are a particularly poor bunch. It reflected terribly on England they drew with them again.
COLE ENHANCES BAINES' CHANCES
After Ashley Cole won his 100th cap against Brazil last month, it was suggested Leighton Baines, who replaced Cole for the second period, should be entrusted at left-back for the remaining World Cup qualifiers. Baines was characteristically enterprising against the paralytic pub team San Marino but Cole was reinstated for the match in Podgorica. He was unconvincing from the moment Mirko Vučinić bypassed him as if he was a spectre in the opening moments, and was bereft of the swagger that, while lamentable, has been part of his makeup as one of the world's finest full-backs over the past decade. Cole struggled in Podgorica
Cole improved after the interval but invariably doesn't offer the versatility which has become a hallmark of Baines' play. The Evertonian has been the best left-back in the Premier League again this season and is deserving of the coveted number three shirt Cole has owned for 12 years.
"Just shoot," Wayne Rooney advised Danny Welbeck. Shortly after the Croxteth striker's delicate chip pinged off the Montenegro post Welbeck neglected the chance to test Mladen Božović when the ball kindly rolled into his path. It was a hesitant moment endemic of the Manchester United forward's season and other symptoms followed. Often he lost his composure in the Montenegro penalty area and ceded possession or conceded a goal kick, while outside the box his off-the-ball work was invaluable as England controlled the first-half. Andy Cole, the former United striker who, despite an excellent goal record, was superbly selfless, said in an interview earlier this season he had advised Welbeck to decide what he wanted to be. Striker? Centre forward? Winger? Welbeck is a jack of all trades but it is debatable whether he has mastered any of them. His finishing has regressed this season (he has scored just twice) but on the upside, he has emerged as a dogged team player a la Ji-Sung Park or James Milner. Had it not been for him hassling Gaël Clichy United would have not won the pulsating Manchester derby in December.
However Welbeck was supposed to be compared to Cole, not Park. It wasn't meant to be this way and, at 22, he should decide what he wants to be although it is looking doubtful he will be the prolific foil for Rooney with England.
It's now six goals in five games this season for Wayne Rooney with England, yet whereas his header in Poland or the winner against Ukraine at Euro 2012 were tainted by otherwise anonymous displays, his overall performance against Montenegro was encouraging.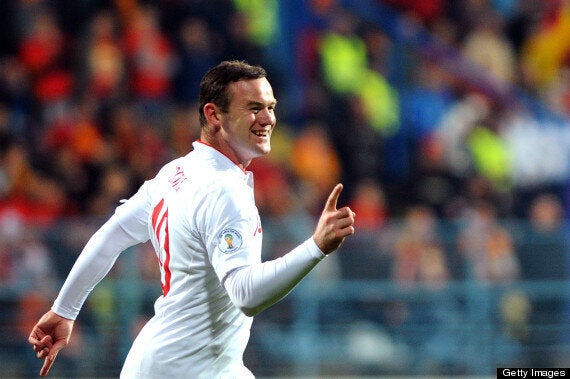 Rooney performed well for England
Bereft of the ball - let alone service - in the second period, he should not be held to account for England's complacency. It was in fact heartening to not see him playing as an auxiliary full-back as almost every Englishman found themselves behind the ball.